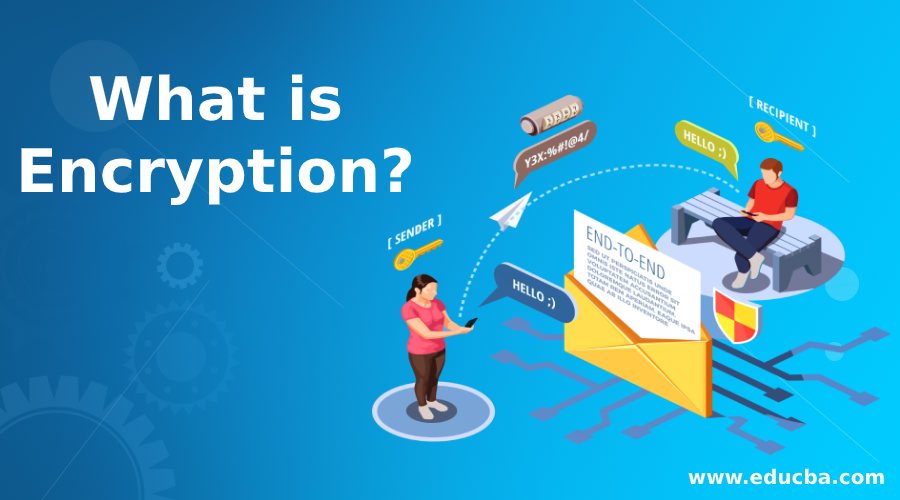 Introduction to Encryption
Encryption is the process of converting plain text into ciphertext, i.e., converting the text from readable format to non-readable format to secure the conversation between two parties or from the unauthorized person. A secret key is used to securely encrypt the plain text; various techniques and algorithms have been developed to encrypt the encryption. For example, substitution techniques, transposition techniques, MD5 algorithm, SHA algorithm, IDEA algorithm, etc.
How does Encryption Work?
There are 3 steps involved in the Encryption of data. First, you take some data as input that you want to Encrypt alongside a key (Password or passphrase). Second, once you have both, you will send both as input to an encryption algorithm.
The algorithm will then change the data given in the input using the Encryption key, and it will send the output. You can then send the output to the second party using any medium you like, or you can keep the Encrypted data for your own future use. When the receiver gets the data, it will send the decryption key and the Encrypted data to a decryption algorithm to decode it.
Benefits of Encryption
This is one of the backbone of data security; the following are some major benefits:
1. Encryption Ensures Integrity of Data
While data Encryption stops anyone from reading the data, one other major benefit of Encryption is that once done; a hacker cannot alter the data to commit any fraud. If anyone makes any change to the Encrypted data, the receiver will easily detect any fraud using hashing such as MD5 Checksum.
2. Providing Security at all Times
There are some other tools to password protect a folder or some local storage data that someone you can choose, but It is the only true way to secure data in its entirety. This is possible because, without proper decryption of data, no one can use it.
3. Beneficial in Protecting Data across Devices
Encryption and decryption software can be written for any platform, meaning encrypted data is not platform dependent and can be used across devices.
4. Encryption Provides Privacy
Data Encryption is not only useful for companies or the military, but normal computer users can also use it to store sensitive information such as Bank Account details, medical records, etc., safe. Without proper Encryption, anyone who can access the device will be able to see and copy it.
Types of Encryption
While there are so many methods to Encrypt data, such as AES and RSA, we can categorize Encryption into two types: Symmetric and Asymmetric.
Symmetric: This process is considered Symmetric when the same key is used to Encrypt and Decrypt data. Therefore, in this type, we need to be very careful when transferring the key. Usually, it is done by sending the key via a different channel.
Asymmetric: Asymmetric Encryption is the type when 2 keys are used by both parties, one key for Encryption and another for the Decryption of data. In this, one key is called Private Key, and the second key is called Public Key. The Public key is used for encrypting data, and it can be handed over to anyone without any trouble. But, on the other hand, the private key is used for decryption and is not shared with anyone.
Uses of Encryption
Given below are the uses:
Data Protection for Storage: It can be used to protect the data stored for a long time. Even if the storage is stolen or breached, the data will still be unreadable without the key.
Data Migration: When transferring data via a network, It is used to ensure that no one in the network can read it.
Accessing Data Across Multiple Devices: Data stored on cloud storage is Encrypted, and it can then be accessed from any supported device securely.
Ensuring Compliance: Considering the value of data security, many organizations, governments, and companies require the data to be secured with Encryption to keep the company or user data safe. This also prevents employees from having unauthorized access to user data.
Why do we Need Encryption?
This creates a solid foundation for data security. Thanks to it, emails, internet chats, cloud storage has become safe for public and corporate use. Besides from user data, It has played a huge role in keeping issues of national security safe. Considering these, it is no wonder that Android phones now Encrypt user data by default and search engines such as Google rank websites with SSL Encryption higher in Search Results.
Career
As more and more people rely on the Internet for their job and their data, cybersecurity threats have increased so much in the last few years. In times like this, professionals with data security skills are in high demand.
Someone that designs Encryption algorithms, ciphers, and other security measures are called a Cryptographer. A Cryptographer should not only have good knowledge of it, but he should also be good at programming languages and internet and PC architecture. After spending time and skills in it, you too can become a Cryptographer and make a good career keeping data safe from the wrong hands.
Conclusion
It is one of the most important elements for creating a safe internet for a user and securing data storage. As companies and users are becoming more and more aware of data privacy, Encryption professionals' value, i.e. Cryptographers, has increased tremendously.
Recommended Articles
This has been a guide to What is Encryption? Here we discussed the concepts, benefits, types, and uses of Encryption. You can also go through our other suggested articles to learn more –