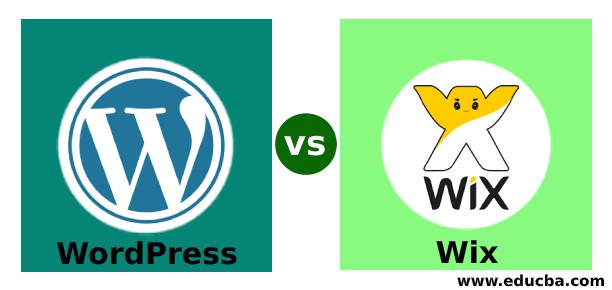 Differences Between WordPress vs Wix
WordPress is an open-source, the most popular software tool for creating websites and blogs. In a common way, it is the best software tool that is easier and powerful for blogging and content management system (CMS). Even if you don't know how to create a website, no issue at all as with WordPress, users don't need to know any programming or designing skills because WordPress has thousands of themes that can be used to the creation of website and content management. To use WordPress, we don't need to install any software as WordPress runs online and can be modified from anywhere with internet access and save your changes. WordPress doesn't have limitations or rules to host your website; you can host your WordPress website at any hosting provider. At present, nearly 42.1 percent of websites available over the internet are built on WordPress. WordPress was created as a standalone project in 2003; later, it becomes open source and is contributed by the developer's community. As WordPress is standalone software, we need to install it on a web server, then only we can use it to building and content management of the website.
Wix is a premium, popular website builder by which users can create websites and blogging sites for desktop and mobile with the use of online drag and drop tools in Wix. Wix will come as a hosted website platform with all components needed for building a website at a specific price. Wix provides software for content management, add-ons, and extensions for different functions such as online marketing, Facebook, Twitter, and community forums like git. They also provide hosting with different pricing. Wix was created in the year 2006. Users can create free websites from Wix, but they can't utilize all the functionalities; if they want to have all functionalities, we need to purchase a plan that provides premium access to the website. Wix is a tool that we can sign up then; it allows building and then managing the website and taking care of hosting.
Head to Head Comparison Between WordPress and Wix (Infographics)
Below are the top 6 comparisons between WordPress and Wix:

Key Differences Between WordPress and Wix
Let us discuss some of the major differences between WordPress and Wix:
WordPress is open-source, which can be used and modify for free, whereas Wix offers a basic website for free with limited facilities; we need to use a premium service to use all features.
Wix is easy to use as it provides a drag and drop facility, whereas, in WordPress, we need to familiarize ourselves with all options and how to use them.
Wix has widespread customer support through email, calls, tutorials, etc., whereas WordPress has no official support, but it has supported through forums and communities.
Wix has many plugins and apps that can be used to add more features to the website, whereas WordPress has so many free plugins, nearly 56,000+ available. So WordPress has more plugins.
Wix themes can be customized without having any knowledge of web programming, whereas WordPress themes can be customized only if we have basic knowledge of HTML/CSS; otherwise, it will be difficult to get the desired look.
Comparison Table Between WordPress and Wix
Following is the comparison table between WordPress and Wix.
| | | |
| --- | --- | --- |
|  Basis of Comparison  | WordPress | Wix |
| Pricing and cost | WordPress is open-source software that can use and modify at free of cost, but we need to get the domain name and web hosting to use WordPress. We can choose plans for hosting depends on our needs, and the cost of a WordPress website will increase if we opt for premium WordPress themes. So WordPress is cheaper than Wix. | As Wix is a premium service provider, it offers a basic website builder for free, by which we can't use custom domain names and websites filled with a lot of ads. In order to avoid these, we need to upgrade to premium plans based on our needs. |
| Ease of Use | WordPress is easy to learn, but we need to familiarize ourselves with different sections of the website and how to use them. We need to write our content and customize the themes we want. WordPress doesn't have a drag and drop facility. | Wix is very easy to learn as it comes with tools that are easy to use and build a website. It provides tools with a drag and drop interface by which we can select elements on the website and customize them. We don't need to learn or write any code. So Wix is easy to use compared to WordPress. |
| Feature Set and Flexibility | WordPress was initially used for blogging later on used for websites, portfolios, and webstore development. It has the capability of adding plugins to add functionality we needed, such as Facebook, Google analytics, safety plugins, etc. | Wix comes with a lot of features that support blogging, eCommerce websites, etc. Wix provides so many free and paid add-ons from them we can select based on our requirements. |
| Design and Layout | WordPress has a lot of free themes along with premium themes. As we know, free themes have limited support and fewer features, whereas Premium themes come with a lot of features and customize the websites and switch to different themes. So WordPress has good design and layouts. | Wix has a lot of good visual templates to choose from. All templates are responsive, and we can customize further like the design, rearrange elements, etc. It has one disadvantage, that once we selected one template, we can't change it in the future. |
| Customer Support | WordPress has no support officially, but it has a lot of online communities, forums with web developers. | Wix has an official support forum with various topics, tutorials, phone and email support also. Moreover, the Wix website comes with a help icon for every element. |
| E-commerce | WordPress offers more templates, so we can create our own e-commerce online store with eCommerce plugins by which we can sell goods, subscriptions etc. WordPress offers more options for the complete website than Wix. | As Wix provides so many templates, it offers eCommerce templates in the premium category by which we can sell and accept payments. |
Conclusion
Finally, it's an overview of the difference between WordPress vs Wix website builder software tools. I hope you will better understand the pros and cons of WordPress vs Wix after reading this WordPress vs Wix article. Though WordPress is more powerful than Wix, we need to learn HTML/CSS to get the website's desired outlook. Whereas Wix will take care of the customization, content management, etc.
Recommended Articles
This has been a useful guide to the differences between WordPress vs Wix. Here we discussed Head to Head Comparisons, along with infographics and comparison table. You may also look at the following article to learn more –