Updated November 30, 2023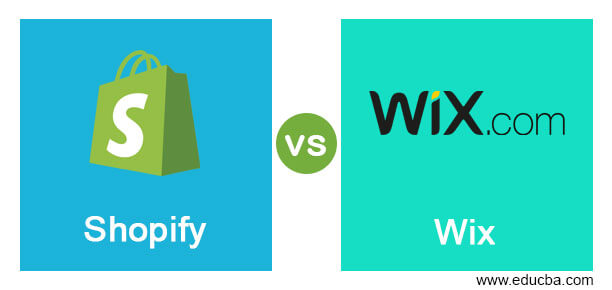 Difference between Shopify vs Wix
Shopify and Wix are defined as organizations that have their products and services in cloud-based web development. The services that are offered by both these organization ranges from allowing one to create and maintain a website and make a platform in the same that allows users to sell products. The services look at the people in generic in terms of the services that are offered that not everyone is capable of coding in order to build an efficient website and hence these services take care that users don't have to master any coding skills. All one needs is the visualization of how the website would look like. Both these services and/or products started off as something which had very different purposes but both transformed themselves in order to meet the needs of the customer and brought the transformation.
Head to Head Comparison between Shopify vs Wix (Infographics)
Below are the top differences between Shopify vs Wix:

Key differences between Shopify and Wix
Shopify and Wix are both products that offer services to build websites. The main difference is in the use case where Shopify is used for building ecommerce applications with a fully responsive template whereas Wix is a hands-down product used for building a general-purpose website because of its user-friendly drag and drop interface. And as a result of the varied use case, the plans in Wix is segregated into 2 categories namely, website and business and ecommerce. Contrarily, Shopify only has one pricing structure with different price ranges depending on the features. When we talk about pricing, we see the difference in the free plan as Shopify has no free plans whereas, on the other hand, Wix does contain a free plan with restricted functionality.
Coming to the functionalities provided by Wix and Shopify in regard to the themes, Shopify includes themes that are 100% responsive to the type of device that the website is being viewed on, whereas Wix uses absolute positioning where the elements are positioned by pixels. Along with that, Shopify lets users switch between templates in a swift way, whereas doing the same in Wix, can be painful. The products' portfolios and other pages and posts can easily be exported from Shopify but is a technically advanced option in Wix. Finally, the last point of difference is the transaction fees that are applicable on the payment gateway as both websites although have their own gateways, can be integrated with the third party gateways and here Shopify charges extra transaction fees on top, whereas Wix doesn't charge anything on the usage of another payment gateway.
With this information, let us look at the difference as a head-on collision between both of them in the below paragraph!
Comparison Table of Shopify vs Wix
| | | |
| --- | --- | --- |
| Gerne of comparison | Shopify | Wix |
| Initial Purpose of use | Although Shopify allows one to build, it eventually started with being the platform for setting up an online store. | Wix as a solution was conceived to be used for building content-based websites like blogs, news, photography, brochures etc. |
| Trials and availability of free plans | There is no free plan in Shopify and this product only offers two weeks of free trial for users to try out features and then decide to settle for product or not. | Wix does provide a free plan but has limited functionality. This free plan is mostly to allow learning for users and then premium packs for the usage of more features. |
| Paid plans | Shopify doesn't have a complex pricing structure where they are categorized into different categories and each category having different plans to choose from. It is divided into 5 types and users can choose from them according to the needs of the website! | Paid plans in Wix are categorized into 2 broad categories each having its own use case. One of them is a website and the other is business and e-commerce. Each of these categories has its individual bucket of prices that allows users to choose from. |
| Themes and Flexibility | Shopify has over 60 plus templates that are professionally designed thus providing users with enough options to suit their needs. Moreover, it is much easier to customize and provides flexibility. Add, move, resize and other amendments can be done to make the website adapt to the visualization the user has. But in terms of free themes, there are only 10 in number. | There is a massive collection of templates in Wix and the number of free templates is more than Shopify which might suit one with tight pockets. But the question is about the flexibility to redesign. In case of any major changes to the website, one can't just change the theme to the newer one and remain chill. There are loads of manual redesigning that is required! |
| Import and Export of content | Importing content to Shopify is easy and exporting from Shopify is easy enough as well when it comes to exporting all product data from the platform. Pages and posts can also be exported through Excelify | With importing in Wix, it is very similar to Shopify, but when it comes to export there is a limit of 5000 products which can be exported. Export of pages and posts require a workaround that is a bit more technical in nature. |
| Transaction Fees and payment options within website | There is a payment gateway for Shopify known as Shopify Payments but since it is not present in all countries one would have to resort to 3rd party gateway. Shopify although has a larger range of integration with other third-party gateways, it charges fees to the transaction done on those gateways | There is a payment gateway for Wix known as Wix Payments, but again similar to Shopify that they are not present in all countries and hence the integration with 3rd party gateways are present. Although the number of options is lesser than Shopify, there is no extra charge to the transaction that is done there! |
Conclusion
In this article, we have looked at similarities between Shopify and Wix that leads to the confusion between both the products, and hence this article tries to explain the differences in a head-on comparison between them. This article will help users looking for a comparison on which one to use a handy comparison to decide which fits the best for the corresponding use case.
Recommended Articles
This is a guide to Shopify vs Wix. Here we discuss the Shopify vs Wix Key differences with infographics and a comparison table. You may also have a look at the following articles to learn more –