Updated April 24, 2023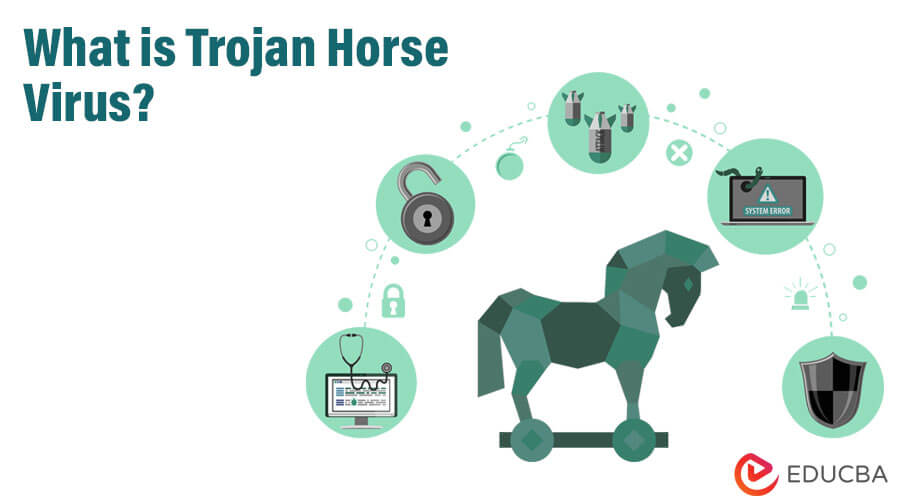 Introduction to Trojan Horse Virus
A Trojan Horse is a type of malware that impersonates reliable software with harmful intent, such as stealing user data or harming computers.
There are over a billion malware programs worldwide, with Trojan Horses accounting for 58% of malware. Hence, Trojan Horses form a majority of cyber-attacks, and one must be aware of their risks and behaviors to protect their devices from the same.
Cyber-attacks have been exceptionally gainful for attackers in many aspects for a long back. With every day passing, it brings a new technique of attacking the system that belongs to organizations or enterprises to gain fame or monetary benefit.
Table of Contents
Introduction
What is Trojan Horse Virus?
How does Trojan Horse Virus work?
Types of Trojan Horse virus
Final Thoughts
Frequently Asked Questions (FAQs)
Recommended Articles
Key Highlights
A Trojan Horse is a form of malware that impersonates a trustworthy program with malicious intent, such as stealing personal information or causing computer damage.
The Trojan-Banker, Trojan-Downloader, and Rootkit Trojan are a few common types of Trojan Horse infections.
The Trojan Horse can carry out several dangerous tasks once placed on the user's computer, including collecting passwords, erasing information, and granting unauthorized access to the system.
Numerous Trojan Horse viruses exist, including banking Trojans, remote access Trojans, and Trojans that steal passwords.
It is critical to use antivirus software, maintain software and operating systems updated, and refrain from downloading files or opening email attachments from untrusted sources to protect a device from Trojan Horse viruses.
What is Trojan Horse Virus?
A trojan horse virus, also known as a trojan, is a type of malicious software that disguises itself as legitimate software to trick users into installing it.
Once installed, the Trojan remains hidden in the user's system, allowing the attacker to access and control the system remotely.
Trojans can perform various harmful actions, such as stealing sensitive information like bank details or login credentials, downloading other malicious software onto the system, or installing adware to display unwanted advertisements.
One of the most dangerous aspects of a trojan is that it can create a backdoor in the system, which allows the attacker to access the system even if the Trojan is removed repeatedly.
Attackers often use social engineering tactics to launch a trojan attack to trick users into installing the Trojan. This can include disguising the Trojan as a legitimate software update, email attachment, or free download.
To prevent trojan attacks, users should be cautious when downloading or installing software from unknown sources and always keep their security software up to date. System administrators should also run frequent security checks to detect and remove trojans or other malware infecting their systems.
Suppose a user suspects that their system has been infected with a trojan. In that case, they should immediately disconnect the system from the internet and run a full system scan with their antivirus software to remove the Trojan. They should also change any passwords that the attack may have compromised.
How does Trojan Horse Virus Work?
A trojan horse virus is a type of malware that appears to be legitimate software, but in reality, it is designed to compromise the system's security.
Once installed, a trojan virus can perform various unethical tasks that lead to security breaches, such as stealing bank details, downloading and installing other malicious software, or installing adware.
The virus works by tricking the user into installing it onto their system. This is typically done through social engineering tactics, such as phishing emails or disguised software downloads.
Once the trojan virus has been downloaded and installed, it works. If it is a backdoor trojan virus, it will give the hacker access to the user's system.
Once the attacker has access, they can change any file, download and send confidential data, delete files, and perform any other actions that the legitimate user can do.
Depending on the operating system, the hacker may be able to access the terminal or command prompt to perform further actions.
The virus remains in the system undetected until the admin runs a check and detects it. Once detected, the trojan virus can be removed to prevent hackers from leveraging it.
Users must remain vigilant and not install software from unknown sources or click on suspicious links, which can increase the risk of a trojan horse virus infecting their system. Additionally, regular system checks and updates can help to prevent or detect these types of attacks.
Types of Trojan Horse Virus
Depending upon the purpose, the trojan virus is divided into several types.
#1 Backdoor Trojan Virus
The backdoor trojan virus is malware that lets hackers access legitimate users' systems without their knowledge.
Once the user installs the Trojan on their system, the hacker can perform all user activities.
The hacker can read the data, delete the files and forward the confidential documents by leveraging the backdoor Trojan.
#2 Rootkit Trojan Virus
The rootkit Trojan virus is malware that hides various system activities to prevent malware detection.
The primary purpose behind the development of the rootkit trojan is to get the malware some additional life in the system of the legitimate user so that the hacker can leverage the malware for a long time.
#3 Trojan-Downloader
The trojan downloader is a special kind of trojan virus that automatically downloads various trojans and adware.
It also upgrades the already available malware in the system.
It helps the attacker to get everything in the affected system that they can benefit from.
#4 Trojan-Banker
The trojan banker is another type of Trojan Horse virus that can steal the user's bank details.
It allows access to the user's bank account from the impacted system.
It targets bank-related data like bank account numbers, CVV numbers, debit card details, credit card details, etc.
Final Thoughts
Hackers use the trojan horse virus to compromise the security of the system. Installing anti-malware applications in the system can prevent it. The market offers many free and paid anti-malware software options that protect systems from trojans and other types of malware. It is essential to keep the system up to date so that the hacker cannot break the system to install the Trojan through the existing vulnerabilities. Also, the anti-malware software's paid version comes with a bundle of benefits that the free version lacks. Choosing the paid version ensures the security of the system or the organization.
Frequently Asked Questions (FAQs)
1. What is a Trojan Horse in computing?
Answer: A Trojan Horse is a type of malware that imitates a trustworthy software program to damage or steal data from the user's computer.
2. What does Trojan Horse mean?
Answer: The term Trojan Horse comes from the story of the Trojan War, in which the Greeks built a large wooden horse that was taken inside the walls of Troy as a gift but was filled with soldiers who then attacked and conquered the city. Similarly, a Trojan Horse in computing is a deceptive program that appears harmless but is actually malicious.
3. What is a Trojan Horse virus example?
Answer: Examples of Trojan Horse viruses include:
Zeus Trojan: It steals banking information from the user's computer
Back Orifice Trojan: It allows a remote attacker to take control of the infected computer.
4. Is the Trojan virus harmful?
Answer: A Trojan virus can cause a lot of harm since it can steal confidential data, let strangers use the user's computer, and do other kinds of damage like delete files or crash the system.
5. How do you know if you have a Trojan Horse virus?
Answer:  A Trojan Horse virus infection may cause slow computer performance, display odd error messages, generate pop-up advertisements, and make unexpected changes to the user's files or settings. It is crucial to utilize antivirus software to find and eliminate dangerous applications because certain Trojan viruses may not have apparent symptoms.
Recommended Articles
We hope that this EDUCBA information on "What is Trojan Horse Virus?" was beneficial to you. You can view EDUCBA's recommended articles for more information,