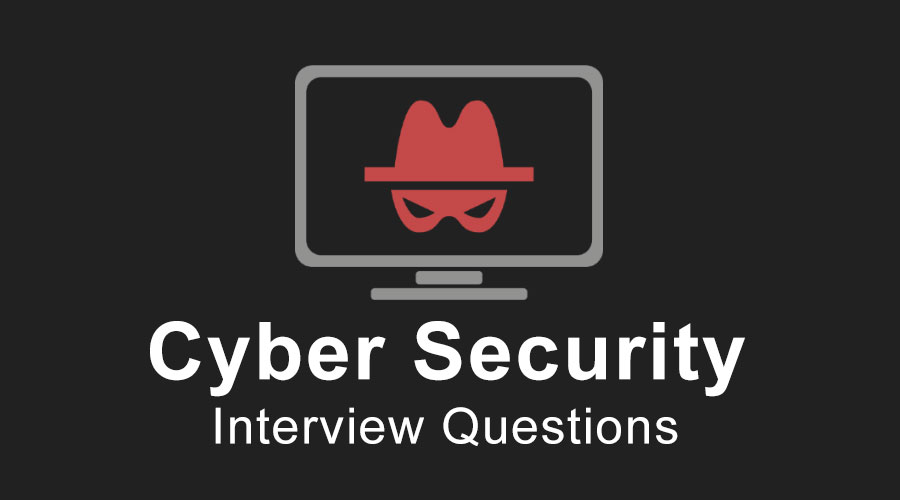 Introduction to Cyber Security Interview Questions And Answers
The following article provides an outline for Cyber Security Interview Questions. Cyber Security is the protection of information or data stored on computer systems from unauthorized access and other attacks. There are other areas covered in insecurity are application, information, and network security. Cyber Security is mainly ensuring the security of networks, programs, and computers from attacks.
Now, if you are looking for a job that is related to Cyber Security, then you need to prepare for the 2023 Cyber Security Interview Questions. It is true that every interview is different as per the different job profiles. Here, we have prepared the important Cyber Security Interview Questions and Answers which will help you get success in your interview.
In this 2023 Cyber Security Interview Questions article, we shall present the 11 most important and frequently used Cyber Security interview questions. These interview questions are divided into two parts as follows.
Part 1 – Cyber Security Interview Questions (Basic)
This first part covers basic Interview Questions and Answers.
Q1. Define Encryption and why it is used?
Answer:
It is a process of converting the data of a file into an unreadable format to protect the data from attack. It is widely used in an organization to secure their data.
Q2. What are the key terms for security?
Answer:
The key terms for security are Confidentiality, Integrity, and Availability. It is also known as the CIA. These three things are considered to be the most important components of security. Confidentiality means protecting the information and the information that remains between the client and organization and not sharing the information with other people, etc. Integrity means the reliability and trusted data, which refers to real and accurate data. Availability refers to access information from the specified location.
Q3. What are the principles to identify the cyber attack?
Answer:
There are various principles to identify and analyze cybersecurity are a threat, risk, and vulnerability. A threat is referred to like an event, which has the potential to harm the data of any individual or the organization. It can be natural, unintentional, and intentional threats. Risk mainly refers to check the loss or damage that happens when any type of threat exploited the vulnerability. Vulnerability means a weakness in the system, which can be exploited by the attacker or the hackers.
Q4. Explain the firewall and set-up of firewall?
Answer:
This is the common Cyber Security Interview Questions asked in an interview. A firewall is referred to as a security system or network to protect computers from unauthorized access. It helps in monitoring the network and to check which traffic needs to allow or block.
There are few steps to set up the firewall:
The new username and password are set for the firewall device.
A firewall is mainly used to disable the feature of remote administration.
Then port enabling is done with the help of configuring the port so that applications can work properly.
Installing a firewall on the network with existing DHCP servers.
Logging has been enabled and understands to view the logs, and there should be configured security policies to enforce these policies.
Q5. Explain SSL and TLS?
Answer:
SSL referred to as secure socket layer, which helps in providing the secured conversation and helps in verifying the person. It also combines with HTTP to use the internet safely with encryption of data. Its main use is to just get the identity information of the sender apart from that, no other information can be viewed. TLS is referred to as Transport layer security, which is a protocol that provides privacy and data integrity for the different applications. It is mainly used to provide more protection to confidential and sensitive data.
Part 2 – Cyber Security Interview Questions (Advanced)
Let us now have a look at the advanced Questions and Answers.
Q6. How can identity theft be prevented?
Answer:
It can be prevented with the help of providing or using a unique username and password, do not share confidential information online. Only trusted or secured websites should be used for booking and shopping. Always try to use the latest and secure web browsers. Computers or systems should be protected with anti-virus tools and update your system and software periodically. It is necessary to protect your social security number.
Q7. Explain CSRF and security misconfiguration?
Answer:
CSRF stands for Cross-site request forgery. It is mainly known as the vulnerability in the web application when the server does not check the request came from the secured client or not. Security misconfiguration is referred to as vulnerability in a device or application; it means the application has been configured in such a way that attackers can take advantage of that and exploit it. An example of this is a simple password, which can be detected easily. So, to avoid this strong password is always recommended.
Q8. Explain DDoS attacks?
Answer:
DDoS is abbreviated as a distributed denial of service. It is used to make the server unavailable for the legal request as sometimes network or servers are occupied with a request in many numbers, which are not able to handle and recognized. The request can come to from a different source that is called a distributed denial-of-service attack. These attacks can be mitigated with the help of identifying the network conditions in normal. It can be done in scrubbing centers, where the traffic has been analyzed in such a manner that irrelevant traffic can be identified and removed.
Q9. Explain the difference between process, guidelines, and policies?
Answer:
This is the most popular Cyber Security Interview Questions asked in an interview. A process can be defined in this way; it is step-by-step information that helps in specifying what would be the next action and an implementation part. Guidelines are referred to as the recommendations given to the applications or network, which can be customized, and these can be used while creating any procedures. Policies are defined as the criteria for security objectives and the organization's security framework.
Q10. Explain the MITM attack and how to prevent it?
Answer:
MITM means man in the middle; this attack mainly happens when any outside attacker jumps between when two systems are interacting with each other. This type of attack has been observed mainly in form of online communication like email. Personal conversation and information are the primary motto of the attack for the outsiders or the attackers. These attacks can be prevented with the help of using public key encryption while sending the data or set the email as secured if it contains any confidential information like bank account and passwords. The other method is not to use the open networks; SSL and TLS need to be used.
Q11. Explain IPS and IDS?
Answer:
IPS stands for Intrusion Prevention System. IPS helps in detecting the intrusion, and it will take further action to prevent it from intrusion. IDS stands for an Intrusion detection system that helps in the detection of an intrusion, and after that administrator of the system will make a decision for assessment and evaluation.
Recommended Articles
This has been a guide to Cyber Security Interview Questions and Answers so that the candidate can crackdown on these Interview Questions easily. Here in this post, we have studied top Cyber Security Interview Questions which are often asked in interviews. You may also look at the following articles to learn more –