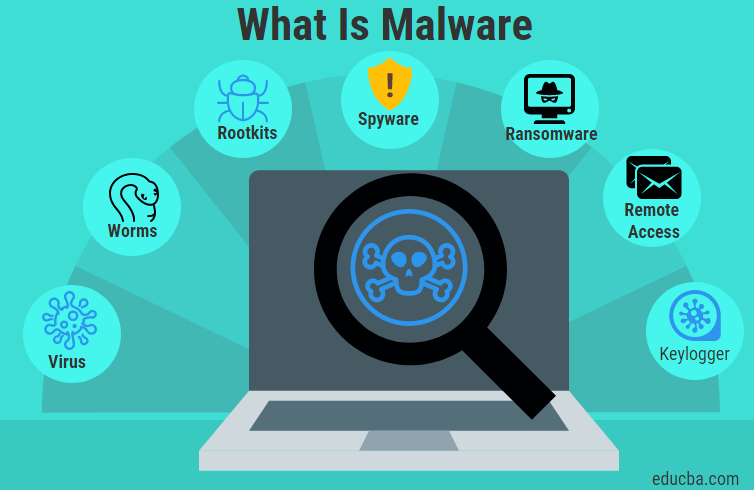 Introduction to Malware
In this topic, we are going to discuss what is Malware. With the advancement of technology, several technologies have evolved for our usage. With the advancement of these technologies, many intruders have started using it for unauthorized usage. There are several ways using which an intruder tries to infect the computer system of the particular user.
There are many ways to do so. The intruder may do by injecting viruses into the computer system, by running a piece of script code which may affect the computer system or by using it.
What is Malware?
Malware, also generally referred as malicious software could be software-generated using some piece of code which is designed with an intention to effect in the wrong way to a computer or server or may be other peripheral devices. This could be of any form. It could be a script, any executable code, or any other form of software. These pieces of code could be generally termed as a computer virus, worms, ransomware or even simple scripts.
It typically performs its malicious activities after it is implanted into the computer system.
Definition of Malware
Malware could be a piece of code which generally could be in the form of software designed deliberately to affect the computer system. Once it is installed into the computer system, it can access the resources of the computer system, may share data to some remote server without user concern, or may track user details, etc.
Now let us know the purpose of doing such malicious activities:
Malicious Activities
There could be many reasons for doing such activities. Let us look the motive for doing such malicious activities.
For Gaining Access to User System – There is much malware which gets installed to the user system either by installing software from unknown sources, etc. Once it is installed, they try to gain access to the user system and tries to gather data at some remote server. This malware monitors user activities, user habits, etc. and once such data is gathered, these malicious software saves it to a server.
Generating Clicks – Another activity which is performed by such malicious software is to generate clicks to advertisements without user concern. These software generated clicks on advertisements which take a user to a different website. Doing such things, they try to generate traffic on a particular website
Showing Advertisement – Many malware once installed show similar types of advertisements to the user. They generally monitor user activities like the type of website user visits, etc. and based on such things, show advertisements to a user.
Encrypting Files – Few of the malicious software encrypt user files and asks the user to pay a certain amount of money in order to decrypt such files.
Now, these are few of the basic causes for performing such malicious activities.
Types of Malware
Based on how such malware is spread it could be broadly categorized as follows:

Virus – A virus generally spreads when a user installs software and that particular software which is installed is infected with malicious software. A virus is simply a software which gets installed in a user system using some executable files. Once a virus is installed its start infecting other executable files.

Worms – A worm is a malware which generally spreads through the internet. These worms get infected to the user system through the internet.

Rootkits – This is typically a type of malware which remains hidden. Once this malicious software is installed, they try to remain hidden in order to avoid detection. These malicious software tries to modify the operating system so that it remains hidden. Rootkits hide such malicious activities from getting visible to the user.
Anti-Malware Software
Now, with knowing how this software can do malicious activities let us know how this malware could be prevented
Anti – Virus
There are lots of antivirus software which could be installed to prevent any kind of virus. This anti-virus software once installed take care that no virus gets installed. Also, they can scan your system for anti-virus and would repair it. These anti-virus monitors during the installation of new software for viruses.
Anti-Malware software
There is anti-malware software also available which detects for malware installed in the user system. They perform detection of any malware when a user is using the internet over a network. Anti-malware software prevents malware from infecting the user system. Also, it is just like an anti-virus scan for any malware installed.
How to Prevent Malware from Installation?
Now, let us know how we can prevent different types of malware.
Installing Legit Software Only – Always install legit software. Software from in-legit manner often contains malware in them.
Installing Software from the Unknown Source – Always install software from known sources. Do not download software from any website apart from getting install it from the known source.
Updating Operating System Updates – Install operating system updates as these updates often contain an updated definition for the detection of malware.
Updating Software Patches – Installed software also gets patches. One needs to install such patches to prevent it.
Installing Anti-Virus – Install anti-virus and anti-malware software to prevent any such malicious activities.
Conclusion
It is used widely to infect the user system. This malware is used to monitor user activities. Based on such activities this malicious software can show advertisements, generate traffic to websites, etc. One must install good anti-malware software to prevent such malicious software.
Recommended Article
This has been a guide to What is malware?. Here we have discussed the types and Anti-malware software along with Malicious activities. You may also look at the following articles to learn more –