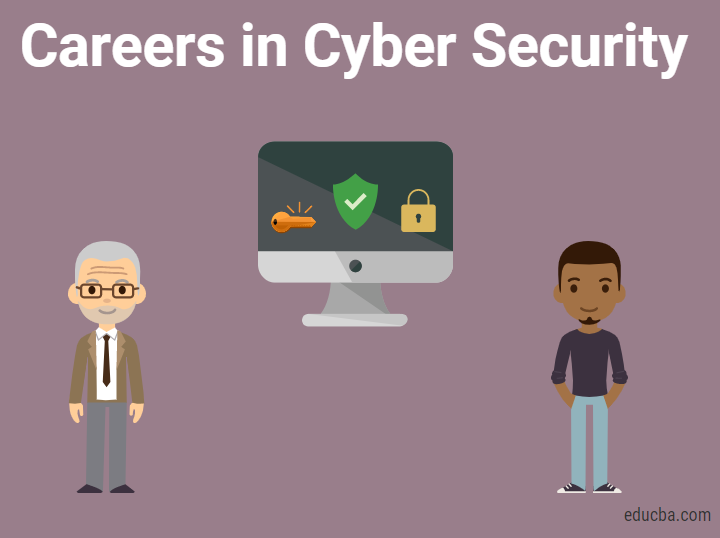 Introduction to Careers in Cyber Security
In this topic, we are going to learn about Careers in Cyber Security. Cyber Security is on-demand technology across the globe. It promises to buy us safety and security for our data, devices, network, and programs from digital attacks. Since the world has moved to a digital era where every business, no matter big or small, strives to mark its online presence. The advancement has a downside which makes their data easily prone to cyber threats if not controlled or monitored properly. Just like every coin has two faces, technology can prove to be either of boon or a bane for the community depending upon its usage.
Practicing Cyber Security is becoming a challenge as there are more devices than humans. The phishers or attackers are getting smarter with advancements in technology. This has made the situation more severe. Let's find out how this technology is shaping the world across us, the job opportunity it creates for people, careers in cyber security, salary expectations, career growth, and related facts.
Education Required for Careers in Cyber Security
Cyber Security is a serious business because things are changing very quickly. Any concepts or learnings that are learned cannot be used throughout the career as technology changes with each passing day. There are huge opportunities in the field of Information Security, Internet Marketing, Online Commerce, Never the Least, Cyber Security, just to name a few. With respect to Cyber Security, there are huge opportunities available as there are several degree programs and certification courses available in the market.
ISACA is an international professional association focused on IT governance. ISACA forecasted that there is a 60% growth in this technology in 2018. The shortage of a qualified Cyber Security engineer is so severe that Forbes quoted "the fast-growing job with a huge skill gap – Cyber Security".
These facts made us stand in front of a bigger question. How one can tap the immense career growth and make a career in Cyber Security?
The many paths to a career in Cyber Security.
A myriad of answers will be available if one gets to know how these Cyber Security experts have started their careers. One thing is for sure that these courses, degree programs, and certifications cannot hold you back, but if access can be very helpful. Let's have a look at the different education paths to a career in Cyber Security.
Mindset is prime, which comes before any other medium. The reason is simply this field must excite you.
Let us see the other kinds of behavior needed for a successful career.
Learning attitude throughout.
Must have a habit of seeing the other side of any scenario. This will improve your thinking perspective.
These behaviors are very crucial as the technology will come and go, but these behaviors' mindsets may last long.
1. Undergraduate Degree
There are several undergraduate's degree programs available worldwide. The challenge is not in their presence but in their availability. They are very hardly available to the masses. Talking of India, one can also look for normal B. Tech/B.C.Degree programs will serve you better as these are technology-related streams.
2. Certification
The value of certification is always a debated context. These can be helpful, but there are certain criteria on which these certifications struggle. Yes, these certifications are not hands-on (to the extent they must be). These certifications are available in the market but do a complete analysis before you opt.
CISSP – Certified Info. System Security Professional
CISA – Certified Information System Auditor
CISM – Certified Information Security Manager
GSEC – Essential Certifications
CRIC – Certified in Risk and Information System Control
CEH – Certified Ethical Hacker
ESCA – EC- Council Certified Security Analyst
GPEN – GIAC Penetration Tester
CompTIA Security
SSCP – System Security Certified Practitioner
3. Experience
This is most valuable and hard to get. Hands-On experience is the main ingredient before you call yourself as a cybersecurity expert.
Refer to this link for international colleges – Cybersecurity colleges
Refer to this link for national colleges proving the cybersecurity courses – Indian Cybersecurity colleges
Career Path in Cyber Security
The career path in Cyber Security is given below:
1. Entry-level
Cyber Security specialist/ Technician
Cybercrime Analyst/ Investigator
Incident Analyst/ Responder
IT Auditor
2. Mid-level
Cyber Security Analyst
Cyber Security Consultants
Penetration & Vulnerability Tester
3. Advanced-level
Cyber Security Manager/ Administrator
Cyber Security Engineer
Cyber Security Architect
Once you are done with your education and lucky to win an interview, you will get the above-mentioned roles and positions. One thing to note the work in all the organizations will be the same, but the roles this company offers to the individuals are a bit different. To better explain my words, I would like to give a practical scenario of how things work. Maybe a company will offer an Auditor or Analyst position to any newcomer irrespective of the job responsibility, which is the same.
Making a career in Cyber Security has vast potential and career growth in today's world, where companies are spending trillions of dollars to protect their sensitive data and avoid breaching.
The reasons are:
Unlimited GROWTH
Plenty VARIETY
Puzzle-solving ABILITY
Job IMPACT
Jobs and Application Areas
Application areas where Cyber Security incidents can be leveraged for better efficiency are listed below:
Network Monitoring
Host Monitoring
Behavioral Analysis
Process Automation
Salary
Average Cyber Security salary $92, 781.
Cyber Security pay by an employer – Stats Link
Booz, Allen, and Hamilton – $81,466
The MITRE corporation – $101,707
Raytheon Co. – $87,429
Northrop Grumman Corporation – $100,796
Lockheed Martin Corp – $101, 497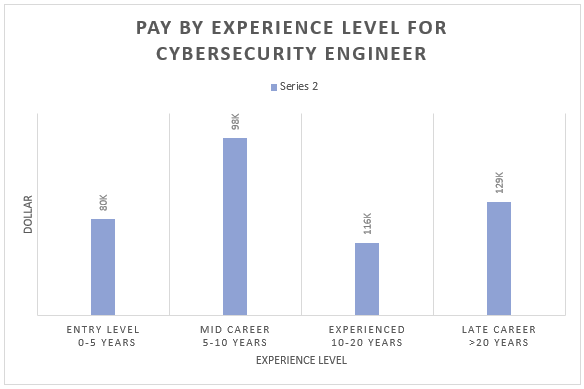 Indian facts and stats regarding salary reports.
The position of Product security engineer with 3-4 years of work experience in Bangalore is offered 3.20 lakhs.
In Mumbai, the security engineer gets 60k monthly.
Refer to this link – Indian Facts and Stats.
Looking at the salary with the angle of the position offered – Refer this link
1. Entry-level
Cybersecurity Specialist/ Technician – $75,000
Cybercrime Analyst/ Investigator – $85,000
Incident Analyst/ Responder – $99,000
IT Auditor – $86,000
2. Mid-level
Cybersecurity Analyst -$85,000
Cybersecurity Consultants – $100,000
Penetration & Vulnerability Tester – $102,000
3. Advanced-level
Cybersecurity Manager/ Administrator – $115,000
Cybersecurity Engineer – $108,000
Cybersecurity Architect – $129,000
Career Outlook
In one sentence, the career outlook can be summed up – "there has never been a better time than this for the career in Cyber Security to invest."
A career in this is filled with humongous roles with complex structures. Organizations like banks (prime), retailers, the IT industry, government(prime), and any other industry rely completely on this technology. There was a great leap that has brought the entire humankind to the forefront; yes, it was the advancement in mobile technology in the year mid-2014. This great boom in mobile payment, social media, and cloud computing has drawn the attention of criminals.
Conclusion
The conclusion is mostly mashed up and lack clarity. This career in cyber security article does not face this issue as the above facts and evidence are speaking for themselves. Let's see some alarming facts and stats to end up this discussion.
Forbes said that there is a huge demand for cybersecurity jobs (starting from the year 2016 onwards). Refer the link. There is a hacker attack every 39 seconds. 43% of the cyber attacks target small businesses. The average cost of a data breach in the year 2020 will exceed $150 million. Refer the link.
Cyber criminals are on the FBI's most-wanted list, Mobile malware on the rise. These stats are alarming and a good sign to invest in a career in Cyber Security. The more one knows the more one realizes that no organizations are safe when it comes to a data breach. Companies must pay attention to the importance of strong cybersecurity culture and a healthy sense of paranoia when the question is protecting sensitive data.
Recommended Articles
This is a guide to Careers in Cyber Security. Here we have discussed the introduction, education, career path along with salary and career outlook in Cyber Security. You may also look at the following article to learn more –