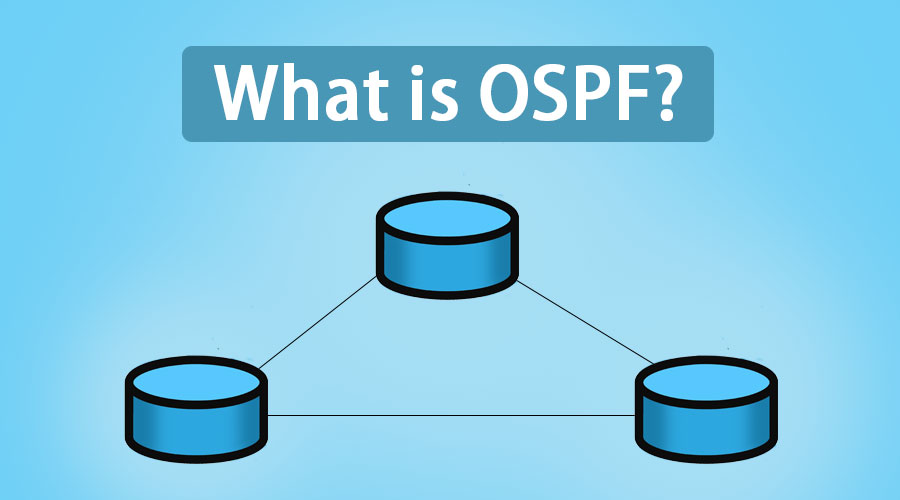 Introduction to OSPF
OSPF Stands for Open Shortest Path First, it is a routing protocol that is used in Internet Protocol (IP) networking. OSPF uses link state routing algorithms and it operates within a single autonomous system. It is a link state open standard-based routing protocol which was created in the 1980s. These days, the protocol can be used by any vendor because it has been made into an open standard.
OSPF is one of the most widely used protocols in large enterprise networks. It was designed to support variable length Subnet masking (or VLSM) and Classless Inter-Domain Routing (CIDR) address, models. One of the strengths of OSPF is that it can detect changes in the topology such as link failures quickly and once the changes are found a new loop-free routing structure can be converged in mere seconds.
OSPF Areas
In OSPF, an autonomous system can be divided into areas, these help in reducing the link state advertisements and other OSPF overhead traffic that will be otherwise sent to the network. Let's take a look:
Backbone Area: It is also known as area0 or area 0.0.0.0 it forms the very core of an OSPF network, and all other areas of the network are connected to the backbone area. It is responsible for distributing routing information between areas that are not backbone area types.
Stub Area: In the case of Stud Area, routing in the area is entirely on the basis of a default route. It is an area which does not receive advertisements external to the autonomous system (AS)
Not so Stubby Areas: NSSA is a type of stub that is able to import AS external routes and send them to any other area. However, it is unable to receive AS external routes from other areas of the network.
Transit Areas: It is an area with 2 or more OSPF border routers and it can be used to pass network traffic from one adjacent area to another one. It does not originate traffic and nether it is the destination of any such traffic.
How OSPF Works?
When OSPF is configured, it listens to its neighbors in the networks and it gathers all the link state data available. This data is then used to make a topology map that contains all available paths in the network. This database is saved for use and we call it Link State Database.
Once the Link State Database is made it is used to calculate the shortest path to subnets/networks using an algorithm known as Shortest Path First which was developed by Edsger W Dijkstra. OSPF creates 3 tables:
Routing Table: It contains currently working best paths that will be used to forward traffic between two neighbors.
Neighbor Table: This contains all discovered OSPF neighbors.
Topology Table: This one contains the entire road map of the network. This road map includes all the available OSPF routers and keeps calculated data about best and alternative paths.
Router Types in OSPF
Internal Router: This router contains all interfaces that belong to each other in the same area.
Area Border Router: ABR connects one or more areas with a backbone network. An ABR is considered a member of all the areas it is connected to. It keeps multiple Link State databases in the memory, one for each area.
Backbone Router: A router that has an interface to a backbone area is called a backbone router.
Autonomous System Boundary Router: ASBR is a router that is connected to the network with more than one routing protocol. ASBR exchanges routing info with routers autonomous systems. These run an exterior routing protocol, use stating routes or even use both methods.
Applications of Open Shortest Path First
OSPF is the first widely deployed routing protocol. It can converge with a network in a few seconds and it is one of the protocols that can provide loop-free paths. Aside from these features, OSPF allows the imposition of policies for the propagation of routes in the network.
OSPF is better at load sharing on external links compared to other IGPs. Considering these benefits, it can found widespread use.
Implementations of OSPF
Microsoft's Windows NT 4.0 Server, Windows 2000 Server and Windows Server 2003 all have OSPF v2 in the Routing and Remote Access Services. Microsoft Removed the support with the Windows Server 2008 and later version of Server Operating Systems by the company.
OpenBSD Operating system has an implementation of OpenBGPD protocol which has OpenOSPFD implementation.
BIRD implements OSPFv2 and OSPFv3 both.
GNU Zebra is a GPL routing suite that supports OSPF for Unix-Like systems.
Multi-Protocol Routing module in Netware has support for OSPF.
Advantages of OSPF
Now that you have understood what OSPF is, let us take a look at some of the major advantages of using Open Shortest Path First protocols in networks:
OSPF is easily scalable, meaning with the very little amount of hassle, we can scale it to use in a very big network
Open Shortest Path First Protocol has full support for subnets.
Use of Hello Packets: OSPF sends small hello packets to verify link operations and ignores transferring large tables.
OSPF Supports route tagging: In OSPF, routes can be tagged to ease interoperation with arbitrary values.
Routing: OSPF is able to route packets based on their type of service field.
Disadvantages of OSPF
OSPF is a processor intensive protocol to use.
Because it maintains more than one copy of routing information, it consumes more memory.
OSPF is a more complex protocol to understand and learn compared to other Internet Protocols.
Conclusion
Open Shortest Path First as a routing protocol has an important place in internet infrastructure. Being able to find the shortest path easily and quickly helps in reducing unnecessary network load and the ability to find another path in case of error at the optimal one helps in increasing the stability of the network.
Recommended Articles
This has been a guide to What is OSPF? Here we discussed the works, Implementation, application, advantages, and disadvantages of OSPF. You can also go through our other suggested articles to learn more –