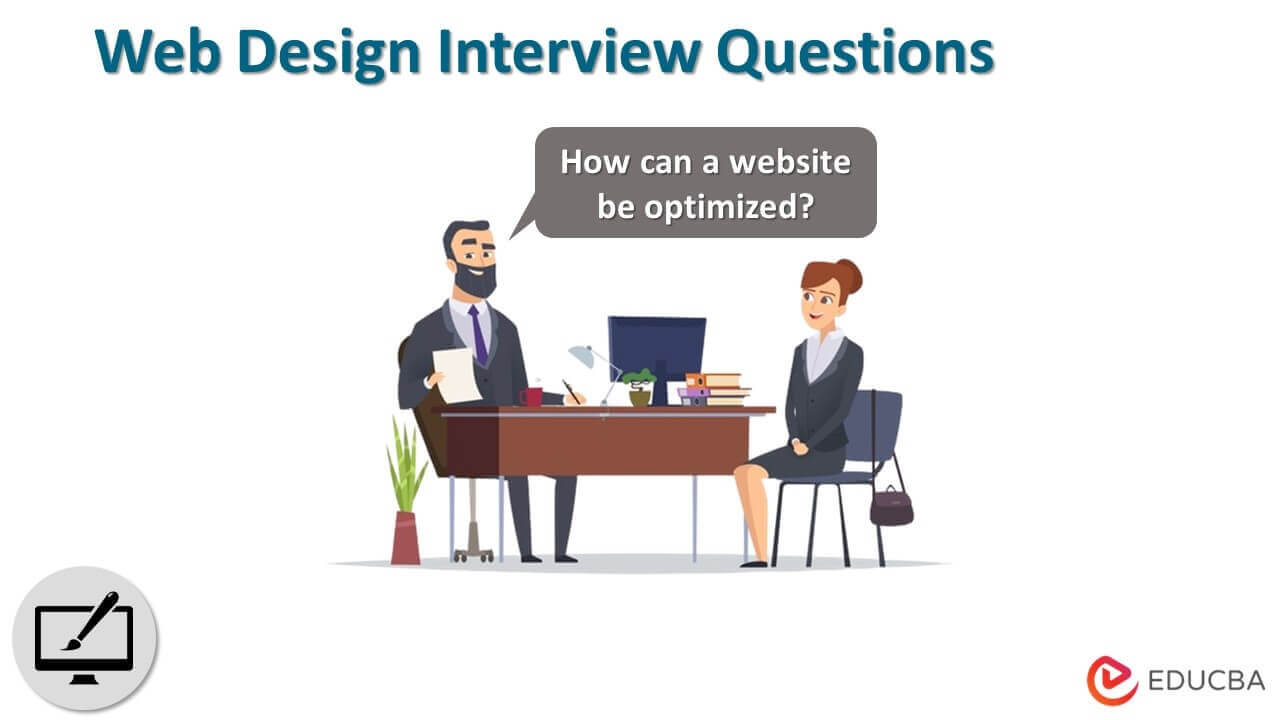 Introduction to Web Design Interview Questions and Answers
Web design is an interesting field. However, it requires many skill sets to do good website design. HTML, CSS< JavaScript, JQuery, etc., are some of the important languages and frameworks that one needs to know to be able to design fascinating websites.
So you have finally found your dream job in Web Design but are wondering how to crack the 2023 Web Design Interview and what the probable Web Design Questions could be. Of course, every interview is different, and the job scope is different too. Keeping this in mind, we have designed the most common 2023 Web Design Interview Questions and answers to help you get success in your interview.  These Interview questions are divided into two parts as follows:
Part #1 – Web Design Interview Questions (Basic)
This first part covers basic Web Design, Interview Questions, and Answers
Q1. How can a website be optimized? Where to start?
Answer:
To improve a website's performance, developers need to have ideas specific to the nature of each project. Some common and easy to implement optimizations skills are:
Minimize CSS and JS code. This saves a kilobyte of each page load.
Compress all assets in the most appropriate format.
Server-side caching mechanisms like Redis should be enabled.
Images should be served as per device screen size and pixel density. Load only the appropriate images for a given user.
Finally, HTML should be clear and concise.
Q2.Describe using the following HTML5 tags: STRONG, EM, SMALL.
Answer:
These tags create a specific visual treatment. For example -STRONGbolds the text, EM makes it italic, and SMALL makes it smaller. But this is not their purpose. Each has a semantic purpose as follows:
EM – Text that should be emphasized hence changing its contextual meaning.
STRONG – It can be used in titles, headings, and paragraphs to emphasize its word or phrase.
SMALL – Used for disclaimers and clarifications.
Let us move to the next Web Design Interview Questions.
Q3. Describe the advantages and disadvantages of using a CSS framework such as Bootstrap or Foundation.
Answer:
Advantages: 
Frameworks provide fast prototyping of layouts, elements, and pages,
Promote the reusability of many consistent elements across the entire project, and eliminate the need for Photoshop mockups. It also ensures other high-fidelity static sketches are removed.
Come with commonly used pieces of standardized
well-documented code that are built-in. It has a large support community when issues arise.
Disadvantages: 
tries to generalize common elements and often leads to not-so-good-looking designs
creates an unconventional or complex design or a layout
more effort involved in handling frameworks rather than simply writing the code from scratch.
come with too much redundant stuff that never gets used or styles that get overridden if not used in a correct sense
slower load times compared to code written from scratch.
Q4. Differentiate between "visibility: hidden" and "display: none"?
Answer:
Both are style properties
visibility: hidden: It hides the element but still takes up space in the layout.
Display: none: It eliminates the element. It does not consume any space. The HTML for it is in the source code but has no space.
Q5. What is white space? How does it affect the content on the web?
Answer:
White space is any area left purposely blank. It doesn't need to be white. In web design, white space separates elements, groups them, draws attention to a particular feature, or emphasizes the content layout.
Part #2 – Web Design Interview Questions (Advanced)
Let us now look at the advanced Web Design Interview Questions and Answers.
Q6. Define the principles of "gestalt"?
Answer:
Gestalt principles are from a theory of visual perception. Some of these principles applied in web design are:
Similarity – the human brain perceives elements with comparable features related to each other, which means these elements are connected or grouped.
Proximity – elements placed close among themselves are considered grouped or related to each other or a part of a whole.
Closure – The closure principle makes an element more fascinating to look at. This makes the design more enjoyable;
Figure- The ground relation tends to mentally separate facts based on color, shape, and experience.
Common fate – elements moving synchronously and are often conceived as grouped
Continuity – Our brain's ability to see connections among things and follow a path or different path based on similarities between them.
Q7. How to combine fonts? Which types of font combinations work nicely? How many different types of fonts are OK to use on a website?
Answer:
Some fonts work together nicely and look pretty on the same page. However, to combine two fonts properly, the similarities and differences between them should be looked at carefully.
Two fonts work fine with each other if they are similar or very different. For the two fonts to be equal, they should have similar x-heights.
Combining fonts that look very similar should be avoided, such as Helvetica with Lucida Grande.
Q8. Is mention a Responsive design on a web page?
Answer:
Responsive design: – An approach to building sites to provide the best viewing experience and interactivity. It focuses on the easy navigation of a site. It ensures the minimum scrolling, panning, and resizing across all devices.
Bootstrap is probably the most popular framework for developing responsive web design based on CSS, HTML, and JS.
Let us move to the following Web Design Interview Questions.
Q9. Mention some bad examples of web design.
Answer:
Some very bad ways to do web designs are mentioned below, which everyone should avoid.
Images that do Blinking, spinning, or flashing.
Black or very dark background with white, light, or pale text
Black backgrounds with brown, grey, or dark text
Tiled background images with light or dark color text
Everything is centered on the page
Way too many pictures on the page or Huge images
So many lists of links
Too many headlines or text that Blinks
Q10. When do you use JPEG compression, and when would you prefer PNG?
Answer:
Each image compression format has a specific purpose.
JPEG: – This reduces the image size by finding areas of similar color. A higher compression level ensures that such sites look more aggressively, leading to a loss of visual information and the generation of artifacts. This compression is best for photos, drawings, and gradients. JPEG doesn't work very well for screenshots, simple UI elements, flat icons, or schematics. It isn't suitable for text.
PNG: – This method of compression works by reducing the colors used. This could lead to a slight loss of color shades as well. The PNG method is excellent for logos, icons, signs, and text images. For simple illustrations or UI elements and screenshots, too, PNG is suitable. PNG files are, most of the time, larger than JPEGs.
Recommended Articles
This has been a guide to the List Of Web Design Interview Questions and Answers. Here we have listed the best ten interview sets of questions so the job seeker can easily crack the interview. You may also look at the following articles to learn more –