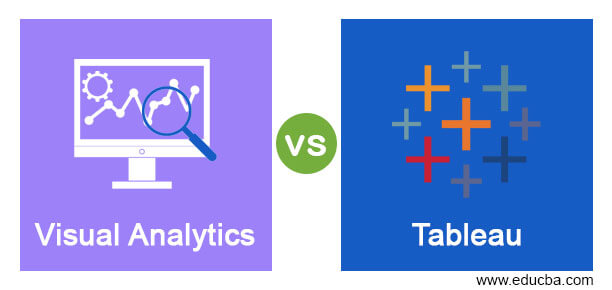 Difference Between Visual Analytics vs Tableau
Visual Analytics vs Tableau- Today's business needs more efficient and easily used business intelligence tools in order to achieve their goals and gain more profit. Installing a new business intelligence tool takes several weeks, months or even years and the maintenance of the tool is also expensive. Here comes two most popular BI tools Visual Analytics vs Tableau, its features and comparison.
In this article, we discuss the following:-
Head to Head Difference Between Visual Analytics vs Tableau (Infographics)
Following are some of the differences listed below.

What is Visual Analytics?
Visual Analytics is a form of inquiry in which the data is displayed in a graphical manner. Visual Analytics is a combination of automated analysis techniques with interactive visualizations for the purpose of effective understanding, reasoning and decision making. This is mostly used in very large and complex data sets. Visual Analytics is an in memory visualization and reporting tool.
Goals of Visual Analytics
The goals of visual analytics are as follows
Provide an transparent way of processing data and information for an analytic discourse
Integrate scientific disciplines to improve the division of work between human and machine
Gain in-depth knowledge from large, dynamic and complex data
Helps to provide more understandable ,timely and defensible reports
Communicate the report effectively so that proper decisions are taken
Visual analytics does more than just visualization. The main task in visual analytics is to identify the best algorithm for the task at hand and develop a best solution with proper visualization and interaction techniques.
Areas related to Visual Analytics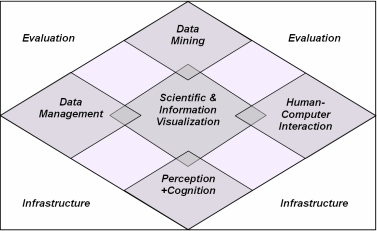 Visual Analytics Process
SAS Visual Analytics
SAS Visual Analytics is a deep analytics portfolio that was launched by SAS in the year 2012. It is the most sophisticated visual analytics platform and is best suited for larger companies with complex needs. SAS VA is a complete platform for analytics visualization which will help you to find patterns and relationships in data. It has a powerful in-memory technology for quicker analytic computations. It is easier to use and has a self-service environment that can deal with large amount of data.
SAS VA helps you to unlock insights and improve the efficiency throughout the organization. It reduces the work of the IT department and lets them concentrate on the goals of the business. Visual Analytics in SAS is the best way to tell your Business Intelligence story. It is priced little high than other visual analytic software comparisons, but has a lot of good features and functionalities. It has a traditional Business Intelligence platform and it requires skilled persons to use.
SAS Visual Analytics is compared with products such as Tableau, TIBCO Spotfire and others.
Features of SAS VA
Following are some of the features given.
Innovative visualization techniques
Self service, easy analytics
Robust report design
Mobile Business Intelligence
Collaboration
Easy data administration
Deployment flexibility
Auto charting
More interactive dashboards and reports
Mapping technologies
Text sentiment analysis
Benefits of SAS VA
Following are some of the benefits given.
You can implement visual analytics dashboards, reporting and analytics all from a single interface
Through Mobile BI apps you can view and interact with the reports and dashboards from your smart phone or any such device
Visual Analytics in SAS allows you to share the visualizations through MS office applications like Excel and PowerPoint
Visual Analytics in SAS uses a variety of visual analytics techniques which will help you to present the data in a more attractive way
You can choose a Business Intelligence implementation that fits your business need. You can also expand it as your business grows. You also have an option to use BI in a private cloud or a public cloud.
What is Tableau?
Tableau is a business intelligence software that lets anyone to connect to the data, visualize and create graphs, charts and dashboards in the way they like. It is an exploration software. Tableau software's desktop can perform its own analysis. It helps the business to analyze a large amount of data in a quick and user-friendly way.
This is more popular software that is most preferred by the business people for data visualization.
Features of Tableau
This has five important features
Tableau Desktop – This has an attractive drag and drop desktop which lets the users to quickly analyze, sort and visualize data.
Tableau Server – This server communicates the visualizations to any device like a desktop or mobile that supports a web browser. The architecture of Tableau server is measurable.
Tableau Online – Tableau online features lets users to share the dashboards with the partners as well as the customers
Tableau Reader – This feature lets the user to share the data visualization created using this software
Tableau Public – It is the website enhancement feature which lets the visualization to narrate the story.
Features of new version Tableau
Statistical data files – This already supports more data sources and the new version of it supports statistical files
Data preparation – The new version of this has more data preparation features which helps the users to clean the data and spend more time on analysis.
Ad Hoc Calculations – The new version of this allows the users to perform lot of calculations on an Ad Hoc basis. Tableau gives you answers on the flow which will let you experiment new things
Query Performance Improvement – In the new version of Tableau the in memory analytic database is made to work even more faster than before. It is designed to make the most use of the user's hardware.
A new technology called Query Fusion is added which will search for all the queries and look out for ways to simplify them
Smart Maps – Selection controls, Location search capability are all the new features introduced in the new version
Admin Views – Admin views is one more special feature added to the new version which lets the administrators to monitor and analyze data easily. It also lets them to detect bugs, plan upgrades and track the activities.
There are also several other features of Tableau which is mainly divided under three categories
Analytics Features
Ad Hoc Analysis
OLAP
Trend Indicators
Reporting Features
Ad Hoc Reporting
Automatic Scheduled Reporting
Customizable dashboard
Dashboard
Financial Forecast
Graphic Benchmark tools
Multiple Languages
Support Features
Email
In Person Training
Online Chat
Phone
Visual Analytics Tutorials
Some features are provided at a cost while other features comes for free.
This has all the necessary features that you need for your business today and the capabilities that you want for tomorrow.
Installation of Tableau is very easy and simple.
Comparison Table Between SAS Visual Analytics vs Tableau
Here in this article, we are going to compare SAS Visual Analytics vs Tableau.
| | | |
| --- | --- | --- |
| Basis of Distinction | SAS Visual Analytics | Tableau |
| Otherwise Known as | SAS BI | Tableau Desktop, Tableau Server |
| Ranking | Ranks 11th position in the BI software tools | Ranks 1st position |
| Few Customers | Staples, Scotia Bank, Australian Institute of Health and welfare | Accenture, Coco Cola, Bank of America, PayPal, Google, Skype, Citigroup, Dell, Walmart, The New York Times, US Army and Air force |
| ETL development | Supports internal ETL development | This does not support ETL development |
| Modelling Add in | SAS VA comes with SAS Visual statistics which will help you to do modelling | Does not support modelling Add in |
| Functionality support | In SAS VA there is "Stored Process" system where if any functionality is not working then it can be programmed to literally do anything | Tableau is drag and drop tool and if any functionality is not working your work gets stopped there |
| Size of Business | SAS VA can handle larger volumes of data | This is best suited for small and medium scale industries |
| Installation | SAS VA installation process is large and takes some time. A third party does the installation and your company is considered as a passenger. | This can be installed with ease like your MS Office. It is also easy to manage |
| Forms of analysis | SAS VA supports many forms of analysis | Whereas Tableau does not support different type of analysis like text analysis, predictive analysis, what if analysis and others |
| Capability | SAS VA requires extra effort and cost to expand the capability | This comes with all the in- built capabilities for the business users. Therefore no extras to be added. |
| Visualization | SAS VA does not support packet bubble visualization | Tableau has packet bubble visualization |
| Colour differentiation | SAS VA output cannot be differentiated using colours | In Tableau output different sectors can be differentiated using different colours |
| Underlying data | In SAS VA the underlying data cannot be viewed unless you have Visual data builder or report designer | In Tableau desktop the underlying data can be easily viewed |
| Dashboard | SAS visual analytics dashboard has multiple tabs | Tableau dashboard can tell a story |
| Important features | Interactive dashboard, Visual data explorer | Actions, Story dashboard, Parameters, Maps |
| Deployment Issues | Only minimal deployment issues detected | No deployment issues detected |
| Pros | SAS VA is excellent for modelling, data exploration | Slicing and dicing of data, Connectivity to Google Analytics and dispersed data sources |
| Recommended improvements | Navigation should be made easyNeed to be little cheapAccommodate survey data | Release of new features is always in the next version which takes much time |
| Usability | SAS visual analytics has user guide which will help the users to learn all the basic capabilities | This is very simple and easy to learn. It is a drag and drop tool and so users can easily learn it. |
| Support | SAS VA lends legendary support from customer services as well as from analytics experts and representatives | Support is not required in Tableau as it is frequently updated and the issues are solved out quickly |
| Training | SAS has many regional and national level centers to provide training in order to expand the users knowledge about the software | This software is so easy to use and so it trains a lot of people in a short period of time. Simple instructions are more than enough for the users to understand the new features added |
| Online help | There are lot of videos available online for the users which includes live classes and resource materials | Online videos are exceptionally good in Tableau |
| Performance | SAS VA can handle billions of rows of data and the performance is relatively good | It performs very well. But the only thing is that the data should be organized properly in order to get the maximum performance out of it |
| Alternatives | SAS VA can get data from other sources such as Salesforce and many others | Alternative solutions are still in the process |
| Initial Setup | The initial set up of SAS VA requires more time and effort | This is easy to install and set up |
| Cost and Licensing | Annual License and onetime cost | The cost of tableau differs for each of its feature |
| Return on Investment | Increase the return on investment through marketing campaigns | Increases productivity and Increases client satisfaction |
| Technical support | SAS VA offers excellent technical support | Do not need any technical support in Tableau |
| Customer Service | The customer intelligence manager and the support team interacts closely with the users | Customer support is very good but often it is not needed because of the robustness of the software |
| Google Analytics Connector | SAS VA does not support this feature | Tableau connects easily with Visual Google Analytics |
| Free Trial | Free Visual Analytics trial is available for 14 days. Click here | This offers a free trial to the users |
| Sharing of work | SAS VA lets you to share your work with partners and colleagues | It does not let you to share your work |
| Themes | In SAS VA corporate themes can be integrated once it is installed | Tableau does not support any change of themes |
Below is the picture that compares the Tableau with SAS VA for the year 2014
Conclusion
I hope that this article would have helped you to learn the differences between Visual Analytics vs Tableau. On the whole Tableau has a lot of good features when compared with Visual Analytics. Tableau gives answers to all your business needs and lets you focus on the other task in the organization.
Recommended Articles
This has been a guide to Visual Analytics vs Tableau. Here we have discussed the basic overview, head to head differences, comparison table with infographics in detail. You may also have a look at the following courses to learn more –