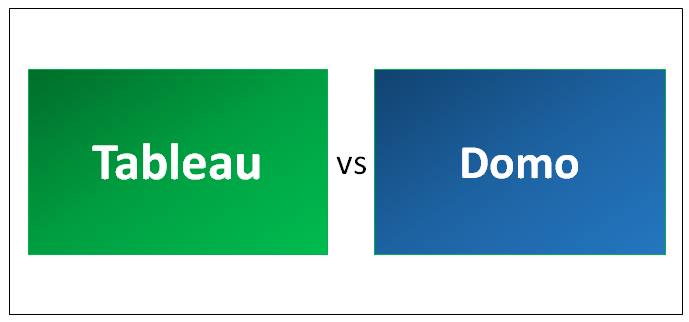 Differences Between Tableau vs Domo
In this era when data is growing with a rapid speed in almost all the departments, Industries are looking forward towards having Business Intelligence tools to help them analyze their data by transforming it into reports, dashboards for better decision making. Some of the leading Business intelligence products in the market are Tableau, QlikView, Microsoft Power Bi, Amazons QlikSight, Domo etc. Here we will compare two of the most prominent vendors: Tableau and Domo. Tableau is Data Visualization champion with self-service data discovery feature and Domo is cloud-based dashboard which provides a variety of visualization with lower pricing. Thus, domo is proving itself to be a good competitor of Tableau.
Let us compare these two systems based on their features and capability.
Head to Head Comparison Between Tableau vs Domo (Infographics)
Below is the top 9  Differences Between Tableau vs Domo

Key Differences Between Tableau vs domo
 Both Tableau and Domo are popular choices in the market; let us discuss some of the major differences between Tableau vs Domo:
1.Dashboard
Tableau provides features like custom filters and drag-drop functionality which helps the user to create interactive dashboards and share them with the help of Tableau online or server. Some users find tableau interface not so intuitive.
Domo provides more pleasant user experience with a number of pre-built pages which can self-assemble based on data inputs or a user can drag-drop them if required.
2. Analytics Capability
Tableau provides functionality to adopt local processing power and synchronize data quickly. This is also referred to as In-memory and In-database analytics architecture. It also covers analytics features like data discovery, data visualization, survey analysis, time-series analysis, social analytics, etc. In order to provide mobile BI solutions, tableau also integrates with R statistical programming language.
Domo has the capability to analyze as well as cleanse customer data from any source. It also makes extraction, transformation and loading process easier, since you can analyze data without any SQL training. It also has Data Fusion feature to merge data from multiple data sources. Domo does all its processing in a cloud by collecting data from any data source
3.Data Connectors
Both Tableau and Domo provide data connectors to connect with multiple sources, thus there is no need to perform any custom configuration or write any code.
4.Operating System
In terms of Operating System, Tableau can work with both Windows and Macintosh OS environments.
Domo also works with both including Windows mobile.
5.Communication
Tableau provides communication in both ways: on-premise as well as cloud-based with Tableau Desktop and Tableau cloud.
Domo Does not provide on-premise communication.
6.Offline Analysis
Tableau provides offline analysis feature when there is no need for internet connectivity.
Domo does not give provision of offline analysis.
7.Data Sources
Tableau provides support to extract data from various kinds of data sources.
Domo provides good support to analyze data obtained from various data sources.
8.Data Extraction
Data extraction process is very easy with a tableau.
Data extraction with Domo is little cumbersome.
9. Speed
Tableau has the capability of quick data analysis by providing two ways of data collection: In-memory connection and live connection.
On the other hand, Domo provides a One-click application and workbench, to connect with different on-premise tools and upload data without any help from IT staff.
10.Real-Time Analysis
Tableau creates a link to dynamic data sources for real-time analysis.
Domo also performs real-time analysis and it also has good social media collaboration.
Popular Course in this category
Data Scientist Course
43 Online Courses | 170+ Hours | Verifiable Certificate of Completion | Lifetime Access
4.8 (1,744 ratings)
---
Related Courses
Tableau Training
Azure Training Course
Tableau vs Domo Comparison Table
Below are the lists of points, describe the comparisons Between Tableau vs Domo
Basis of Comparison
Tableau
Domo
History
Founded in Mountain View, California in the year 2003
Founded in 2010, six years after Tableau
Customers
Tableau has a customer base around 57000+ with customers like Deloitte, Coca-Cola, Dell, Citrix etc
Domo has over 1000 customers in the industry, with some notable customers like eBay, MasterCard, National Geographic etc.
Pricing
Subscription-based pricing where personal package cost around $35/user per month and professional package cost around $70/user per month. Free Trial versions are also available.
Pricing around $83/user per month. A free trial is available.
Product details
Products are divided into three tiers: 1. Tableau Desktop Edition: to visualize and analyze data and create reports

2. Tableau Server edition: to edit and distribute BI assets.

3. Tableau online edition: a hosted version of Tableau server edition

Product tiers in Domo are cloud-based and are divided into three categories:

1. Domo Starter Edition: for small teams

2. Domo professional Edition: for larger team size  with admin control

3. Domo Enterprise Edition: with all controls

Good
Simple drag-drop feature, a user can easily create reports by analyzing data and share them across the organization.
Ability to connect data with more than 300+ connectors with a cloud-focused system to provide an online platform
Bad
Expensive for small businesses
Difficulty in extracting data
Deployment
On-premise
Cloud-based, mobile as well as on-premises deployment
Learning
Easy to learn and use
Domo is little harder to learn and use than Tableau
Implementation
It provides a variety of implementation services with classroom training for enterprise-level deployment. It also provides a Quick Start for small and medium-sized organisations.
Domo provides an implementation based on customer requirement and resources. They provide training options for online training videos, web-based training, and instructor-led training at a customer location.
Conclusion – Tableau vs Domo
Taking into account all the features of Tableau and Domo we can say that both tools allow the same task of mining data for business and data visualization for better analysis and decision making. Both offer many data connectors for horizontal integration and have user-friendly dashboards with intuitive features. Both Tableau and Domo also offer mobile apps.  However, the biggest difference is in terms of pricing. If you want to go for Cloud-based application and share access among the whole team, go for Domo. It is more affordable than Tableau in terms of cost. If you want to provide desktop access to few power users, you can choose tableau.
There is no winner in the comparison since both these tools are good enough to provide services required by any organisation. Thus, depending on your need, you can make a choice by considering features of both these Business Intelligence tools.
Recommended Article
This has been a guide to Differences Between Tableau vs Domo here we have discussed their Meaning, Head to Head to Comparison, key differences, and Conclusions. You may also look at the following articles to learn more –
Data Science Course - All in One Bundle
360+ Online Courses
1500+ Hours
Verifiable Certificates
Lifetime Access
Data Science with Python Course