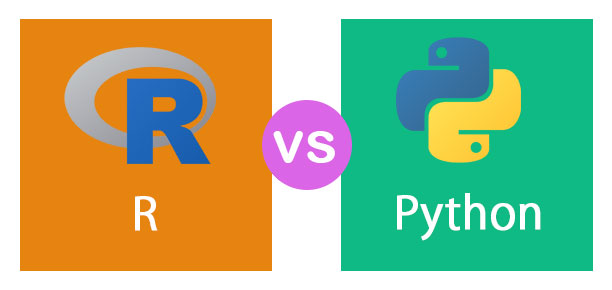 Difference between R vs Python
R vs Python is a common topic of debate for data scientists and data analysts these days. R and Python both are open source programming languages. Both languages are used in data science and have a lot of libraries. Python is a general-purpose programming language whereas R is used for statistical computing and graphics.
Let's find out more about R vs Python.
R:-
R is a statistical language. It is used for developing statistical software and data analysis. Ever since data mining and study of data have become popular, R has also gained its popularity. Along with statistical techniques, R also provides a wide variety of libraries for graphical techniques. It can produce static graphs which are used for publication quality graphs. Dynamic and interactive graphs are also available. R has a package archive network (CRAN- Comprehensive R Archive Network) for all the packages that it supports. It contains more than 10,000 packages. R is a command line language but there are several interfaces that provide interactive GUI to ease developers task.
Python:-
Python is a multi-paradigm language created by Guido van Rossum in 1991. It can be used in web development, software development, system scripting, etc. It works on different platforms. Python was designed for better readability; hence it has some similarity with the English language. Python focuses on simple, less cluttered syntax and grammar.
In python white spaces mark the indentations to limit the block. It uses dynamic typing and late binding which bind the methods and variables at the runtime. With a large number of libraries, Python can be used for many purposes. It has been ranked in the top ten most popular programming languages.
Head to Head Comparison between R vs Python (Infographics)
Below are the top 11 differences between R vs Python.

Key Differences between R vs Python
Although R vs Python are popular for similar purpose i.e. data analysis and machine learning. Both languages have different features. Each language offers different advantages and disadvantages. Let's have a look at some key differences.
Speed and Performance: Although both languages are used for big data analytics. But performance wise Python is a better option for building critical yet fast applications. R is a bit slower than Python but still fast enough to handle big data operations.
Graphics and Visualization: Data can be understood easily if it can be visualized. R provides various packages for graphical interpretation of data. Ggplot2 gives customized graphs. Python also has libraries for visualization, but it is a bit complex than R. R has a pretty-printed library which helps in building publication-quality graphs.
Deep Learning: Both r vs python languages have got their popularity with the rising popularity of data science and machine learning. While python offers a lot of finely tuned libraries, R got KerasR an interface of Python's deep learning package. Thus, both languages now have a very good collection of packages for deep learning. But python stands out in case of deep learning and AI.
Statistical Correctness: Since R is developed for data statistics, hence it provides better support and libraries for statistics. Python is best used for application development and deployment. But R and its libraries implement a wide variety of statistical and graphical techniques for data analysis.
Unstructured Data: 80% of the world's data is unstructured. Data generated from social media is mostly unstructured. Python offers packages like NLTK, scikit-image, PyPI to analyze unstructured data. R also offers libraries for analyzing unstructured data, but the support is not as good as Python. Yet both languages can be used for unstructured data analysis.
Community Support: Both R vs Python has good community support. Both the languages have a user mailing list, StackOverflow groups, user-contributed documents, and codes. So here is a tie between both languages. But both languages do not have customer service support. Which means users have just online communities and developer's documents for help.
R vs Python Comparison Table
Let us discuss the topmost differences between R vs Python.
| | |
| --- | --- |
|        R |    Python |
| R codes need more maintenance. | Python codes are more robust and easier to maintain. |
| R is more of a statistical language and, also used for graphical techniques. | Python is used as a general-purpose language for development and deployment. |
| R is better used for data visualization. | Python is better for deep learning. |
| R has hundreds of packages or ways to accomplish the same task. It has multiple packages for one task. | Python is designed on the philosophy that "there should be one and preferably only one obvious way to do it". Hence it has few main packages to accomplish the task. |
| R is easy to start with. It has simpler libraries and plots. | Learning python libraries can be a bit complex. |
| R supports only procedural programming for some functions and object-oriented programming for other functions. | Python is a multi-paradigm language. It means python supports multiple paradigms like object-oriented, structured, functional, aspect-oriented programming. |
| R is a command line interpreted language. | Python strives for simple syntax. It has a similarity to the English language. |
| R is developed for data analysis, hence it has more powerful statistical packages. | Python's statistical packages are less powerful. |
| R is slower than python but not much. | Python is faster. |
| R makes it easy to use complicated mathematical calculations and statistical tests. | Python is good for building something new from scratch. It is used for application developments as well. |
| R is less popular but still, it has many users. | Python is more popular than R |
Conclusion:
Both r vs python languages have their pros and cons, it's a tough fight between the two. Python seems to be a little more popular among data scientists, but R is also not a complete failure. R is developed for statistical analysis and is very good at that. Whereas Python is a general-purpose language for application development. Both the languages provide a wide range of libraries and packages, cross-library support is also available in some cases. Hence it totally depends on the user's requirements which one to choose.
Recommended Articles
This has been a guide to R vs Python. Here we also discuss the R vs Python key differences with infographics, and comparison table. You can also go through our other suggested articles to learn more –