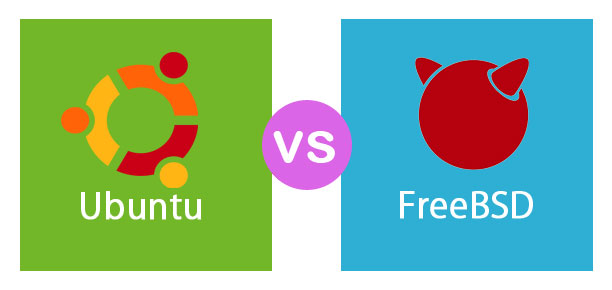 Difference Between Ubuntu vs FreeBSD
Ubuntu:
Ubuntu funds as 'humanity to others' and being a competent software all layers of Ubuntu are built based on this principle. Ubuntu chains for personal home use, business, and education. Ubuntu is based on Debian OS. The UK found an operating system which in the main runs on Linux kind of server. Services like smartphones, computers and network computers use ubuntu largely. Ubuntu is mainly designed based on the principles of open source software systems.
The major releases of Ubuntu are :
Ubuntu desktop
Ubuntu servers
Ubuntu core
Key features of Ubuntu
Nice and good experience of the system in terms of its look and how the user experiences it.
Profound use with ease
Desktop organization
The desktop versions of Ubuntu support well-known windows desktop software like chrome, firefox, etc.
Tremendously fast functionality and augmented customized product
Distribution of classified number of languages for selection
An operating system which runs on community-based systems
FreeBSD:
It expands as Berkey software distribution. a distribution with the key goal of the dependability of the software and speed of the same. also, the sturdiness and competence of the software are also a key. 356BSD ' s intermediate snapshot was the innovative goal behind this project this could also make a standard fix for a classified amount of problems in the patchkit mechanism.
Key elements of FreeBSD model
Availability of SVN repositories
Enlisting committers
Core free BSD team
The open source projects developed from FreeBSD are as below:
BSD Router – Acts as a major replacing element for enterprise-based routers which probably run on PC hardware.
FreeNAS – A tailored FreeBSD intended in use as a network. Provides a web interface to simplify UFS and ZFS managements this interface is primarily built on python programming setup. It also adds support for AFP, FTP, NFS, SMB/ CIFS, and iSCSI. FreeBSD rails also include and plugin based system additionally.
GhostBSD – Built primarily for desktop, this version of FreeBSD is a package in the Gnome desktop environment.
mfsBSD – A complete memory executed FreeBSD system image toolkit is provided in this version
NAS4Free – A web interface which core powered by PHP is distributed here.
OPNSense – A security-related firewall and platform which kicks routing and design are easy to use and build in manner. As like other costly firewalls all relative features are also associated with OPNSense software. It brings a wealthy characteristic set of trade aid with the payback of verifiable sources which are open source.
TrueOS – Another version of this platform build primarily for desktop related users and this set provides graphical utilities in a larger extent.
pfSense – Another firewall distribution with extensive IPv6 support.
Key users of FreeBSD
All infrastructures of public networks related to the Apache foundation are built on FreeBSD setups. It involves more than one million commits across the SVN repositories in the whole world.
FreeBSD put together the gears operating on networking systems of juniper. Connectivity between build products and market vendors are established using these juniper systems.
Surprisingly FreeBSD holds its vital part in movie provider Netflix lanes. Netflix acts as the source for generating the largest amount of North American e-traffic standing more than 32% of the overall amount being exhibited. The applicant which Netflix uses in its system build which is namely called as Open connect is completely marked up using FreeBSD systems.
Namingly internet web page registeries .net and .com are very much familiar across the globe. these rooted registeries are operated by internet legend verisign. FreeBSD kind of network OS is used in these infrastructures in order to bypass a single point of failure across all parts of these systems.
With the help of ZFS setups voxer takes a handy control on voice messaging systems in mobile environments. In order to overcome documentation percepts and handle active community, voxer made a jubilant shift from Solaris to FreeBSD.
Head to Head Comparison (Infographics)
Below is the top 5 difference between Ubuntu vs FreeBSD

Key Differences Between Ubuntu vs FreeBSD
Let us discuss some of the major differences between Ubuntu vs FreeBSD:
FreeBSD holds a versatile OS which compared to Ubuntu systems works more reliably and flexible on a server.
FreeBSD is preferred if we involve to adjust and restructure the Operating system devoid of publishing the source code. For example, OS X. All codes can be secured using the FreeBSD code license but With Ubuntu together with GPL related software, there is a need to share the resource code if we make any changes.
Both Ubuntu vs FreeBSD is actually steady, well-organized and dependable OSs
FreeBSD does not use Linux distribution as like ubuntu.
The kernel and userspaces a co-joined with FreeBSD setup
Ubuntu vs FreeBSD Comparison Table
Below is the top 5 difference between Ubuntu vs FreeBSD
| | |
| --- | --- |
| Ubuntu | FreeBSD |
| Open source OS built with reference on Debian GNU distribution | Built on Berkeley software distribution and not an open source system |
| Monolithic | Along with its monolithic capability, it also allows dynamically loaded modules |
| Simple to use than FreeBSD | Comparatively not simple |
| Largely flexible | Does not provide the amount of flexibility equally as exhibited by ubuntu |
| GNOME, ubuntu unity | Uses UNIX shell |
Recommended Articles
This has been a guide to Ubuntu vs FreeBSD. Here we also discuss the Ubuntu vs FreeBSD key differences with infographics and comparison table. You may also have a look at the following articles to learn more –