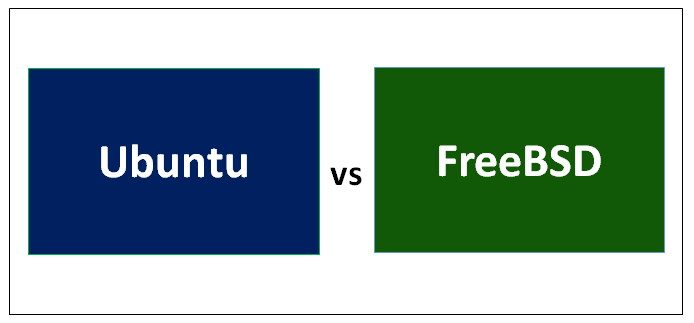 Difference Between Ubuntu vs FreeBSD
What is Ubuntu?
Ubuntu is a Linux-based operating system. It is created for computers, smartphones, and network servers. The system is developed by a UK based organization called Canonical Ltd. All the principles applied to develop the Ubuntu software are based on the principles of Open Source software development. Ubuntu is offered in three official releases: Ubuntu Desktop for personal computers, Ubuntu Server for servers including the cloud, and Ubuntu Core for an Internet of things devices plus robots. Latest releases of Ubuntu occur every six months, while long-term support (LTS) releases happen every two years.
Ubuntu is designed by Canonical and the community in a meritocratic governance model. Canonical gives free guaranteed security updates and support for all Ubuntu release, beginning from the release date and until the release reaches its predesignated end-of-life (EOL) date. Canonical produces income through the sale of premium services associated with Ubuntu. Ubuntu is the most popular operating system for the cloud moreover is the reference operating system for OpenStack. The significant features of Ubuntu are, The desktop version of Ubuntu supports all the normal software on Windows such as Firefox, Chrome, VLC, etc. Also, It supports the office suite called LibreOffice. Moreover, Ubuntu has an inbuilt email software called ThunFderbird, which provides the user access to email such as Exchange, Gmail, Hotmail, etc.
What is FreeBSD?
FreeBSD is a free and open-source Unix-like operating system descended from Research Unix through the Berkeley Software Distribution (BSD). FreeBSD is a direct descendant of BSD, which was historically termed "BSD Unix" or "Berkeley Unix" (in violation of the UNIX trademark). The initial version of FreeBSD was released in 1993, and as of 2005, FreeBSD was the most popularly used open-source BSD operating system, accounting for more than three-quarters of total installed BSD systems.FreeBSD has similarities with Linux, with two significant differences in scope and licensing: FreeBSD keeps a comprehensive system, i.e. the project delivers a kernel, device drivers, userland utilities, moreover documentation, as opposed to Linux simply delivering a kernel and drivers, and relying on third-parties for system software; and FreeBSD source code is commonly issued under an approved BSD license, as opposed to the copyleft GPL used by Linux.
The FreeBSD project includes a security team overseeing each software shipped in the base distribution. A wide range of further third-party applications may be installed using the pkg package management system or FreeBSD Ports, or by compiling the source code. Due to its licensing, many of FreeBSD's code base has become an integral part of separate operating systems, such as Apple's Darwin (the basis for macOS, iOS, watchOS, and tvOS), FreeNAS (an open-source NAS/SAN operating system), the Nintendo Switch system software, and the system software for Sony's PlayStation 3 also PlayStation 4.
Head to Head Comparison between Ubuntu vs FreeBSD (Infographics)
Below is the top 6 difference between Ubuntu vs FreeBSD :

Key Differences between Ubuntu vs FreeBSD
Both Ubuntu vs FreeBSD are popular choices in the market; let us discuss some of the major Difference Between Ubuntu vs FreeBSD :
Contrasted to Ubuntu, FreeBSD may work better on a server. Although fewer applications are available for FreeBSD, the OS is extra versatile. For instance, FreeBSD can execute Linux binaries, although Linux cannot execute BSD binaries.
Compared to FreeBSD, Ubuntu is frequently considered to be a bit easier to handle and really shines as a desktop Operating System (like Windows or OS X). It comes with several 'flavors' like Linux Mint, Kubuntu, or Xubuntu. Fundamental programs come pre-installed. Ubuntu also has an excellent community of support able to guide you through the OS.
FreeBSD is not a Linux distribution similar to Ubuntu(which has Linux kernel). FreeBSD will come with its own kernel plus userspace. There is a Linux binary compatibility layer which enables you to manage Linux binaries, but there will be variations. Most importantly in specific drivers.
You should go with FreeBSD if you require to change and redistribute the OS without publishing the source code. For instance, OS X. FreeBSD license makes you hide and keep private your code. With Ubuntu including all GPL software, you should share source code if you perform any modification. Both Ubuntu vs FreeBSD is really stable, efficient and reliable OSs.
There will assuredly be a slight learning curve/adjustment for Linux methodologies. Linux is fun to work with and a fabulous learning environment. For some bleeding edge requirements, it's a great option. FreeBSD as an operating system that people graduate to once they're tired of messing about in the Linux experience. It's a place of stability and advancement.
Ubuntu vs FreeBSD Comparison Table
Below is the topmost Comparison between Ubuntu vs FreeBSD :
Popular Course in this category
Java Course
50 Online Courses | 240+ Hours | Verifiable Certificate of Completion | Lifetime Access
4.8 (692 ratings)
---
Related Courses
Python Certification Course
HTML Course
| | | |
| --- | --- | --- |
| The basis Of Comparison Between Ubuntu vs FreeBSD | Ubuntu | FreeBSD |
| Definition | Ubuntu is an open-source operating system (OS) based on the Debian GNU/Linux distribution and it incorporates all the characteristics of a Unix OS with an added customizable GUI, which makes it popular in academies and research institutions. Ubuntu is essentially designed to be used on personal computers, although a server version does also exist. | FreeBSD, standing for Berkley Software Distribution, was principally built for speed and reliability. It's created to be as robust and efficient as possible on different platforms. |
| Package manager | dpkg, DEB, Click packages, Snap | pkg |
| Kernel type | Monolithic (Linux) | Monolithic with dynamically loadable modules |
| Userland | BSD | GNU |
| Developed by | Canonical Ltd. | The FreeBSD Project |
| Default user interface | GNOME, Ubuntu Unity (from version 11.04 to 17.04) | Unix shell |
Conclusion – Ubuntu vs FreeBSD
In short, Both Ubuntu vs FreeBSD perform excellent desktop distributions. Ubuntu comes from the Debian family, and it's the initial operating system developed by Canonical. Ubuntu's varied announcement cycle makes it slightly of a jack of all trades, and it can fit approximately any use case. FreeBSD has been used on servers for several years to power some of the most common Internet services. As a desktop operating system PC-BSD contributes the richness of FreeBSD, including ZFS, but with a more friendly front end.
Recommended Articles
This has been a guide to the top difference between Ubuntu vs FreeBSD. Here we also discuss the Ubuntu vs FreeBSD key differences with infographics, and comparison table. You may also have a look at the following articles to learn more –
Software Development Course - All in One Bundle
600+ Online Courses
3000+ Hours
Verifiable Certificates
Lifetime Access
Python Certification Course

Programming Languages Courses