Updated March 6, 2023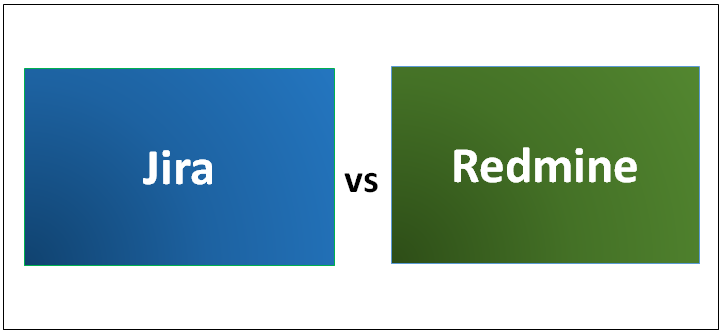 Differences Between Jira and Redmine
Jira vs Redmine is using mainly for proper project management software. Suppose one company mainly popular in selling and manufacturing one specific product, and that specific company willing to know about that specific product-market strategy which is more complicated. This kind of software makes this comparison very smartly; even it will provide big information regarding upcoming improvements require based on the current market profile, other competitive companies' marketing process and especially customer feedback. This is a great help for any company to understand their success and failure both in the current year very smartly and got the improvement notice, which can help them plan the upcoming future for their specific product.  JIRA is holding an overall score of 9.3, whereas Redmine is 8.0. Also, in terms of the overall level of customer satisfaction, JIRA is again leading Redmine; as per current information, Redmine's customer satisfaction level is 96%, whereas JIRA contents 99%.
In between this kind of software, Jira vs Redmine is mostly popular, which has been used by varieties companies based on their expectation or product future planning. But Jira vs Redmine has many differences in their specific features like devices that are mainly used for the support that software, how or level that software is given support to their client, cost needs to be sphere, terms, and conditions followed and more. Based on the current market scenario and customer feedback, people define one overall score to both of the software. In comparison to the overall score, JIRA is always better than Redmine.
Head to Head Comparison between Jira and Redmine (Infographics)
Below is the top 3 difference between Jira vs Redmine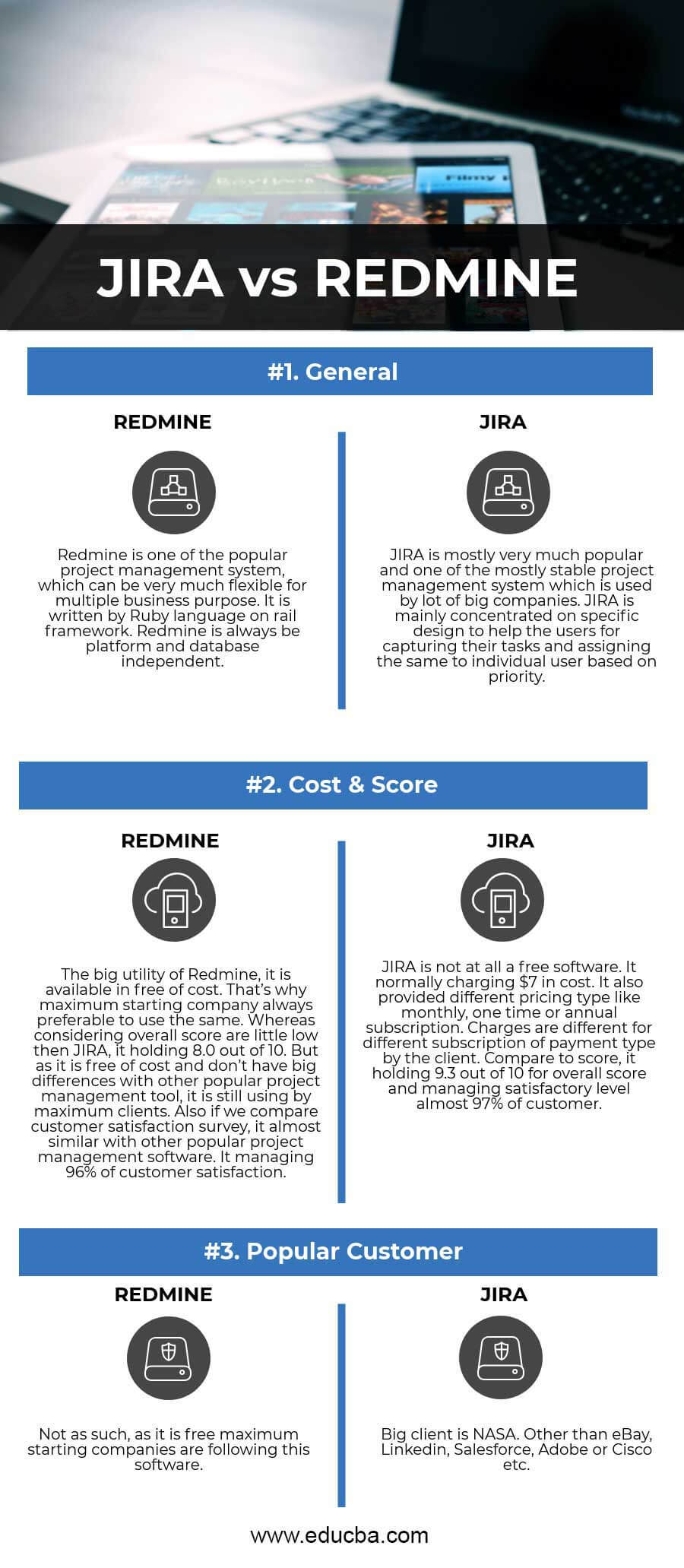 Key Difference between Jira and Redmine
Both are popular choices in the market; let us discuss some of the major difference:
Redmine is an open-source project management software that can easily be configurable and usable by any company based on their business needs. It held many plugins that actually helped all the business people manage their project management system. JIRA is the most popular software for handling project management system anytime. One of the main functionality of JIRA is to provide the utility of capturing tasks, assigning the same to individual user and priorities the task which is presenting to that specific end-user. It allows us to manage the entire application lifecycle; it always makes sure the entire development of every cycle are covered definitely from conceptual thing to launching it. It provided a very effective interface to maintain proper understanding between all the teammates and help them complete their job done effectively with proper tracking of a project management system.
Redmine is entirely free in cost and open-source, so it is very easy for the developer to navigate and to configure based on different business needs. Whereas JIRA is defining some cost (something like $7). They have a different type of payment methods like monthly, one time or annual compensation. The payment amount can be different for every payment approach.
Redmine officially not support some of the tools officially, but as it is an open tool for the developer, it can modify and make it support by that tool. But officially, some of them are not supported. But JIRA supports almost all the related tools or business system and application like Salesforce, Sales Cloud, Zephyr, Zendesk, Gliffy, Github, Balasmiq, Atlassian Confluence, Service Desk etc.….
REDMINE has several features like it can support multiple projects easily, control the same in a role-based manner which is flexible, providing chart and calendar, all the documents files news management properly, proper notification through the mail or feeds, maintain details wiki of every project, time tracking, SCM integration etc. Whereas JIRA also has several features like very good features for user experience, support workflow approval in different approach as per business needs, option to define varieties custom fields based on business needs, handling bug and defect management properly in an individual project, most advance searching filtering options, a lot of reporting system, defining client expected dashboard display based on business needs, high-level security provided for every client, supporting any kind of REST API very easily, having different import utility, provide an interface for mobile, anytime downloading utility is available.
Jira vs Redmine Comparison Table
Below is the topmost Comparison between Jira vs Redmine:
| | | |
| --- | --- | --- |
| Basic Comparison  | REDMINE | JIRA |
| General | Redmine is one of the popular project management system, which can be very much flexible for multiple business purposes. It is written by Ruby language on rail framework. Redmine is always platform and database independent. | JIRA is mostly very much popular and one of the most stable project management system which is used by a lot of big companies. JIRA is mainly concentrated on a specific design to help the users for capturing their tasks and assigning the same to the individual user based on priority. |
| Cost & Score | The big utility of Redmine, it is available in free of cost. That's why maximum starting company always preferable to use the same. Whereas considering overall score is a little low then JIRA, it holding 8.0 out of 10. But as it is free of cost and doesn't have big differences with other popular project management tool, it is still using by maximum clients. Also, if we compare customer satisfaction survey, it almost similar to other popular project management software. It was managing 96% customer satisfaction. | JIRA is not at all free software. It was normally charging $7 in cost. It also provided different pricing types like monthly, one time or annual subscription. Charges are different for a different subscription of payment type by the client. Compare to the score, it holding 9.3 out of 10 for the overall score and managing the satisfactory level of almost 97% of customer. |
| Popular Customer | Not as such, as it is free maximum starting companies are following this software. | The big client is NASA. Other than eBay, LinkedIn, Salesforce, Adobe or Cisco etc. |
Conclusion
In this Jira vs Redmine article, we have seen both Jira vs Redmine are the very much popular tool for project management system currently available for all kind of organization. JIRA is definitely most popular than Redmine, but Redmine is totally free open source software, so the developer can able to generate any specific code on the same; that's why Redmine is popular to little unknown organization. But top organizations are always preferred to use JIRA for better handling of the project management system with a lot of plug-in opportunities.
Recommended Articles
This has been a guide to the top difference between Jira vs Redmine. Here we also discuss the Jira vs Redmine key differences with infographics and comparison table. You may also have a look at the following articles to learn more.