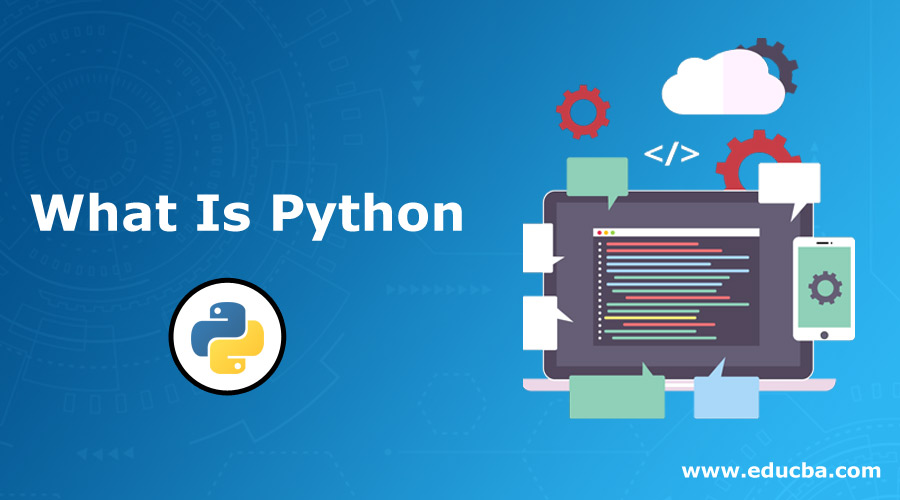 Definition to Python
Does the following article provide an outline of What Python is? It is a programming language developed by Guido van Rossum, which is interpreted, offers high-level features, and incorporates characteristics of a general-purpose programming language. Its structure is based on garbage collection and dynamic typing, supporting multiple programming paradigms such as object-oriented, functional, and procedural programming. These technical aspects render it a dynamic character and allow programmers to leverage it for small and large-scale real projects.

Understanding
As per the above answer, we can see that we have used two keywords while defining it.
1. High-Level Language
This is called a High –level language because it is farther away from Machine level language (which consists of 0's and 1), and it isn't easy to code. So, it becomes difficult to code, whereas this is easily readable, so it is farther away from Machine level language. So it becomes a high-level language. The high-Level language syntax is more readable as compared to low-level language. One more thing that we would like is when we write this, it is not a compiled language but an interpreted one, which means it has to be run by another program, in this case, an interpreter, not by the processor, unlike C language which is run directly by the processor.
2. Object-Oriented Programming Language
It is an object-oriented programming language which means it works on objects. So what is a thing? For Example, Tiger is an object whose color and age are its attributes, and hunting and reproduction are its behavior. So, as shown in the above example, an object has two characteristics: features and behavior.
So, there are some basic principles of OOPs as given below:
Inheritance: In this case, a child class can use the parent class's behavior and attributes.
Encapsulation: Hiding the intimate details of a class from other objects.
Polymorphism: Using a joint behavior/operation in different forms for different inputs.
As you can see, we have used the keyword class above, so what does class mean?
A class is a blueprint of an object. It contains all the details of an object, and the thing is an instance of a class. When a course has been defined, the object's description is limited, meaning no memory or storage is allocated.
How does Python make Working so easy? / Why do we need it?
The reason why it makes working so easy is because of its simple syntax and readability of code. Unlike other programming languages like C, it has much readable and concise syntax, making it easy for beginners to master the concepts and reach an advanced level. For Example, even if you want to print your name, you have to write around seven lines of code in C#, but with Python, that can be done in one line only, making a huge difference and giving an advantage over other languages.
Top Python Companies
Given below are the top python companies: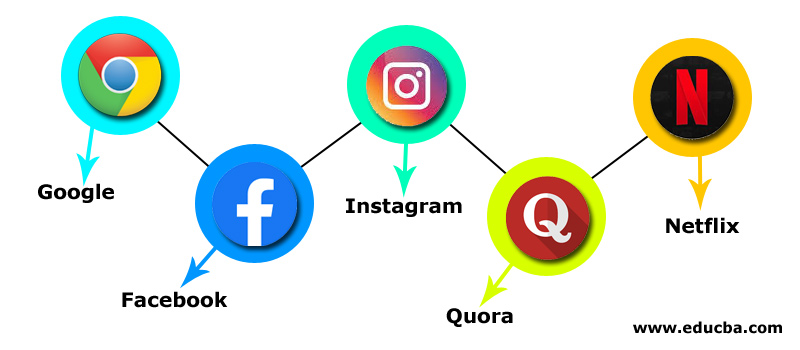 Let's see a few companies which are using this:
Google: Google has been a supporter of Python for a long time. Even if scripts were written for Google in Perl or bash, they were re-written in Python because it is easy to write, deploy and maintain. It is now officially Google's server-side language, the other being C++ and Java.
Facebook: Facebook also uses Python to a great extent making it the third most popular language at the social media giant, just behind C++ and PHP. Facebook has published numerous open-source projects written for Python 3.
Instagram: In 2016, the Instagram Engineering team announced that they were running the world's largest Django Framework, which is written in Python. Instagram's team has invested time and resources to keep their python development viable (approximately 800 million monthly active users).
Quora: The huge crowdsource questions and answer platform use Python because of its ease of writing and readability.
Netflix: It uses data analysis for recommending and suggesting shows and movies to users. The main reason for using it is a highly active development community.
The above companies are some of the big companies using Python.
What can you do with Python? / Where should we use it?
So, now the bigger question is what we can do with it or rather where can we use it?
The answer to this question is that it can be used almost everywhere.
Here are a few areas where you can use it:
1. Python for Web Development
Since it is an Object-Oriented Programming Language So, like other Object-Oriented Languages, It can be used for Web Development. Also, it's accessible to syntax and has better readability. Django and Flask are the two most popular Python Web Frameworks.
2. Python for Scientific Development
We can use this for scientific development as it has a SciPy library, a numerical computation library NumPy, and Matplotlib, a 2D plotting library for visualization. It can install the MATLAB Engine API to interact with MATLAB as a computational engine. It is also a highly extensible language. It can use a web front end which means it is a web framework like Django, and Flask can use Python as an API with a web front end.
3. Data Science and Analysis
It is one of the most important features or areas which swings the meter in favor of Python. It can be used to create machine learning algorithms using a sci-kit library. We can build all types of models, such as Linear Regression, Random Forest, and even more libraries like tensor flow, making it easy to create deep learning models. This popularity has risen multifold due to its use in Machine Learning and AI.
Working
We will be using Jupyter Notebook. So first, we shall install Jupyter itself. For that, first, we should install Anaconda. My recommendation would be to download Anaconda's latest version with Python 3. Once you install Anaconda, you can easily open Jupyter Notebook from there.
The below screenshot shows how a Jupyter Notebook looks.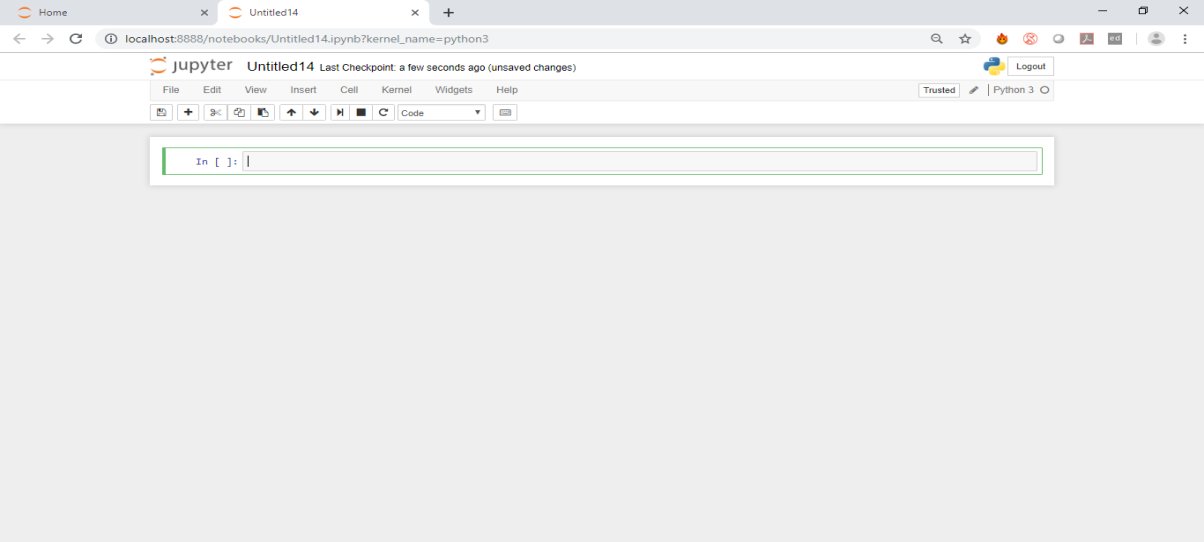 So the highlighted box that you see is called a cell. Here we write the code or instructions that we want the kernel to execute.
After writing the code, you can press the play button on the toolbar to run the specific cell. It is straightforward.
1. For Example, if we have to add two numbers, a and b, its syntax is as follows:
a=10
b=20
c= a+b
print(c)
The screenshot below shows the same in Jupyter: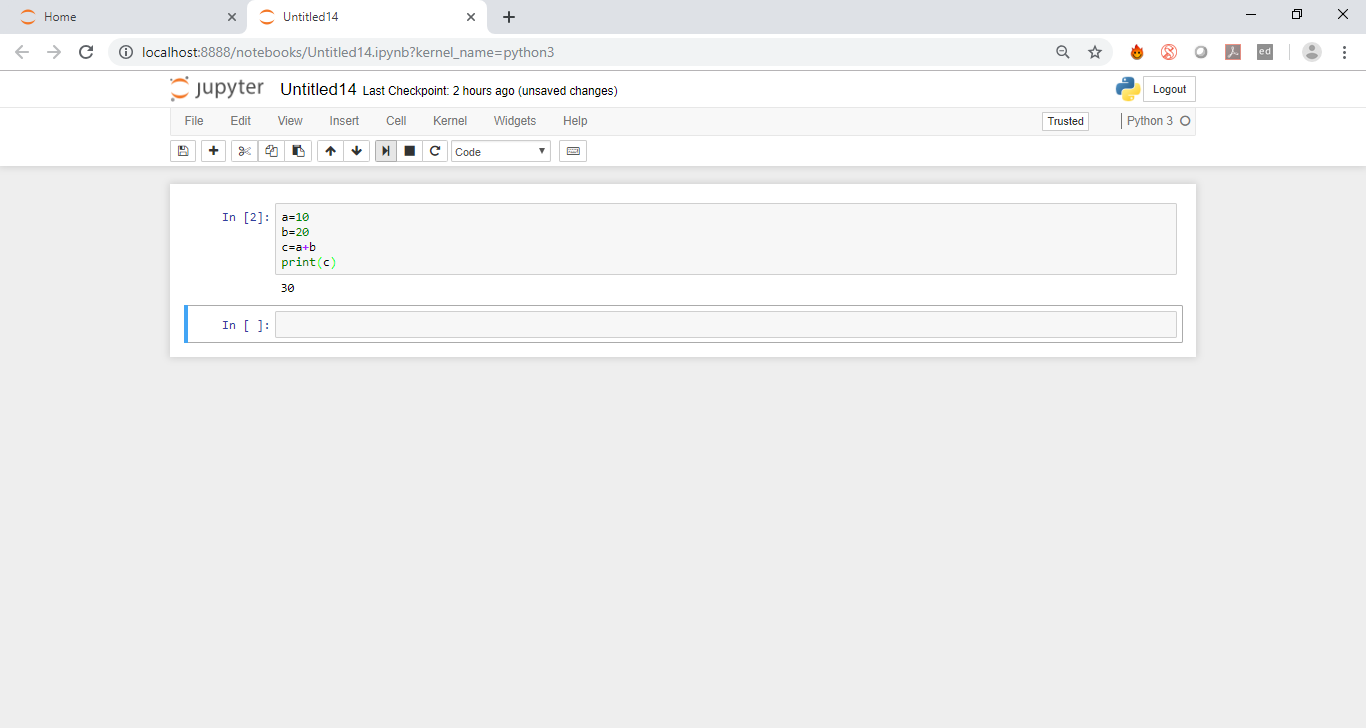 2. For mathematical and numerical computations, we can import libraries like numpy and pandas for working on datasets.
The syntax for that is:
import numpy as np
import pandas as pd
Below is the screenshot for the same: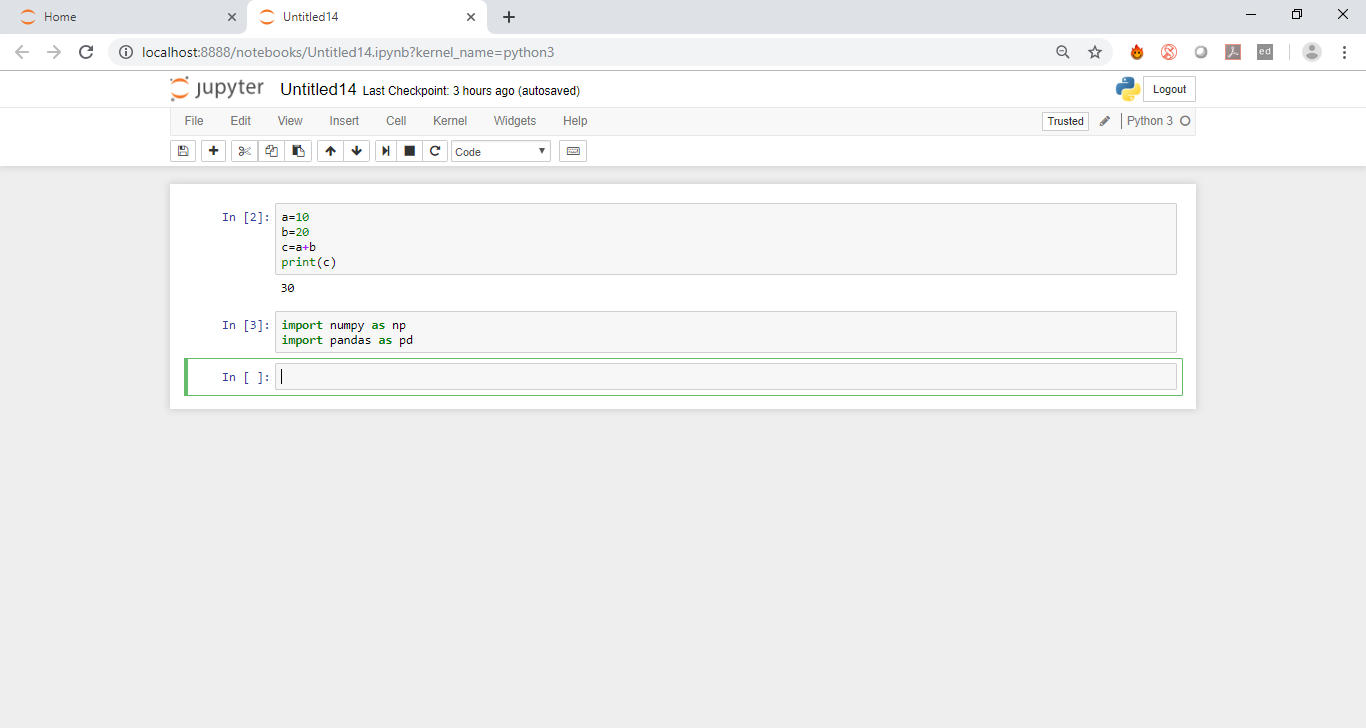 3. Next, we can see how to build functions. Like other languages, we can also develop methods and then call them later in the program. The following Example is to show how to create a Fibonacci series function for the first 100 numbers
def fib(p) :
a, b =0,1
while a<p :
print(a,end=' ')
a,b= b, a+b
print()

We can call the function by using fib(100)
Here is the screenshot of the above code: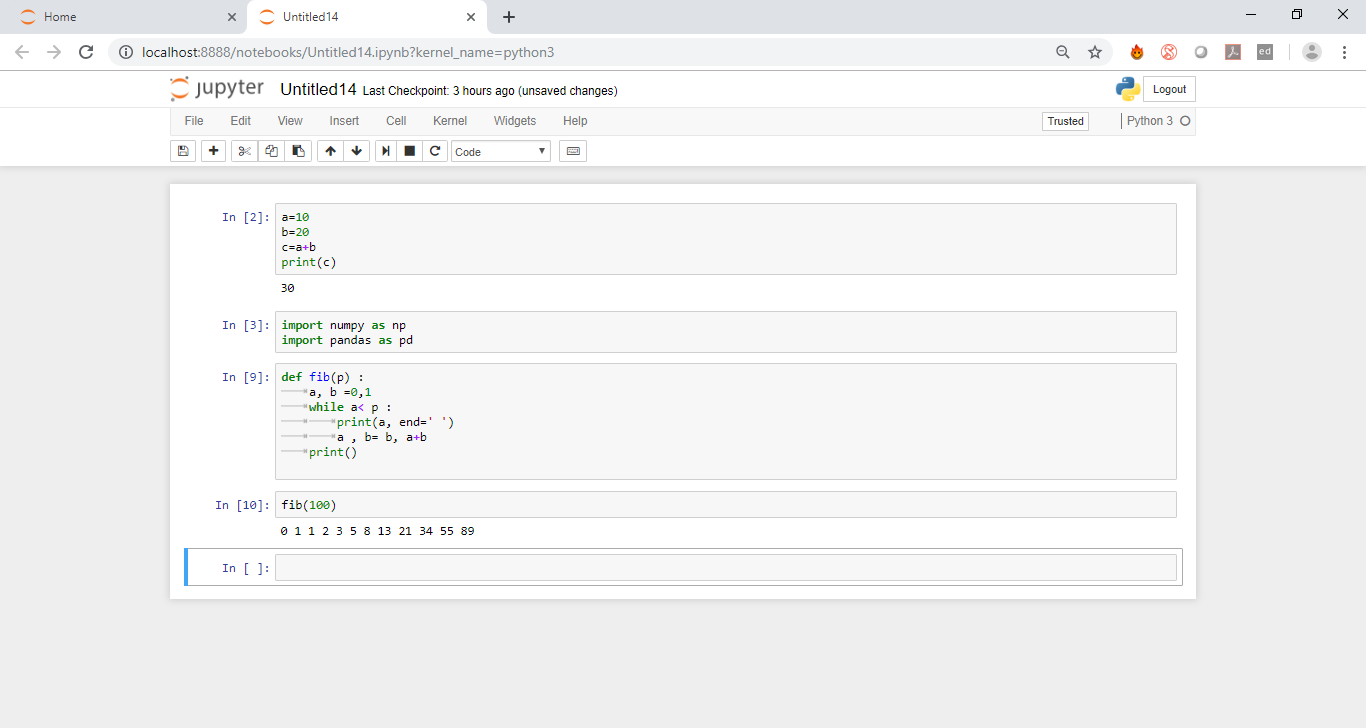 4. Next, we will see how to create conditional flows like if and if-else, as there are very important for any programming language.
Here is the sample code to create a conditional flow, and we are going to take input from a user using the input statement:
age = int(input("Enter your name: "))
if age <12:
print("You are a kid")
elif age in range(13, 20):
print(" You are a teenager")
else:
print("You are a adult)

5. Next, we will see how to create a for loop in this with an example. For loop is used when we know the number of iterations. The below code is to perform the addition of the first ten numbers using for loop. Here the number of iterations is 10.
sum =0
for i in range(10):
print(i)
sum=sum +i
print(sum)
In the above code, a sum is used to store the sum of all the numbers after each iteration, and the range(10) means it will start from 0 to 9, not including 10. The answer should come to 45.
6. We also have a while loop. In the below Example, we will print I as long as it is less than 10, so here, if we see it, we do not know precisely the number of iterations. So, we also called the while loop an entry-controlled loop.
i =1
while i<10:
print(i)
i= i+1
Required Skills
The skills required for a good developer are the same as any other developer. The person should have a good knowledge of OOPs(Object Oriented Programming) concepts so that he can play with an object in Python, and then only he can use the full potential of Python. Depending on your technology stack, he should have good knowledge of frameworks like Django and Flask.
The person should also have a basic understanding of front-end technologies like HTML, CSS, and JavaScript. There should be familiarity with event-driven programming in Python. A basic understanding of the database is required as database knowledge helps write proper queries.
The unique feature that makes it stand ahead of other languages is its use in analytics, data science, and AI. To be good in those fields using Python, one must have good mathematical knowledge, especially in statistics; good domain knowledge also helps choose the suitable model for fitting it into the correct data.
Advantages
There are numerous advantages.
Extensive Support Libraries: It provides large libraries which range from numerical computations to deep learning, Machine Learning, and Visualizations. Most programming tasks are already done in the libraries; users must import the libraries and pass parameters based on the requirements. It reduces the time, and the length of the syntax is also reduced.
Integration Feature: It has powerful integration capabilities with front-end and server-end technologies. It can directly call C and C++ or Java through Jython.
Productivity: Due to its robust integration features and unit testing framework, it increases the productivity of the applications. It is a good option for building scalable multi-protocol applications.
Scope
Its scope for now and the future is enormous. Almost every company is using it in some way or another in their business.
It has a scope in Web Development, Data Science, Data Analysis, AI, and Machine Learning.
The scope of Python in Data Science/Analysis is much more than other programming languages.
Who is the Right Audience for Learning Python Technologies?
The right audience for this is anybody with an appetite for learning and basic knowledge of OOPS.
Freshers, especially from streams other than computer science, will find it much easy to understand, for example, C++.
How will this Technology help you in Career Growth?
Learning this language gives you an extra advantage in your carrier.
It is a universal language; it is preferred in scientific and numerical computations and data analysis, and machine learning gives it an edge over others.
Conclusion
To conclude, though this was created in 1990, It is very much in use today, and its use will increase, especially in data analysis/data science and machine learning.
Recommended Articles
This has been a guide to What is Python? Here we discussed the basic concept, working, required skills, top python companies, and advantages and scope. You can also go through our other suggested articles to learn more –