Updated June 22, 2023
Overview of Types of Cyber Security
Types of Cyber Security are nothing but the techniques used to prevent stolen or assaulted data. The various threats to data are viruses and other malicious code to computers and all types of handheld devices daily. All of these devices ease the use of online services. These online services are available to make the life of the end-users a lot easier. These services include Internet Banking, Online Shopping, Ticket Booking, etc. The different types of cyber-attacks are Denial of Service Attacks (DoS), Hacking, Malware, Phishing, Spoofing, Ransomware, and Spamming.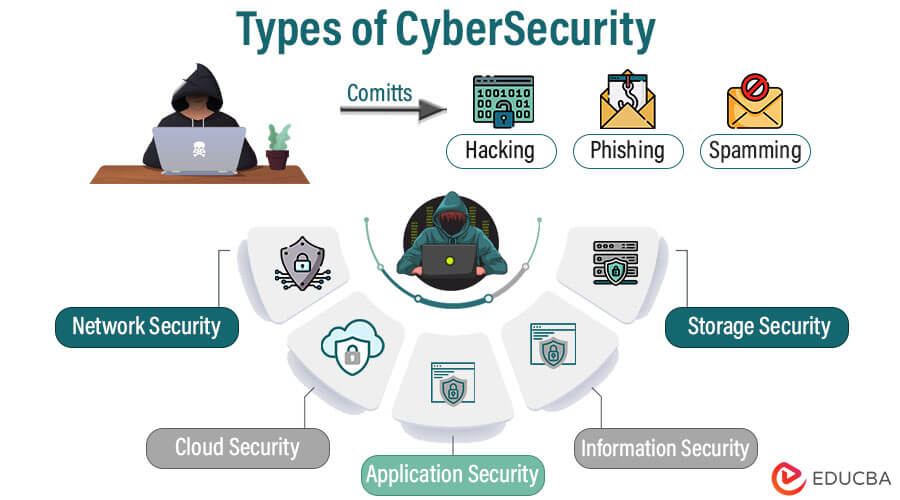 Why does Cybercrime happen?
Cybercrime is an organized computer-oriented crime that can affect people using devices on a network. It includes hacking, phishing, and spamming committed by hackers or Cybercriminals.
There can be two main motives behind cybercrimes, viz:
Monetary Benefit: The main aim of hackers needing monetary benefit is to steal users' personal or corporate bank details. They can create fake IDs and websites or even send emails asking for the users' personal information. They also may create fake accounts through which they steal money.
Information: Some cybercriminals steal confidential information to sell it to online marketing sites or even to some other competitor companies or use it for personal benefits.
Hence it is essential to protect the data from hackers. Some services are available, like Anti-viruses and firewalls.
Types of CyberSecurity
The cyber security of the devices has to be vital to prevent Cyber attacks. Therefore it is essential to provide various layers of security to secure the data.
Network Security:- This method provides security to the devices connecting wired and wireless networks.
Cloud Security:- It encrypts the stored cloud data that transfers from one system to another and is in progress. It helps to provide a safe business environment, customer experience, and compliance standards.
Application Security:- The security of the applications should be provided at the design stage. It must protect the data operating on the particular application irrespective of user authentication and other aspects.
Critical Infrastructure Security:- It is a framework created by the National Institute of Standards and Technology (NIST) to protect the systems, networks, and other devices that depend on it.
End-user education:- To build and strengthen endpoint security across the organization. Like not using suspicious emails, restriction to add an external drive, etc.
Information Security:- General Data Protection Regulation or GDPR helps to protect personal data from cyber theft.
Storage Security:- Safeguarding the stored data by encrypting and having isolated or immutable data copies.
Mobile security:- It enforces app security and secures mobile mail to manage the mobile workforce.
Types of Cybersecurity Tools
All of these serious crimes are committed online and can be stopped or at the least limited to some level by using Cyber Security Tools. Some of the best Cyber Security Tools made available today are:
#1 IBMQRadarAdvisor and Watson

The best security tool in use by any of the organizations. Watson, using artificial intelligence (AI), is a self-learning and self-evolving system. What it does is, before even the threat is detected, it eliminates the section. The work goes as such: IBM QRadar tracks the section. It gathers information and links online, offline, and within the system with that code. It formulates a strategy to encompass it, and then when an incident is raised, it kills the threat. This is one of the best online incidents – kill security tools being used.
#2 Wireshark

It is one of the most widely used network analyzer protocols. It assesses the vulnerable sections on the network upon which the user is working. Wireshark can gather or see the minutes of the detail and activities which are going on a network. You can easily view the incoming and outgoing packets of data, as well as the transmission protocol used. It captures the live data and creates an offline analysis sheet, which helps with tracking.
#3 Cryptostopper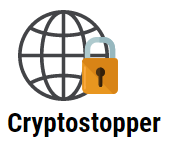 It is one of the best tools available online right now to stop ransomware or malware attacks on a system. What crypto stopper does is find the bots encrypting the files and deleting them. It creates a pattern or a deception formula for the threat to latch it onto the formula; once it latches itself, the crypto stopper detects and deletes that code. Cryptostopper makers tend to make a promise of a 9-second threat detection and elimination challenge. It isolates the workstation and the affected areas of the system so that the ransomware cannot manage to affect more and more areas.
#4 N MAP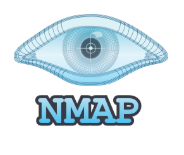 It is one of the many primary and open-source utilities available for network security. NMAP is not only good with small but large networks as well. It recognizes the hosts and the receiver on a network. Along with it, it also runs on all the distributions of operating systems. It can scan hundreds and thousands of machines on a network simultaneously.
#5 Burp Suite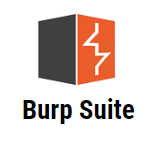 It is another web scanning algorithm security tool that helps scan web-based applications. The primary purpose of this tool is to check and penetrate the compromised system. It includes all the surfaces that might be affected and the requests and responses from the sender and destination in response to the threat. If any threat is found, it can either be quarantined or eliminated.
#6 Open Vulnerability Assessment Scanner (OpenVAS)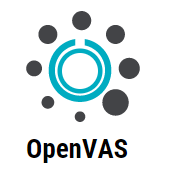 A utility of Nessus, but very different from Nessus and Metasploit though they work the same, yet different. Many consider it one of the most stable frameworks, with fewer loopholes and greater online availability of web security tools.
There are two significant components of OpenVAS.
Scanner: It scans the vulnerable sections and sends a compiled report to its manager.
Manager: It compiles all the requests received from the scanner and then reports all such incidents.
#7 Nessus

Nessus is yet another tool that checks for malicious hackers. It scans the computers on the network for unauthorized hackers who try to access the data from the internet. On average, Nessus scans for unauthorized access 1200 times. Apart from others, it doesn't assume that specific ports are only set for web servers like Port 80 is set for Web Server only. And it is an open-source tool that also provides a vulnerable patching assistance facility, which further helps offer possible solutions to the affected areas.
#8 Metasploit Framework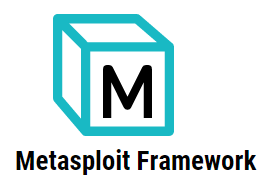 Rapid7 created it in Boston, Massachusetts. When checking for vulnerabilities, many regard it as the best open-source framework. It has a command shell as it runs in Unix, so users can run their manual and auto commands to check and run the scripts. Metasploit framework includes some built-in interfaces, as well as third-party interfaces that users can leverage to exploit vulnerable areas
#9 SolarWinds Mail Assure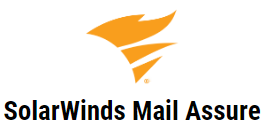 It is a multi-functional tool that addresses most email security concerns. Data from 85 different nations and about 2 million domains are available. They also offer it as Software As A Service (SAAS). It helps protect the user's devices from spam, viruses, phishing, and malware.
There are a lot many other online security tools available that can help in eliminating the risk along with the list mentioned above. They are as follows:
Aircrack-ng
Touch Manager
MailControl
Final Thoughts
With the growing usage of technology and advancements in the fields of devices and networks, security is sure to be a key risk factor. There always will be security tools that will block and eliminate these security threats. But using these tools is also an essential and learnable aspect. One cannot simply use it to avoid the threat and infection of one's device on a network.
Frequently Asked Questions (FAQs)
Q1 What is CyberSecurity?
Answer: Cyber security is a method of protecting digital devices from malicious attacks. It is necessary to protect personal information from hackers who steal the data to make profitable deals.
Q2 What are the major types of cyber security?
Answer: Certain measures are necessary to protect the data from ethical hackers, and different methods exist to secure the data. The major types of cyber security are cloud security, information security, application security, and Critical infrastructure security.
Q3 Write about FIRST in relation to CyberSecurity.
Answer: The Forum of Incident Response and Security Teams (FIRST) is the global premiere organization to effectively responds to security incidents. It brings the government, educational and commercial organization computer incident security response teams to work together.
Recommended Articles
We hope that this EDUCBA information on "Types of Cyber Security" was beneficial to you. You can view EDUCBA's recommended articles for more information,