Updated July 1, 2023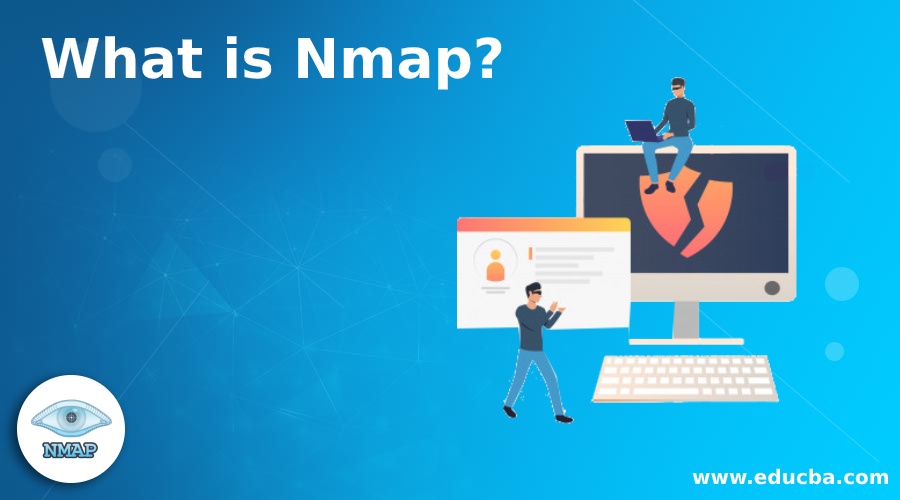 Overview Of Nmap
The Nmap or the Network Mapper is a security auditing and network scanning open-source tool developed by Gordon Lyon. It is designed in such a way that it can diagnose large networks as well as single host rapidly. The network administrators typically use it to detect the devices that are currently running on the system, the port number on which the devices are being connected and the free ports that can be utilized.
Nmap Definition
On a high level, Nmap can be defined as a tool that can detect or diagnose the services which are running on a system connected to the Internet. Typically used by the Network admins to identify potential security flaws in their own network systems. It can also be used to automate many redundant tasks like monitoring service update schedule.
Understanding Nmap
To understand Nmap in a better way, let us learn how it does scan or diagnose the Network system. Nmap sends raw IP packets in a unique way to detect the hosts available on the network system. It can also detect the services which are being offered by these hosts, their operating system, and a bunch of other characteristics.
How does Nmap make working so easy?
Nmap is very handy during the penetration testing of the Network system. Nmap not only provides the Network details but also helps in determining the security flaws that exist in the system. Nmap is platform-independent and can be run on many popular operating systems such as Linux, Windows, Mac, and BSD. It is very easy to use and comes with a command-line interface and the graphical interface.
What can you do with the Nmap?
Nmap is a very useful tool for Network scanning and auditing purpose. Let see what else we can do with the Nmap.
It can discover the host connected to the network.
It can discover the free ports on the target host.
It can detect all the services running on the host along with the operating system and version.
It can detect any loopholes or potential vulnerabilities in the Network system.
Working with Nmap
It is very easy to work with the Nmap; with the release of a new graphical User interface called Zenmap User can do a lot many things like saving and comparing a scan result, save scan results in a database for further usage, view network system topology in a graphical way and so on. The user who likes to work on the command line Interface can choose any of the scanning technique offered by the Nmap; the most popular one is the TCP scanning technique.
Advantages of Nmap
There are so many advantages that set this apart from the other Network scanning tool. To start with, it is open source and available free of cost. The other advantages are listed below.
It can be used for auditing the Network system as it can detect the new servers.
It can search subdomain and Domain Name system queries
With the help of the Nmap scripting engine (NSE), interaction can be made with the target host.
It can determine the nature of the service that the host is performing, like whether the host is a mail service or a web server or so on.
Required Skills
Nmap offers and leverages different techniques to scan the networks, such as TCP connect() scanning, FTP bounces scanning, TCP reverse ident scanning, etc. To start with the Nmap having knowledge of any of these techniques are a must.
Why should we use Nmap?
If you are a network administrator, there is often a need to check the target hosts, determine free and occupied ports and do a regular security vulnerability scan. It offers all such utilities whether you need to monitor a single host or multiple target hosts.
Scope
Well, Nmap is commonly used for regular Network audits, but it can also be used for performing some redundant tasks like managing network inventory, managing schedules of service upgrades and monitoring uptime and downtime of different services.
It generates a report where it lists down all the scanned target hosts with all the information that has been passed in the command. It also lists down the state of the services such as open, filtered, unfiltered or close.
Further, the output can be extended to get the operating system type, MAC address, device type, and reverse DNS names.
Who is the right audience for learning Nmap technologies?
All network administrators should learn this technique, so the job of network diagnosis can be quick and easy. Entry-level programmers or even a student aspiring to become an IT professional one day can learn this technology. This would be a good starting point to start a career within the world of Information Technology.
How will this technology help you in your career advancement?
With the increase of cyber threats, it has become a necessity for companies to do a regular network security scan. Many companies hire Network admins to do the scan on a regular basis. Having knowledge of Nmap is definitely an add on to your resume. It has been an Industry-wide accepted technology for a network scan. Thus if you learn this technology, many companies would love to onboard you.
Conclusion
Now that we have reached the end of this article let's summarize what we have learned about Nmap so far. We have learned that Nmap is an open-source tool to scan networks and detect potential security vulnerabilities. Nmap is an Industry-wide accepted technology for security scans. Commonly used by the network administrators to detect the target host connected to the network. It is easy to use and can handle large network scanning with ease. The entry-level programmers and network admins who want to pursue their career inetwork engineering can definitely learn this technology and excel in their career.
Recommended Articles
This has been a guide to the What is Nmap?. Here we discussed the Definition, basic concepts, advantages and working. You can also go through our other suggested articles to learn more-