Updated May 26, 2023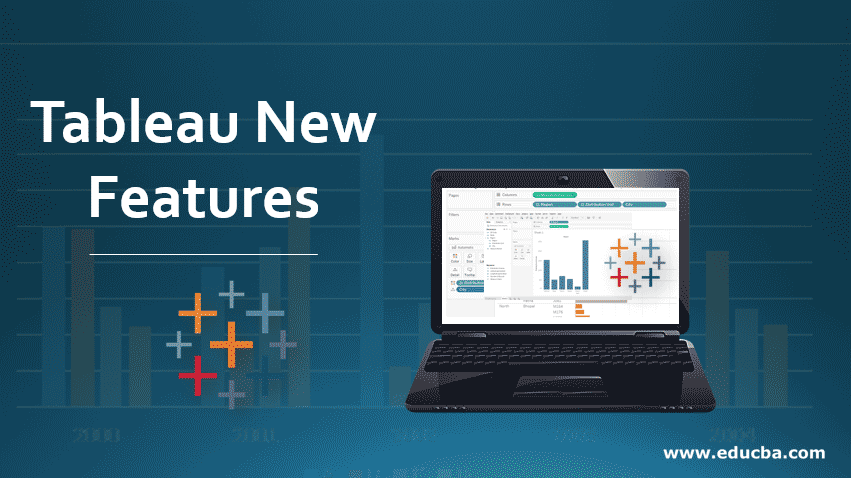 Introduction to Tableau New Features
Tableau is a visual analytics tool that keeps updating itself regularly. Whenever new features are added, a new release is made available or the users. A new update means the incorporation of new features. The incorporation of new features often takes into consideration the needs and demands of the market. Each release of Tableau sees certain unique features that add value to the tool. Along with making new features available, Tableau comes with necessary modifications to existing features. The ulterior motive is to make the tool robust and the top performer amongst all the BI tools in the market.
Different Features in Tableau
Tableau's new features belong to different aspects associated with tools, which are Data, Visual Analytics, IT and Governance, and Web and Mobile.
1. Data
LinkedIn Sales Navigator: This is a functionality that is changing the target search dynamics. It allows the strategic use of LinkedIn target search functionality powered by analytics.
Alibaba Cloud Connectors: They have enabled seamless use of cloud computing through easy connectivity with leading databases such as MYSQL, SQL Server, and Postgres via Tableau. Now, cloud data can be used for extensive insight generation.
Qubole and Kyvos: The data platforms and Tableau combine data management platforms and visual analytics. They allow the users quick insight generation from a vast amount of data.
Cloud Connectors: Now Tableau Prep has cloud connectors for Box, Dropbox, OneDrive, and Google Drive.
2. Visual Analytics
Amongst all the areas, Visual Analytics forms the most important area, which is the crux of Tableau. Some of the new features introduced in this area are as follows.
Tables: Overcoming the limitations associated with earlier tables now, Tableau allows the creation of tables that can contain up to 50 columns. Moreover, the provision to scroll horizontally has also been provided.
Sorting: Users can sort entire columns across multiple panes by dimensions and discrete measures. Additionally, we have sort drop-down menus allowing choosing between nested and field sort for all dimensions and discrete measures.
Ask Data: Administrators have been granted the flexibility to enable or disable the 'Ask Data' feature, a default site setting. The Ask Data feature now offers categorical suggestions to assist users in the fast search along with helping them understand various types of analytical questions. Using Ask Data, calculating period-over-period, i.e., month-over-month or year-over-year calculations, has become fairly simple as just asking MoM and YoY gives the required result.
Explain Data: Now, data can be explained in more detail. Tableau now allows the understanding of complex data by enabling geospatial data analysis, un-visualized measures, and calculated fields.
3. IT and Governance
As an analytics and BI tool, Tableau offers features associated with IT and Governance.
These have been discussed as follows:
Extensibility Features:
Webhooks: These are methodologies through which one computer can notify another about an event. Tableau, through integrating with Webhooks, automates the workflows in real time. Webhooks deliver the necessary updates through appropriate notifications when a workbook is updated or refreshed, or a data source is published.
Sandboxed Extensions: In Tableau, an extension lets the user add some feature to the dashboard or facilitate direct integration with applications other than Tableau. However, sandboxed extensions are not permitted to request external networking. So, these extensions run in an environment that allows communication only with the Tableau hosting server. In a way, this feature disables network calls in extensions.
Personal Access Token: The Tableau Server resources can be managed through the Tableau Server REST API. REST stands for Representational State Transfer, a kind of architecture for distributed systems. To verify the user as valid, each time, the user must supply a credential token as required by the Tableau Server REST API. Tableau provides individual users with the functionality to create long-lasting authentication tokens for its REST API through Personal Access Tokens. The beauty of the functionality is that tokens don't require hard-coded credentials. The Personal Access Tokens work extremely well with automated scripts. Some of the important applications of Personal Access Tokens are improving security, assisting in effective auditing and tracking, and efficiently managing automation.
View Recommendations: They offer personalized suggestions that enable users to connect with data of relevance quickly. Employing the concept of machine learning matches recommendations and preferences. This feature is handy for finding valuable content quickly.
Sharing and Access:
User Visibility: Tableau now allows users to stay anonymous from one another. This feature ensures more security for the user. Site administrators utilize user visibility to manage how site users perceive and collaborate. In this context, technically, Tableau provides two options, viz. Full and Limited. Full refers to "All users can see other users' settings," while Limited refers to "Explorers and Viewers cannot see other users and groups."
Request Content Access: Using this feature now, Tableau has enabled users to send a request to content owners.
Sharing Content: Dashboards or views which have been modified can be shared. The user must enter the requisite credentials to share with the email notification.
4. Web and Mobile
It is essential for a BI and analytics tool to support web and mobile platforms.
Some of the new web and mobile features associated with Tableau are as follows:
Web: Tableau allows working with extracts in the browser. So, essentially, this is possible through Tableau Server directly instead of Tableau Desktop.
Tableau Mobile and Biometrics: Now, Tableau employs biometrics to unlock the app supporting iOS and Android.
Data Quality Warnings: This feature ensures the association of Web and Mobile platforms with Tableau and guarantees the integrity of the data.
Conclusion
Tableau brings new features to the users in each update release, introducing changes in the form of new features. The update won't justify an update if no new features are introduced in the tool. The ever-growing need of the users governs the introduction of new features.
Recommended Articles
This is a guide to Tableau New Features. Here we discuss the introduction and different features in Tableau for better understanding. You can also go through our other suggested articles to learn more –