Updated April 27, 2023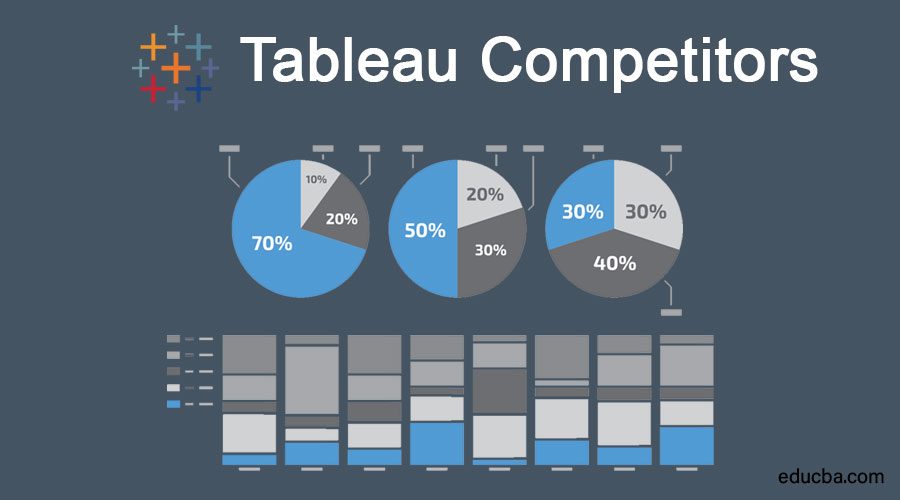 Overview of Tableau Competitors
A business intelligence tool offering an array of analysis features, Tableau indeed happens to be one of the most widely used visual analytics tools. However, Tableau has competitors. The competition is so high that to pose themselves as a unique choice to customers they keep updating the tool at regular intervals by incorporating in its new features. The use of a tool depends on the preference and the desired functionalities. An organization's decision to select a particular BI or analytics tool is governed by multiple factors such as licensing cost, features and services offered, and feasibility in terms of usage.
Alternatives of Tableau Competitors
The following are some of the tools that are widely used for business intelligence and analytics. Though being Tableau's competitors they can also be seen as an alternative to the tool.
1. QlikView
It is a product of Qlik and a powerful business intelligence and visualization tool. Among its capabilities, the most important is that it accurately manipulates huge data sets. It supports multiple data sources and file types. It is simple to use and can be easily learned by the user. Automated data integration is possible in QlikView. It offers flexibility and scalability and so effective dashboards can be built using QlikView.
2. Pentaho
It offers a unique feature of combining data integration with analytical processing. It includes capabilities revolving around big data analytics, visualizations, dashboards, data mining, reporting, and predictive analytics. Data can be managed and integrated from numerous data sources. The data sources also include Hadoop and other analytic databases. It has a community dashboard editor that supports efficient development.
3. Oracle BI
It offers robust reporting capabilities making data access easier for the user. Some of the primary features of the tool are slice and dice in data in complex dashboards. This tool is best for ad-hoc reporting for business users. For enterprise edition, the licensing cost is very high. It is best suited for large enterprises looking to develop in-house analytics capabilities. The tool also supports excellent enterprise-level data handling. It offers scalability and is an easy-to-use tool for business analysts. It can make use of SQL queries to generate reports directly.
4. SAP Business Objects
It is a reporting and analytics business intelligence platform aimed at business users. It comes with a variety of reporting options and applications that offers solutions on data discovery, analysis, and insight generation. The tool assists business analysts in reporting and driving predictive analytics independent of data analysts. SAP BO is a front-end BI platform, supporting drag and drop functions. The data is not stored at the application level but is integrated from the back-end source.
5. IBM Cognos
It is a popular business intelligence tool similar to the ones that are discussed above. It is a self-service BI tool. It offers many good features one of which is that users can create reports online as well as offline mode, which could be used even when systems are down. It facilitates fetching data from multiple data sets to generate analytics. It offers web-based and any-device delivery. A very important feature of Congos is that it supports customization i.e. as per the requirement of the user, the customized version of the suit can be offered.
6. Sisense
Sisense is another business intelligence tool that offers strong reporting and analytics capabilities. It handles complex business queries without actually needing SQL or coding. It is capable of working on big information sets. It supports web integration. It can be set up and used in-house and offers a variety of analytics functionalities with interactive visualizations. Sisense offers a wide range of data visualization widgets from which the analyst can select the appropriate one.
7. Microsoft Power BI
It is a part of Microsoft power business tools and is widely used for business intelligence and analytics. Customized dashboards can be created using Power BI so that essentially means that dashboards can be personalized. As a BI and analytics tool, it supports integration with other applications offering powerful analytics and reporting capabilities. The Power BI has some important components viz. Power Query, Power Pivot, and Power View. It facilitates self-service BI analytics over the cloud.
8. Dundas BI
It is a BI platform that offers enterprise-level business intelligence, data analytics, and dashboard functionalities. Different types of views in the tool are there, which help generate a variety of visualizations over the data. It can integrate with all kinds of data sources and access data from that. It offers customizable data visualizations with ad-hoc reporting capabilities. It offers predictive and advanced analytics along with offering map-based visual analytics.
9. Birst
It is a cloud-hosted business intelligence tool that can be used for production-oriented as well as end-user visualization and analytics purposes. It is based on the idea of the enterprise data model and supports fast enterprise data refinement. It facilitates the creation of metrics and virtual BI instances. One of the crucial aspects of Birst is that it provides the capability to analyze complex processes and models. Moreover, live data can be accessed and imported. It combines centralized and decentralized approaches.
10. Domo
Domo is a BI tool that offers a variety of services. Some of its important features are supported through communication and messaging platform, dashboard creation, data visualization services. It offers flexible data connectivity and integration. It also offers performance and project management capabilities. Though its share in the market is much less as compared to widely used tools like Tableau or Power BI, as people will move to more and more cloud-based services, Domo's use may increase as it's business cloud offers an end-to-end platform making it easy for a business user to drive BI and analytics.
11. BOARD
It is a management intelligence tool that combines the features of BI and corporate management including performance management, analytics services, etc. It works as a single platform for analysis, simulation, and leveraging analytics for decision making. There are many data visualization options available in BOARD. One of its core characteristics is that it supports building customized analytical applications. To users, it allows gathering data from any source supporting full self-service reporting. It offers robust drill-down and drill-through functionality.
Conclusion
There are multiple BI and analytics tools available. The selection of a tool is based on many factors. Some tools are enterprise-level tools suitable for in-house analytics and some are service-based tools in which dashboards can be built for business users. All of them have similar capabilities offering a similar sort of functionalities but with subtle differences.
Recommended Article
This has been a guide to Tableau Competitors. Here we discuss the basic concept with different alternatives of tableau in detail. You can also go through our other suggested articles to learn more –