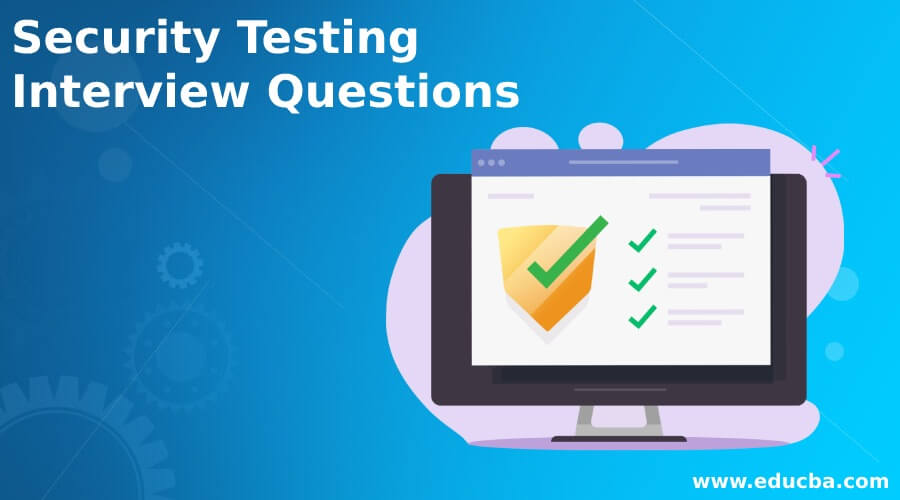 Introduction to Security Testing Interview Questions
Security testing is a process where testing is performed to detect any flaws in the security mechanism that protect the data and maintain the functionality as intended. Confidentiality, authentication, authorization, availability, integrity, and non repudiation are the key elements of the security. If you are looking for a security testing job, then you need to prepare for its Interview. Here we are going to see the top security testing interview questions with answers that will help you succeed in the interview.
In this 2023 Security Testing Interview Questions article, we shall present the 11 most important and frequently asked Security Testing Interview Questions. These interview questions are divided into two parts are as follows:
Part 1 – Security Testing Interview Questions (Basic)
This first part covers basic interview questions and answers:
Q1. What is security testing?
Answer:
Security testing is a process where test cases are executed to reveal the defects in the security mechanism of the information systems. Tester plays an important role as attackers and playgrounds the system to find the defects related to security mechanisms. The goal of the security testing is to find the vulnerability in any application or system and protect their data from attackers.
Q2. What is SQL injection?
Answer:
SQL injection is a code injection technique which is used to attack data-driven systems in which malicious SQL statements are inserted into the entry field for execution. It is mostly known as an attack vector for websites but can be used to attack any type of sql database. SQL injection attacks allow attackers to spoof identity, tamper with existing data, cause repudiation issues such as voiding transactions or changing balances, allow the complete disclosure of all data on the system, destroy the data or make it otherwise unavailable, and become administrators of the database server.
Q3. What is vulnerability?
Answer:
Vulnerability is nothing but a weakness of any system. Using the vulnerability, bugs or attackers can easily attack the system. It can be avoided by performing security testing. If time to time, security testing is performed, then the chances of the vulnerability decreases. To protect the system from vulnerability or any attack, security testing is a must.
Q4. What is intrusion detection?
Answer:
Intrusion detection is a system which helps to determine possible attacks and deal with them. It collects information from various systems and sources. Then it analyzes this information and finds the possible ways of the attack on the system. It also checks the abnormal activities. Checks whether data of the system is altered or not.
Q5. What are the attributes of security testing?
Answer:
There are 7 attributes of security testing, namely authentication, authorization, integrity, non repudiation, confidentiality, availability, and resilience.
Authentication: In authentication, the user's identity are checked to provide access to the system.
Authorization: In authorization, the authorities of the user are checked to access the resources.
Integrity: Integrity ensures that data of the system are not altered.
Non repudiation: Non repudiation is assurance that someone cannot deny the action they have done.
Confidentiality: It ensures that information are kept private to authenticate users only.
Availability: It ensures that system, application, and data are available for the user when they need them.
Resilience: It is the ability of the entity to continuously deliver the intended outcome despite adverse cyber events.
Q6. What is NIDS?
Answer:
NIDS stands for Network Intrusion Detection System, which is used to analyze the passing traffic on the entire subset and to match with the known attacks. If any loophole is identified, then the system automatically sends an alert message to the administration. In addition, it has the ability to work with other systems, such as firewalls, to help better protect against known attack sources. It can range from small computers to large computers.
Part 2 – Security Testing Interview Questions (Advanced)
Let us now have a look at the advanced interview questions:
Q7. What is a cookie, and explain its types?
Answer:
A cookie is a piece of information received from a web server and stored in a web browser which can be read anytime later. Cookies contain password-based information, auto-fill information, etc.
There are two types of cookies session cookies and persistent cookies.
Session Cookie: Session cookies are temporary and last in that session only.
Persistent Cookie: Persistent cookies are stored on a hard disk drive and last till their expiry or manual removal of it.
Q8. List security testing methods.
Answer:
White box testing, black-box testing, and grey box testing methodologies are used in security testing.
White Box Testing: In this testing method, all the information is provided to the testers.
Black Box Testing: In this method, the tester does not provide information; they can test the system in a real-time environment.
Grey Box Testing: This method is a combination of both white box testing and black-box testing. It provides partial information to the tester, and the remaining they test by own.
Q9. What is SSL? List its components.
Answer:
SSL stands for Secure Socket Layer. It is used to create a secure connection between client and server. SSL recorded protocol, encryption algorithms, handshake protocols, and change cipher spec are the components of SSL.
Q10. What is SOAP?
Answer:
SOAP stands for Simple Object Access Protocol, an XML-based protocol. Application s use SOAP to exchange the information over HTTP.
Q11. What is WSDL?
Answer:
WSDL stands for Web service description language. It is an XML formatted language which describes the web services and how to access them.
Conclusion
Here, in this article, we have prepared top interview questions for security testing.
Recommended Articles
This is a guide to Security Testing Interview Questions. Here we discuss the introduction and basic & advanced security testing interview questions. You may also have a look at the following articles to learn more –