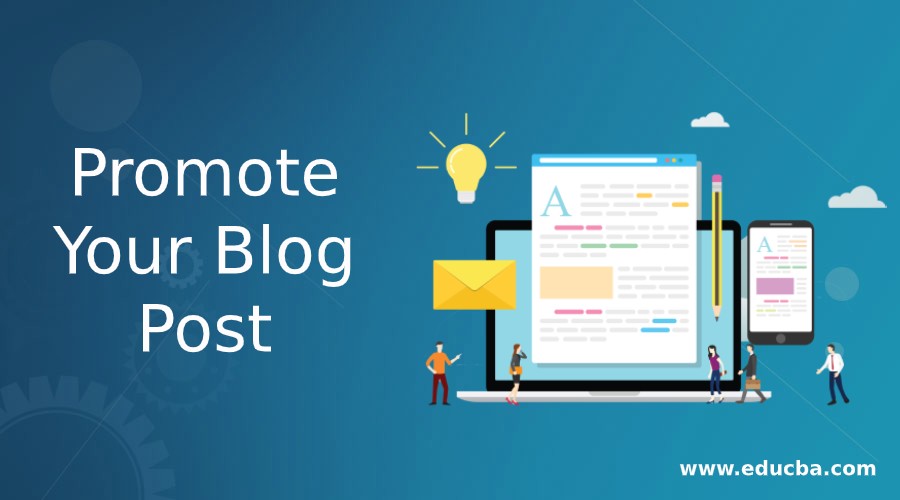 The starting phase of a blog is awesome and it is a great idea. Every business should definitely have a blog. Many of you would put all your effort into creating a blog but most commonly they forget to promote it. You just write it and expect Google to do the rest for you. Without promotion, nothing happens on your blog. Now we learn how to promote your blog post, imp of promoting your blog post.
Importance of Promoting your blog
You could create a great blog using all your ideas. But if you want to make your blog reach thousands of people you should promote it. By promoting your blog you can get the following advantages
Drive more traffic to your blog
Catch the attention of your readers
It will help the readers to share your blog with others
Helps to grow your business and get more ROI
How to promote your blog post?
How to promote the blog is a most important question that struggles most marketers. The first and most important factor in making your blog successful is its content. Your content needs to be awesome. To make your content outstanding it should cover something new. Write your content from a different perspective providing new opinions and ideas. So promotion always starts with the content of your blog.
But having quality and relevant content will not make your blog successful. There are a lot of things that you should do to make your blog more successful. You should promote your blog post in a proper way so that it reaches your target audience and brings more customers or fans to your blog. Here are a few strategies which will help you to promote your blog in a great way.
1. Share on Social Media
If you have good content, do share it, republish it and pitch it in as many places as possible. Good content should be shared with many people and the best place to share is on Social Media.
You can publish it on famous social media sites like Facebook, Twitter, LinkedIn, Google+, Instagram, and others.
Share your blog posts on social media as soon as you publish them in your blog. And share it in your personal as well as business social accounts.
Include your blog links in your social media profiles and that really works well.
Try the Power of 100 rule which means make 100 new contacts every day. Social media is the best place to work out this rule.
Share your post more than once and re-promote your previous content which was more successful.
You can share more than one blog post at a time
Try to connect with people's emotions when you share something. Because most people share your post only if they feel something with the content.
If you are going to share your older content again just make changes to your meta description, subheadings and quotes so that it looks new again.
If you post with some visual images, it gets more attraction than your normal text shares. Make your images speak and attract more traffic to your blog. Make your blog visually appealing to the users.
You can also make your employees share your blog post in their social accounts and community.
If you find out that someone has shared your content, then do thank them for sharing your content. It will help to create a good relationship with the readers.
If you find that it's not the right time to share your posts then stop it instantly. You can find this out by using social media analytics.
2. Build an Email list
Start to build an email list. Hope you would already have an email list from your website. Email is the best way to bring traffic to your blog in an organic way. It will also engage the readers with your blog and help them come back to your blog again and again. There are a lot of tools available to build an email list for you. Expanding your email list is a vicious cycle.
Send your emails at the right time for opens and clickthroughs.
Don't create your emails targeting just sales. This will make the subscribers unsubscribe to your email. Instead, keep your emails more informative and interesting for them. Once the subscribers are attracted towards your mail they get back to your blog.
Send emails regarding your latest post.
It is best to send plain text emails because emails with visual media take a lot of time to open and so subscribers lose interest in such emails. Plain text emails will also give a personal look to your mail.
Send newsletters through email. This again helps to promote your new content.
Provide an option for the subscribers to share your mail in social media directly.
In your email signature include the links to your blog and posts
3. Do outreach and Partnerships
If you don't have an email list or social media account then you can share your blog posts with someone who has already shared similar content like yours. You might seek permission from other bloggers or business owners to share your content on their blog or social media accounts. You can also ask them to share your content with others so that it reaches a large number of people.
Mention the influencers in your post and give credit to them. You can also inform to the influencers using social media or email. This way the influencers will be happy and gladder to share your content with others.
Find out people who write round-up posts and connect to them
There are people who create awesome content to send up in their round-up emails and e-newsletters. Connect to such people.
Write a guest post to share your ideas with a new set of audiences and you can also conduct a guest posting campaign.
4. Use community
Engage yourself in some aggregate sites where a lot of information on a specific topic from different sources are shared. In these sites, you can share your content. The Upvote aspect of such communities will help the users to comment on the topic. Few examples of such sites are Reddit, BizSugar, Hacker News, etc.
There are forums where people can post their questions and seek expert advice. This is another way to connect with your audience. A very good example of such a forum is Quora.
Try to promote your blog post on social bookmarking sites. This will help people to find out your blog if they are in search of a topic that is related to your blog. Some examples are Digg, StumbleUpon.
Share your blog content with a group of people who are inside your network. It's like giving and getting back culture. It's a good idea for growing your business other than just promoting your blog.
5. Use Twitter to promote your blog post
Try to tweet at the best times so that it gains more attraction
Tweet at least 15 times a day to get more engagement from the readers
Use Twitter to help your readers in some way. Tweet only the important points of your blog.
Limit your tweets between 70 to 100 characters.
Include an image that will deliver your post to the best
Use hashtags in your Twitter feed to make it more popular and reach a large audience. There are tools to help you find the relevant hashtags.
Keep testing your headlines. Write at least 25 headlines for every twitter feed
Use Twitter cards to attach photos and videos to your content. This drives more traffic to your site.
Place links in your tweet
Participate in a Twitter chat to share your knowledge and also bring traffic to your blog
6. Using Google+ for Blog promotion
Use the right time to post your content in Google+ so that it will make the users engage more in your content.
Post your content at frequent intervals.
Optimize your post with some technical information and use font styles that are attractive
Use hashtags so that your content is visible to the people who are outside your circle
Try +Post Ads to make your blog more popular. But to do this there are few restrictions like you need to have 1000 followers and your post needs to have family-safe content for the readers.
7. Using Facebook to promote your blog post
The same rule of Twitter and Google+ also applies to Facebook. Post your blog content on the right day and at the right to make it more effective
Share only one or two posts daily
Most Facebook users are lovers of entertainment. So when you post something on Facebook make it more humorous and inspirational as well.
And again there comes the importance of hashtags. Use hashtags to reach a large audience
Promote your blog post on the top of your Facebook page so that it can increase the number of people it reaches
Create a Facebook group or community. Try to ask questions, get feedback and finally to promote your blog post.
Go for paid Facebook ads to increase your reach
8. LinkedIn is the best way to promote your blog
Share the posts at the perfect time and at a perfect number of times. One post per day is the limit for sharing on LinkedIn effectively
LinkedIn is a business professional social network site so whenever you post something to it see-through that it delivers some value to the people
You can also create a LinkedIn group it is also the best way to promote your blog
LinkedIn sponsored content is a paid advertisement to promote your blog
9. Promoting your blog using Pinterest
Members of Pinterest are active only on the weekends. So post your content on weekends to get maximum engagement.
Pin a post several times a day. Recent research has proved that pinning content 9 times per day is more effective.
Write attractive content in your Pinterest post to get a lot of clickthroughs
Convert your blog post into visual media to make it more appealing to the users
Use colors that are more dominant like red and orange
Build a community or group for a specific topic and increase the number of followers. This will increase the number of re-pins and will in turn help in promoting your blog.
10. Automated Content Pushes
Set up an RSS feed because some of your visitors may like reading RSS feeds. They will also be able to segregate their favorite publications. If you are using a WordPress site then you will have the RSS feed by default.
Share your RSS feed through social shares and emails as it will help your content to reach the audience in the best way.
Use Web Push method to reach your audience who hates email or who have not subscribed for your email notification. It sends a notification whenever new content is added to your blog.
These days the majority of traffic comes from mobile devices. Use Push notification to reach out to your mobile audience.
There are also a lot of other blog promotion strategies which are listed below for your reference
Paid Promotion
Search Engine Optimization (SEO)
Optimize your blog posts
Create Link Bait
Use a Social Locker
Run a contest
Syndicate your blog
Answer HARO questions
Conclusion
Writing a blog post takes more time and effort. Once you have put in all your hard work, make sure your work reaches a large number of people. There are many other creative and best ways to promote your blog. Thus with a clear strategy, some effective tools, some hard work, and some smart work is the best way to promote your blog more successfully. Once you have optimized your site using the tactics mentioned above then you will start receiving steady traffic for your blog.
Recommended Articles
This has been a guide to Promote Your Blog Post. Here we have discussed basic concepts, importance with 10 ways to promote your blog post in a proper manner so that it reaches your target audience and brings more customers or fans to your blog. You may also look at the following articles to learn more –