Updated June 9, 2023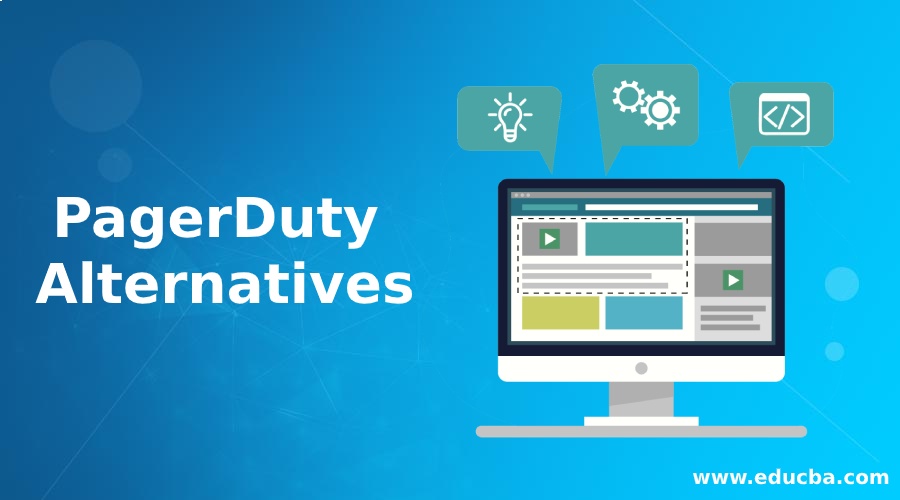 Introduction to PagerDuty Alternatives
The following article provides an outline for PagerDuty Alternatives. This cloud computing organization specializes in Incident Response Platforms for IT teams. This company could get a solid venture fund in 2018 and got many accolades in cloud services. It is headquartered in San Francisco, USA, and operates in Canada, the UK, and Australia. This platform alerts the users on possible outages and disruption well before it occurs using AI technique and automated processes. This software is available as a standalone service or added to the existing IT setup. Vodafone, GE, American Eagle, and Clover network are renowned customers of PagerDuty.
Features of PagerDuty Alternatives
Given below are the features mentioned:
On-Call Management: IT team is alerted on a possible threat or directed to do specific preventive actions. Thus the team is empowered to take swift action.
Incident Response: Automated processes to track threats, use the playbooks, and contain the breaches quickly.
Event Intelligence: Using Artificial Intelligence techniques to predict threats and recommend resolutions.
Analytics: Provide insights on the incidence occurrence and impact of the issues on the users and help plan preventive steps.
Visibility: Holistic view of the performance of the application landscape with real-time refreshes are provided to key stakeholders along with other alerts and notifications.
Integrations: This platform seamlessly integrates with more than 350 applications and is easy to configure.
Alternatives of PagerDuty
The fact that we are discussing alternatives to PagerDuty shows its invincible position in the market. It enjoys a good market share and has good reviews on its features. We are looking for alternatives because of the high-cost factor or performance or service issues with PagerDuty.
Below is the list of Incident Management Software competitors to PagerDuty.
| | | |
| --- | --- | --- |
| Sl | Name | Features of the product and comparison with PagerDuty |
| 1 | Squadcast | Easy installation, ensuring participation of all stakeholders, and real-time and live support are its unique features. Adopts Site Reliability Engineering (SRE) and DevOps practices against on-call schedules and incident response of PagerDuty. Assures 3 times more value than PagerDuty. |
| 2 | XMatters | It collates insights from the connected applications and presents them in a way that is easily interpretable to the users. This tool is expensive, and ROI is longer in comparison with PagerDuty. |
| 3 | Opsgenie | This tool specializes in altering, notification, and on-call management for DevOps teams. Compared to PagerDuty, it provides good support and maintains good customer relationships. |
| 4 | VictorOps | A powerful Incident management tool that connects data's power with people empowers the DevOps team to handle future incidences. Easy installation, good support, and sound CRM are differentiators with PagerDuty. |
| 5 | Freshservice | ITSM solution leverages ITIL best practices to enhance service delivery. It's an advanced ticketing tool. Expensive when compared to PagerDuty but easy to install and use. |
| 6 | Dynatrace | Monitors the IT applications landscape. Uses AI technologies in predicting outages. This automated tool provides visibility to the entire stack of applications. It's easier to install and use but expensive when compared to PagerDuty. |
| 7 | Solarwinds Service Desk | It is a service management tool catering to the IT and Employee service domain. Reports can be easily customized. ROI takes longer period of time due to its high cost when compared to PagerDuty. |
| 8 | Jira Service Desk | Owned by an Australian firm Atlassian. Highly customizable service management tool. Costlier than PagerDuty. |
| 9 | TeamViewer | Remote support tool to manage end-user devices ends to end without compromising security. It provides seamless connectivity to all end-user devices. It is easy to install and use compared to PagerDuty, but it is a bit expensive. |
| 10 | AppDynamics | Application Performance Management (APM) solution that gets into code level line by line. Provides quick resolution to any glitch in the performance. Costlier solution when compared to PagerDuty. |
| 11 | Splunk | The best tool to process machine-generated data and generate insights. This tool provides operational intelligence in a real-time mode. It has wide features, and When compared to PagerDuty, it is easy to use but expensive. |
| 12 | Sumo Logic | One of the Best log analysis tools. Services are offered in SaaS mode only. Provides insights as business intelligence to improve efficiency. |
| 13 | Datadog | Does watchdog function of IT applications. It generates insights from the large data generated by apps to enhance operational efficiency. This tool is easy to install but costlier than PagerDuty. |
Conclusion
Users must exercise abundant caution in evaluating the pros and cons of various alternatives available and make the right choice based on their requirements and financial support.
Recommended Articles
This is a guide to PagerDuty Alternatives. Here we discuss the introduction, features, and alternatives of PagerDuty in detail. You may also have a look at the following articles to learn more –