Updated June 9, 2023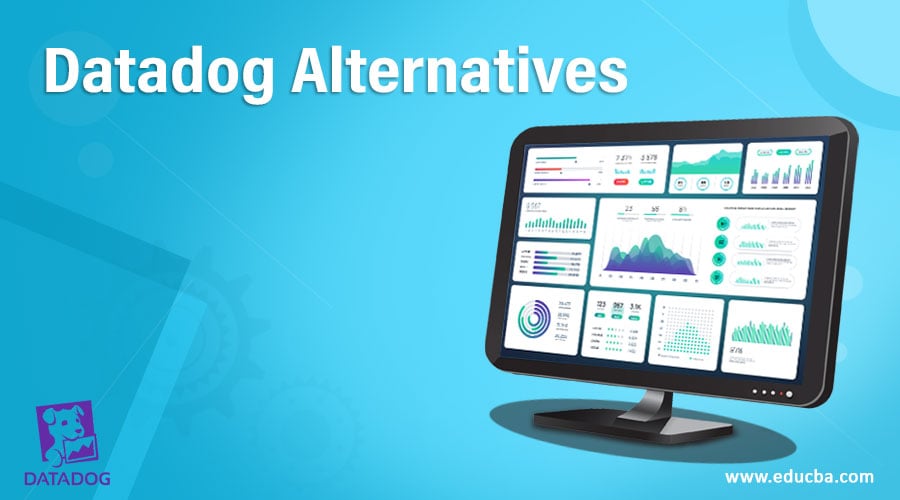 Introduction to Datadog Alternatives
Datadog is one of the most commonly used cloud-scale monitoring services. IT organizations are working on applications that involve hybrid or dynamic cloud infrastructure. The reason for using a datalog is it has a powerful UI and is easy to integrate, better metrics, monitoring of databases, web servers, and other applications, etc. But it is not like this task can only be carried out by datadog. Many other alternatives are available, and we will briefly see a few of them in this article.
Explanation
As we know, datadog is an analytics and monitoring tool that is a specialized cloud-scale application. Datadog allows us to track all system applications and their services, databases, etc., from the centralized Saas Platform. Over 250 plus built-in tools and systems can be integrated with Datadog. The metrics collected from these installed agents can then be utilized for visualizations and report generation.
Before going to the alternatives, let us briefly examine where datadog is employed and how the alternatives can be used in these areas.
Datadog can be used mainly in two areas, and they are:
Application and Infrastructure Monitoring: Datadog concerning this area will monitor the network's health and real-time monitoring of the infrastructure and applications. Datadog can also monitor the applications and infrastructures on modern distributed architectures such as the cloud in real time. Application performance and infrastructure monitoring are required as these use shared resources. Datadog will generate graph reports that can be studied for unexpected latencies and errors.
Log Processing and Monitoring:  Datadog's advanced features enable it to process logs automatically generated by log-generating tools, making it capable of sorting complex issues.
Top Datadog Alternatives
Let us look at some of the alternatives for the datadog for the application and log monitoring.
1. Loggly
SolarWinds provide Loggly. This is also a SaaS for monitoring application processing and enabling analysis of text-based logs. It can help us identify the problem or the distractions from the root, which can be rectified later. Loggly is compatible with source-side systems like Linux, Python, Docker, JavaScript, Windows Systems, and many more. This tool proactively monitors our resources and generates metrics on top of them. This monitoring will help to identify an abnormality in the entire stack of resources. Integration with DevOps-based tools, Jira, HipChat, Slack, PagerDuty, etc., is possible with Loggly.
We can summarise the features of Loggly as below:
Application Performance Monitoring
Resource Monitoring
monitoring SLA compliance
Cloud Monitoring
KPI Reporting
Error Detection and Generating Alerts
2. Librato
SolarWinds also provide Librato and is one of the better alternatives to datadog with a SaaS-based service to monitor and analyze metrics. They updated Librato and renamed it AppOptics. This tool also integrates infrastructure, servers, and application monitoring into one centralized solution like the datadog. DevOps and other engineering teams use Librato to analyze critical errors and monitor the application and infrastructure. This librato will offer charting, information sharing, and flexible dashboarding for better visualization of the teams. Librato also supports integration with various tools; hence, it is used for debugging and analyzing performance problems.
The summarized capabilities of the librato are below:
Centralized application performance monitoring
Fracture monitoring
Log processing
More the 150 integrations
3. Dynatrace
This is again popular mentoring software primarily employed by cloud base platforms. It provides application monitoring performance (APM) and artificial intelligence for operations, referred to in short as "AIOps", cloud infra monitoring, and digital express management DEM. It monitors around 130 sources, such as Amazon EC2, Hyper-v, Docker, etc., and can integrate with more than 30 tools. It can integrate with Slack, Hipchat, Jira, etc. It is an agent-based platform. We need to install OneAgent on the host to detect and monitor the source environments automatically. After the successful installation of the agent then, it offers full visibility of the source environment or the whole stack.
Some of the features of dynatrace are below:
Artificial Intelligence-powered APM
Error detection and event analytics
Better metrics visualization
Monitoring for cloud, network, virtualization, server, containers, slack, and logs.
4. New Relic
New Relic is an application or infrastructure performance management software designed especially for DevOps. New Relic provides full visualization of its cloud infrastructure source and its applications. IT can provide monitoring for applications that are in hybrid environments. The New Relic package does not include all the features in Datadog or Loggly. New Relic is based on products like New Relic APM, New Relic Mobile, New Relic Browser, New Relic Infrastructure, New Relic Synthetics, New Relic Insights, etc.
Features of the New Relic can be summarized in the below points:
New Relic provides Dynamic Server Management and monitoring for cloud, on-premises, and hybrid environments.
This gives complete visualization of APM and more profound insights into the application's performances and bottlenecks.
Provide a browser where one visualizes the front-end environment management.
New Relic Mobile will monitor mobile applications and their backend.
Employing a new relic achieves faster debugging and monitoring.
With New Relic Insist, one can gather essential data and keep track of real-time events.
Conclusion
As we all know, datadog is a SaaS-based monitoring tool that can integrate with over 250+ tools; there are a few better alternatives that can be used instead of datadog. We have used this article to describe a few of the popular ones. The product choice for your monitoring operations is purely dependent on the requirement of the use case, the budget provided by the client and other factors.
Recommended Articles
This is a guide to Datadog Alternatives. Here we discuss the introduction and the top 4 Alternatives of Datadog. You can also go through our other related articles to learn more –