Updated July 17, 2023
Introduction to Zoom Alternatives
The recent global lockdown has caused a surge in the use of video conferencing apps, and Zoom has emerged as one of the most widely used apps. Recently, hackers compromised the Zoom video conferencing app and sold sensitive data of users on the Dark Web. This data includes Zoom account credentials like email addresses, personal meeting URLs, and passwords. Hence it is not safe to use Zoom anymore.
Table of Content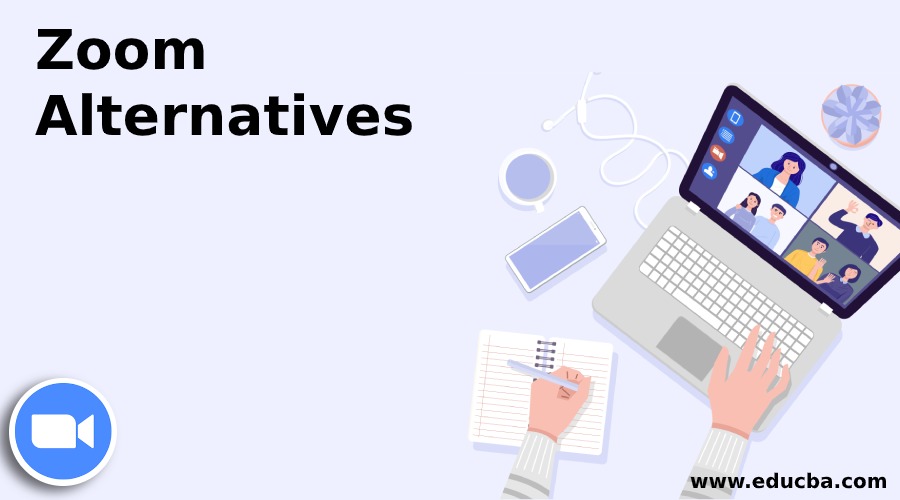 Top Zoom Alternatives
If you want to use a more secure video conferencing app, then here is a list of the top Zoom alternatives which offer an added layer of security as well as end-to-end encryption.
1. Microsoft Teams
Microsoft Teams is a free video-conferencing platform for businesses and meetings. Workplaces widely use it. 250 people on a video conference call simultaneously on Microsoft Teams. As Microsoft develops it, it does not compromise the safety and security of users' data. Microsoft Teams provides video conferencing for PowerPoint presentations. We can arrange this meeting for up to 10,000 people. It also integrates Office 365. So You quickly share documents across Microsoft Excel, Word, as well as other MS Office apps.Microsoft Teams supports up to 250 people on a video conference call simultaneously.
2. Skype Meet
Skype gained popularity and widespread usage as a video chat app and software over the last decade. The new Skype Meet Now feature enables video conferencing, providing a great alternative to Zoom. This feature can be accessed by clicking on the "Meet Now" button, which is on the left side of the app. Skype Meet supports up to 50 people. There is no need to sign in new users; they can join the meeting just with a link. It suits online classrooms best due to its reliable and user-friendly tools and features. It can also Record video conferencing call for up to 30 days. And if you have the app, you Can also blur the background and Share presentations.
3. Google Meet
Many people use Google Meet as a popular alternative to Zoom for arranging webinars and meetings. Google Meet, formerly available exclusively to educators and paid G Suite subscribers, became accessible to free Gmail service users in May. This change was made in response to the global pandemic, allowing a wider range of users to utilize the Meet platform. Google Meet is the easiest way to video chat with colleagues, family, and friends. In this, You can arrange video calls with up to 250 participants as well as share presentations.
You can also record those meetings and save records to Drive. It also provides You to access Google document services like Calendar, Sheets, Slides, etc. Everyone who has a Google account can join meetings along with naming their meetings. A meeting link can also be sent to participants outside of your company. Google Meet allows us to schedule a meeting with the help of Google Calendar. It has a great feature o ensure the security of the meeting by allowing and denying the participants' entry. Now Gmail incorporates Meet, making it easy to video call from the left column of your Gmail window. Google Meet also provides grid view like Zoom in which You can share a screen, text chat, share images, video as well as location.
4. WhatsApp
WhatsApp is a popular social messaging app known for its extensive user base. It offers a convenient video call feature that enables users to connect with each other seamlessly. This is why WhatsApp is the best Zoom alternative among families and friends. Whatsapp provides group video calling for free, so now it is the most reliable option for people. WhatsApp provides end-to-end encryption for video calls; however, it allows only four people to video call at a time.
5. Facebook Messenger for video calls
There is no need to tell how Facebook is the most popular and loved one by people all over the world. So Facebook also provides video conferencing features for its users. you can use Facebook Messenger With a Facebook account for video calls which also has features like emoji reactions, games, and stickers. up to six people can join video calls at a time on this app.
6. Google Duo
Google Duo is also a great platform for you to meet your family, friends, as well as colleagues virtually. Google Duo supports audio calls along with video calls. It provides added options such as video voicemails. It also ensures security with end-to-end encryption. You can access the duo from mobiles, tablets, and laptops.
7. BlueJeans:
BlueJeans is a cloud-based video conferencing platform that provides users with high-quality audio and video capabilities. It allows individuals and teams to conduct virtual meetings, conferences, and webinars from any location with an internet connection.
BlueJeans offers a range of features to enhance the video conferencing experience. These include:
Video and Audio Conferencing
Screen Sharing
Recording
Integration with Third-Party Applications
Virtual Backgrounds
Collaboration Tools
8. GoToMeeting
GoToMeeting is indeed a popular video conferencing solution that offers reliable audio and video quality for online meetings and collaboration. It provides a range of features to facilitate seamless communication and collaboration among participants. Here are some key features of GoToMeeting:
Security and Privacy
Mobile Applications
Collaboration Tools
Conclusion
In this article, we have seen various alternatives to Zoom for meetings and webinars, which are reliable and safe to use. You can choose any of them based on your requirements.
Recommended Articles
This is a guide to Zoom Alternatives. Here we discuss an introduction to Zoom Alternatives and its top six different types in detail. You can also go through our other related articles to learn more –