Updated April 6, 2023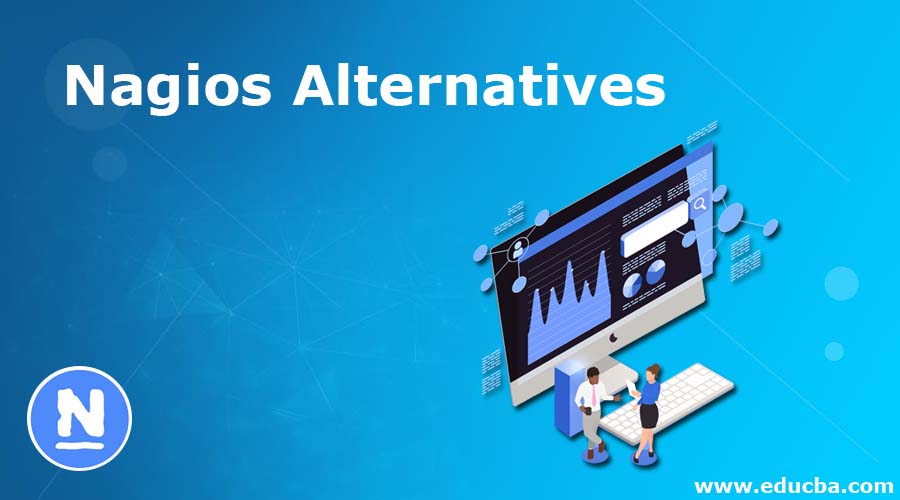 Introduction to Nagios Alternatives
Nagios is a management tool for the open-source network. It helps companies identify Their infrastructure challenges and address them. But the incorporation of Nagios into the automated supply processes may be difficult. Nagios still has a few other issues. A list of top instruments to replace Nagios is curated in this section. This list includes both a paid and open-source network monitoring application that contains common features and the latest download connection.
Top Alternatives of Nagios

Now we will see top Alternatives to Nagios, which are given as follows: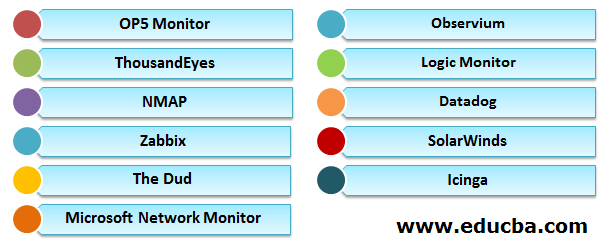 1. OP5 Monitor
OP5 Monitor is a server software tool built on the Nagios Open Source project for network monitoring and management. The OP5 Monitor shows the IT network's status, health, and performance.
Key Features of OP5 Monitor:
Distributed system scalability without parallel.
Reading, storing, and creating SNMP traps warnings.
Self Healing Automatically.
2. Observium
Observium is a network management device that is self-discovered. It supports a range of system models, platforms and OSes. This tool offers a simple and intuitive guide to your network 's health and status.
Key Features of Observium:
Traffic accounting allows the use of consumer bandwidth monitoring and billing.
The Alert System Threshold allows you to set thresholds and failed status of different entities.
Improves the reliability of your network by identifying a number of possible problems.
3. ThousandEyes
The networking software with a Thousand eyes enables you to find everywhere the cause of the problems. Share your findings and respond to issues quickly before your customers, services, and revenues are affected.
Key Features of ThousandEyes:
It provides a comprehensive overview of all components of the Internet by intelligent agents.
Integrate data and observations into current processes and workflows directly.
Visualize several network data layers in order to track various infrastructures, services, and applications
4. Logic Monitor
LogicMonitor is a method for automated surveillance of the SaaS network. The platform can fit dashboards, warnings, and reports. By offering predictional changes and pattern analysis, the tool may detect incoming issues.
Key Features of Logic Monitor:
Follows adjacent BGP sessions and OSPF.
Monitoring of the wireless access point.
5. NMAP
Nmap is a network discovery and security auditing open-source software. You can perform tasks such as the network inventory and manage service update schedules with this network monitoring tool.
Key Features of NMAP:
Support dozens of advanced mapping techniques for IP router filter, firewall, etc., networks. Ii. It can literally search vast networks with hundreds of thousands of machines.
6. Datadog
Datadog is a method for tracking hybrid cloud environments. Datadog can assist you in analyzing networks, apps, and services performance. You can create custom graphs, meters, and warnings.
Key Features of Datadog:
In this, You can check systems, applications, and services, analysis and exploration of log data.
7. Zabbix
Zabbix is a control tool for open source applications. This method for network surveillance is designed to track and establish trends. This software is widely used for server and network hardware monitoring. Based on historical data, this tool can predict future actions.
Key Features of Zabbix:
Easy network performance and health measurement
Different methods and protocols for metric collection
8. SolarWinds
This tool detects network devices and deploys them within an hour automatically. You can customize the web-based Dashboards, charts, and views with the aid of this tool.
Key Features of SolarWinds:
Intelligent scalability in large environments
Comprehensive Network Accessibility perspectives
Easy trouble solving PerfStack and NetPath
9. The Dude
A network surveillance tool that scans all devices within different subnetworks automatically is the Dude network monitor. You can build your network layout and diagram. It also warns you if any equipment does not function properly.
Key Features of The Dude:
For quick identification, SVG icons for devices are included. Often supported are consumer icons and backgrounds.
Clear access to system management remote control tools
10. Icinga
It is a software management tool and open-source technology. The health of your IT system is updated and recorded by Icinga. All warning addictions are displayed in the dashboard and forwarded to us via email, SMS, or mobile apps.
Key Features of Icinga:
It Supports both SNMP and direct tracking.
It allows clustering and zone surveillance.
11. Microsoft Network Monitor
Microsoft Network Monitor is a method for evaluating protocols and tracking network traffic. You can link, view, and analyze network traffic through this method. It is also useful to address network problems and network applications.It captures data automatically by using PowerShell cmdlets.
Key Features of Microsoft Network Monitor:
It provides TLS/SSL decryption support.
It allows the customization of filter expressions.
NetXMSNetXMS is an open-source tool for monitoring IT infrastructures in their entirety. It begins with hardware capable of SNMP and ends with server applications.
Key features of NetXMS Microsoft Network Monitor:
It allows Centralized remote agent upgrades
It provides a Portable client library such as C as well as  Java APIs.
It provides reliable access control configuration
It has a built-in scripting engine that is useful for management and advanced automation.
Conclusion
In this article, we have seen top alternatives to Nagios, which are useful to monitor, analyze the system. You can choose any of the software among them based on requirements.
Recommended Articles
This is a guide to Nagios Alternatives. Here we discuss the Key Features and Top 10 Alternatives of Nagios like OP5 Monitor, Observium, ThousandEyes, Logic Monitor, etc. You can also go through our other suggested articles to learn more –