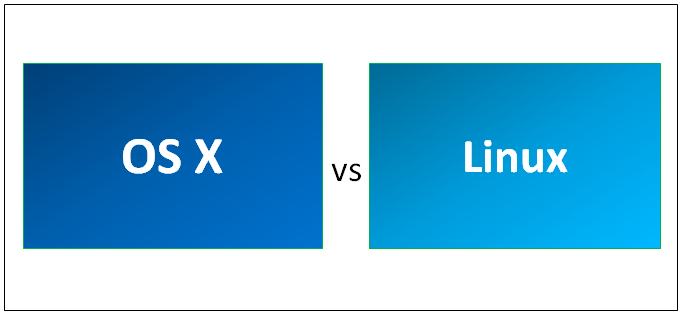 Differences Between OS X vs Linux
OS X is the latest version of the Mac operating system, full of many advanced features such as hardware interaction available in the Apple Mac Book; this makes it a little different from Linux. Mac OS, which has a very appealing user interface with much ease of use working style and on the other hand Linux, which is known for its command-line interface, more popular for open source license that is very useful for the business world. Linux has a very strong community and has its various OS flavors for different purposes. Linux is similar to UNIX but not exactly UNIX.
Head To Head Comparison Between OS X and Linux (Infographics)
Below is the top 9 comparison between OS X and Linux :

Key Differences Between OS X and Linux
Here are some of the key differences between OS X and Linux languages:
Linux gives you the freedom to customize its code and make it according to your needs, while OS X code is not available for code customization.
When you use Linux, you are free from surveillance; on the other hand, OS X monitors your activities up to some extent. So your secret will be safe with Linux.
In OS X, there is only one desktop environment for users, but you can choose various desktop interfaces provided by Linux, for example.
KDE Plasma 5
Cinnamon
MATE
Unity
Xfce
LXQt
Pantheon
Linux OS is very stable in nature as it is free from the bug (It doesn't mean Linux is out of a bug, but some third-party tools generally cause the problem in Linux) while OS X gets a regular update to make it free from bug and to make it stable.
Linux is capable of reading data from other OS file system (It can read your hard drive if previously it was associated with OS X or other operating systems), while OS X is not capable of reading a file from other file systems.
Update in Linux is real-time (it means you can parallel works while an update is going on), while in OS X you need to deal with multiple steps with a reboot.
Linux doesn't compel you to pay money when you use it, you are free to pay or not to pay, and it means Linux is free, but the same is not true for OS X.
Comparison Table OS X and Linux
Below is the list of points, describe the comparison between OS X and Linux.
BASIS FOR

COMPARISON

OS X
Linux
Developer
Developed by Apple Inc
Linus Torvalds (main developer) and developer community worldwide.
License
Need to purchase a license
Open-source
Device Compatibility
It supports only those devices which are developed by Apple Corporation only but can be run on others by doing some hack.
Linux is supported by many devices and quite compatible for from low configuration devices to supercomputers.
Customization
Restricted and limited options are available.
Fully customizable with many options. You can make it according to your need if you know the Linux script.
Kernel
Based on UNIX
Not exactly UNIX but UNIX Like
Supported By
Apple Inc.
Developer Community worldwide
User-friendly
Very much user-friendly
Less user-friendly in comparison to OS X.
Cost

Need to pay a good amount to use this OS.

Free to use, and a user is not bound to pay.
Uses
Only in those devices or application which is developed by Apple Inc.
Believe me or not but you anyhow have uses the devices that are running Linux.
Conclusion
OS X and Linux are a very hot topic today to discuss when the company or user wants to choose between OS X and Linux, but things are not in black and white. In a business, world cost is the factor that affects the choice since keeping cost low to maximize the profit is the main concern.
If you look closely between comparisons of OS X and Linux then you will find that OS X is designed for devices that Apple manufactures for Apple Inc. while Linux is useful for low configuration device and as well as for high configuration devices like supercomputers and web servers.
One of the main advantages of Linux for the business world is the Open-source nature of Linux, which boost further experiment and development for multipurpose work; for example, Android OS, which gained popularity for Mobile devices, is based on Linux Kernel. While OS X is proprietary to Apple Inc. so whatever they create, you will have to be with it; there is no as such on-demand they will create especially for you, but if they will do, you will have to pay a very high price for your customization.
OS X is very much popular among people who like entertainment and very attractive graphic. Linux is also full of graphic, but it is still behind OS X for this matter. In spite of being very costly, OS X supported devices are very popular, and the reasons are vivid since Linux is a little bit tricky, and even you need little technical knowledge to operate it to explore more. Since OS X is designed especially for a user who does not deal with technical things.
So who wins the debate? Well, we can say for non-technical user OS X is always a good choice. Still, if you are a little economical and have some technical expertise, then you will choose Linux as in upcoming year it will be more user friendly and my possible beat the OS X. Still, recently OS X is popular for the common man while Linux is rocking among business world and Techie.
Recommended Articles
This has been a useful guide to the Differences Between OS X vs Linux. We have discussed OS X vs Linux head to head comparison, key differences, and infographics and comparison table. You may also look at the following articles to learn more –