Updated July 28, 2023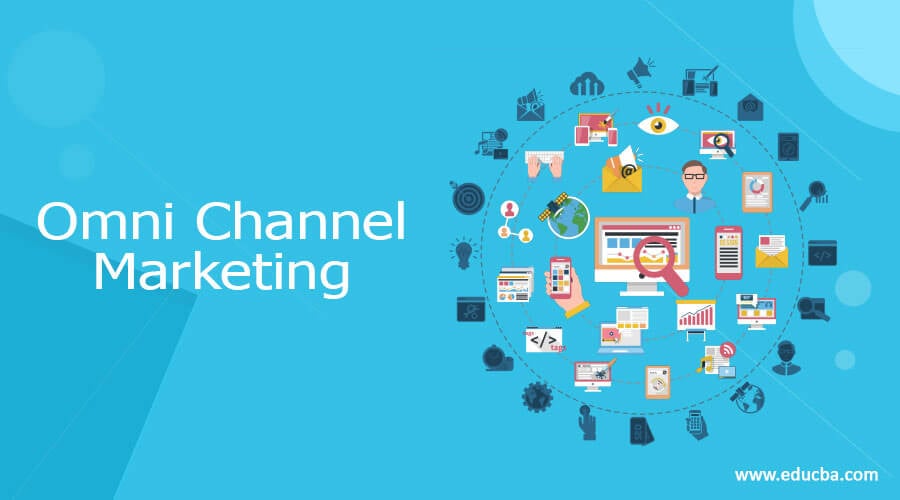 Introduction to Omni Channel Marketing
You must have seen it quoted in leading business and management publications. Yet it isn't the same as multi-channel marketing, where you add mobile, blogging, social media, and web to your existing promotional strategy. Now we will discuss more information about Omni Channel Marketing. It is a very important marketing strategy.
Religion tells us God is omnipotent, omniscient and omnipresent. In marketing parlance, Omnichannel marketing refers to a situation where the product or brand is with the consumer everywhere – be it in the retail shop, social media, online, mobile apps, mobile sites, or mobile phone, providing an interconnected and seamless experience. When properly deployed, omnichannel marketing can drive sales and create brand equity.
Tips for Omni Channel Marketing Strategy
Here are some tips that may help even small and medium businesses achieve success with an omnichannel strategy:
1. Your brand should be omnipresent
Today consumers don't go to a retail shop and buy a product that is available off the shelf. They search online or learn about it from their friends or colleagues or might have seen a promotion on Facebook or TV. The diverse channels should be interconnected so that buying becomes a seamless experience buyers cherish. It is not the same as running a campaign in all the channels, which are promotional ones, in which case it is only multi-channel marketing.
A customer enters a retail footwear store and buys a few products but can't buy their favorite shoes as the required size is unavailable. The next day he gets an SMS regarding a 50 Indian Rupee discount for the next shopping. As he passes by another showroom of the same company, he gets a message informing him the shoes he was looking for are available right there.
Starbucks is reportedly the most famous brand with the best returns on its omnichannel strategy. A regular Starbucks customer reported a case where he saw a promo of the company in the Facebook Newsfeed to register for the loyalty program and get a free drink. To join the rewards program, the customer must download the app and link it to Paypal or a bank account to make and receive payments. This led him to visit Starbucks again to avail of the offer and get rewarded.
The principle of omnipresence requires that the brand should interact with customers across channels-radio, TV, social media, web, mobile, and mobile apps not just to give promotional messages but to understand when the customer makes buying decisions and even deliver the message in real-time.
2. Get customer data and intelligence
Omni marketing cannot take place without adequate customer data. A survey done three years ago pointed out that 66% use email addresses, 3% use online cookies, 29% use home addresses, 25% IP addresses, and 24% landline phone numbers. Additional customer insights are received from websites, mobile, search engines, landing pages, call centers, print, TV and radio, and outdoors. Real-time engagement requires collecting marketing data and its analysis to deliver messages that deliver results. Data is at the core of omnichannel marketing, and it should be pulled from all possible sources and incorporated into the marketing strategy to provide an integrated, seamless experience.
If data is organized along disparate silos, analyzing it is difficult and an obstacle to implementing omni channel strategy. Some firms use sophisticated data mining technologies to combine all marketing data from various sources- servers, CRM, email, etc into a single repository. There should be clarity on the part of marketers regarding the type of data required, their frequency, mode of collection, and data formats.
3. Understand your customer
Omni channel marketing recognizes that a customer is not just a lead converted into business but an individual with a personality. The success of this strategy depends on a deeper understanding of consumer behavior and desires. Big data and surveys can give some insights into customer behavior and what they want from the product. It also means identifying the customers' devices, enabling the company to personalize each interaction and experience with your brand.
The mindset of the retail buyer is changing. They may want to order online and take delivery from the shop to get savings on shipping costs. This is a workable strategy for retailers who want to compete with online-only sellers.
4. Have the right technology in place
An omnichannel strategy must have sound technology systems that integrate various activities across devices. It begins with good Customer Relationship Management (CRM) software integrated with Enterprise Resource Planning (ERP) in the backend. Without the proper technology, omnichannel may not deliver the right messages in time, resulting in a loss of business.
The data could come from online and in-store purchases and multiple customer databases necessitate having Master Data Management (MDM) for better data consolidation and eliminating duplicate data. MDM is a must to enable consistency of customer information, whether it comes from in-store, online, or any other channels.
5. Have a grouping of internal stakeholders
Proper CRM systems and messaging and communication apps are vital for success. Still, more importantly, the grouping of stakeholders in the strategy should be taken care of. It may include software developers, content marketing, marketing, customer service, public relations, and logistics teams. These teams cannot work in isolation on this strategy. They need to know the initiative's objectives, goals, and targets.
Unless the objectives are clear, results can't be validated. They should be put forward in clear terms, such as delivering consistent customer experiences across platforms, enabling seamless customer journeys with cross-channel engagement, keeping them engaged in individual touchpoints, and integrating in-store, online, and mobile selling are some of them. Understanding what constitutes a satisfying customer experience is no easy task for a marketer and his team. Therefore, the team should go through various stages of customer experience. Customer pain points could be searching for goods, buying them, getting help, or browsing different website sections.
6. Learn from the success stories
No one strategy can be applied across industries, but analyzing some of the success stories in omnichannel marketing will be helpful for those who are new to it.
The most quoted success stories are related to Starbucks, Denny's, Taco, Virgin Air, Disney, Oasis, and Bank of America. Denny's, the leading US food outlet, used location-based advertising using mobile numbers in its customer database. Most of the mobile activity occurs outside the home, and Denny roped in its Ad firm xAd to launch location-based campaigns. It sent offers to customers who passed by its outlets, which increased store visits. The fact that the customers of Denny's were young, upmarket diners also helped in the initiative.
Disney offers a holistic experience beginning with its mobile-responsive website. Those who have booked a trip can use the My Disney Experiences app to plan the entire trip. It includes getting Fast Pass and finding the attractions in the park. Its Magic Band program is a multi-utility app that serves as a hotel room key and device for photo storage; it can be used to order food and is integrated with Fast Pass. Starbucks reward app lets customers avail rewards in any of its stores; it can be checked and reloaded via the website, in-store, or on the app. Real-time updating happens across all channels when there is a change in the profile or to the card.
7. Get internal support and sponsorship
In medium to large organizations, omnichannel requires considerable investment compared to single or multiple-channel marketing. Therefore, it is essential to get boardroom support for the initiative. CEO and directors may have to be shown a business case with a possible return on investment (ROI) perspective to garner support. With executive sponsorship or support, the program may not be feasible.
8. The need for a unified marketing platform
Marketers need to get a snapshot of in-store activity and online transactions to deliver the right loyalty programs for buyers. We should communicate it across social media, email, mobile, and websites. Customers expect offers and promotions on the basis of their relationship with the company. Therefore, marketers need actionable data that reflect purchasing behavior, interests, and preferences to engage them and deliver good offers.
9. Have a mobile-friendly platform
One of the key reasons why omnichannel failures are reported is the inability of the company to build a mobile-friendly platform or business processes optimized for mobile. Amazon, Starbucks, Birch, and Taco are all companies that achieved success in omnichannel marketing by focusing on mobile.
According to survey results, people who buy in-store prefer mobile to improve their in-store experience. When searching online, a consumer may get a coupon that can be redeemed at the time of purchase in-store, as some customers use the web for research, not buying. Those who want to shop online and pick up the goods in-store cite the long queues in front of the billing counter as a major motivation to order online. However, inventory control is important in clothing and footwear as certain sizes and models can run out faster. If the customers searching online or in-store find certain models out of stock, they may look for similar offerings from competitors.
10. The changing dynamics of the supply chain
According to Ernst & Young, consumer products and retailing companies must have a proper strategy, agility, and visibility to succeed in the omnichannel supply chain. Having a traditional supply chain infrastructure to deliver results is no longer sufficient. Analysts say inventory visibility is quite important in the omnichannel era. Without it, the retailer would be in the dark regarding the stock of goods in real-time, thus losing our business. New technologies can be utilized to track better goods movements, including Radio Frequency Identification (RFID) and Electronic Product Code (EPC). More importantly, products must be web ready to be shared on different channels.
Conclusion
The success of omnichannel marketing depends on understanding the customer and what devices he uses frequently. It differs from the multi-channel strategy, which ensures presence across media but does not deliver a holistic experience. Omnichannel marketing reaches the customer through all channels at their convenience, harnessing the power of working together. Business processes should be more consumer-centric to get the best results. Analysts recommend that organizations with a flatter structure are more suitable for implementing such strategies than those with a hierarchical structure.
Omni-channel has helped businesses provide better customer experience and get rewarded for increased loyalty, topline, and bottom-line growth. All IT majors such as SAP, IBM, and Teradata have all come up with solutions for omnichannel marketing, which shows the huge opportunity emerging in this space. The returns from Omnichannel will only be in the coming years as consumers who shop online and in-store tend to spend more than those who depend on a single channel.
The success of the Omni Channel strategy will depend on the use of predictive analytics. Businesses should gather and analyze data from various sources such as social media, product reviews, customer feedback, online searches, and buying behavior. Companies can better understand their consumers by utilizing sophisticated data mining tools and algorithms.
Delivery of products quickly to the customer gains importance in online shopping, and using physical stores helps reduce delivery times. Firms are still evolving omnichannel strategies to provide quality experiences. For many organizations, satisfying the customer's journey across channels to buy a product is still an uphill task. The penetration of mobile and smartphones has only added to the customer requirement for a more friendly shopping experience.
In due course, the Omni Channel strategy should be a win-win for the industry and consumers. Advances in communication, technology, and business practices are helping the industry find new ways to engage consumers through multiple channels.
Recommended Articles
This has been a guide to Omni Channel Marketing. We have discussed the introduction and 10 tips for Omni channel marketing strategy respectively. You may also look at the following articles to learn more –