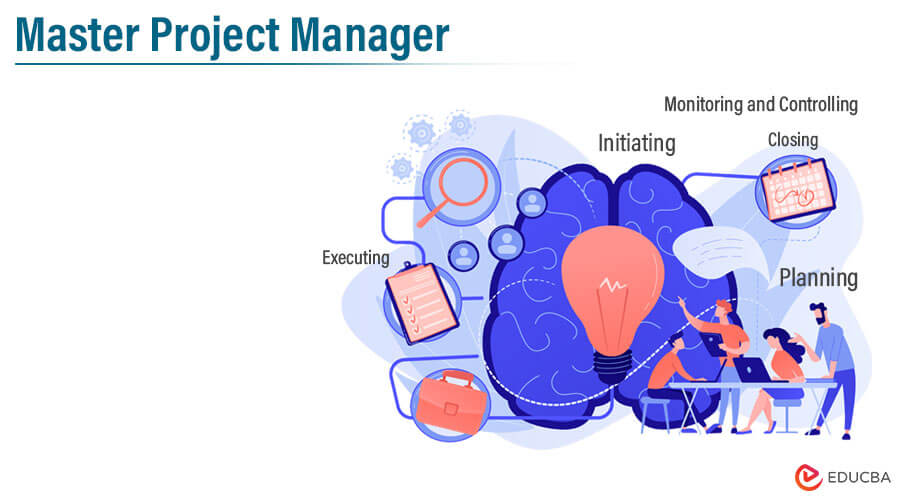 Introduction to Master Project Manager
Master Project Manager and Benefits of a pmp certification – The era of professional development is taking the world by storm. There is currently a lot of emphasis on maintaining business etiquette and professionalism through the way of conduct and, for that matter, even though the way of dealing with the business undertakings, such as projects and large-scale programs.
Change seems to be the need of the hour, where improvements form the major part of it. With improvements comes the need to ensure that the improvement is properly configured and adapted. Once implemented, this improvement needs to be maintained. Such decisions and actions need a lot of thought and arrangement in the world of businesses and organizations. These changes and improvements are set to affect huge corporations and local and global economies as well. With a responsibility of such huge undertakings resting on singular individuals or "project managers", it comes down to the fact of how capable they are and how much are they equipped to take on tasks in such gigantic proportions.
An individual can be robust and witty but in order to move through changes in such huge proportions, it's necessary for aspiring managers to broaden their outlook in such a manner, so as to affect change in the most powerful way possible. This can only be achieved through an expansive skill set and optimum knowledge of how the world of business and management operates. It is through these needs that the entire paradigm of project management developed Master Project Manager and through it, institutes and their certification courses, in order to manage and educate these individuals came into being. Once such benefits of a pmp certification!
Master Project Manager Overview
The AAPM® American Academy of Project Management™, a rival institution to Master Project Manager Institute (PMI) is a globally-recognized board of standards and accreditation council for project management. This institute has been renowned in helping project management professionals reach and achieve their project management goals through various certifications offered. These certifications cater to project professionals from various strata of business and have one goal in mind—perfection. The AAPM accredits qualified professionals to this certification on completion of set criteria and examinations. An ISO-certified training body, the AAPM offers a peculiar and completely encompassing certification for highly-qualified Master project managers—MPM® or Master Project Manager.
Founded in 1996, AAPM holds a good dominance over 150 countries possessing a good membership over 60,000 professionals; AAPM has gained relevance on the global project management scene. The AAPM offers board certification, which is the type of professional license provided to pilots, engineers, and the like, who take grave legal responsibility for their passengers and, in the case of Master project managers, the users of the products they lead.
AAPM takes new methods of project management and belts them out onto the professionals who have come with every intention of making their career within PM successful and large. AAPM duly issues the master project manager and pmp certification to candidate posing the right aptitude, attitude, and qualification, as prescribed through the education, training, industry knowledge, work experience, and work ethics of the individual.
Providing the same set of expertise and the MPM certification is the IPMC (International Project Management Commission™) as well.
Master Project Manager – What You Are in For
Project management is simply an implementation of tools and techniques, in conjunction with personal skills and aptitude, to process through the 5 phases of a project in order to achieve successful completion of specific goals set or certain success matrices agreed upon.
Projects are commissioned with a goal in mind. This goal can be a change in the workflow or an improvement to be carried out to the current functioning of the organization. This goal can even result in the introduction of a new system or procedure within an existing or new mainframe. A Master project manager spearheads a prodject and implements the various tools and methodologies there are within the project management paradigm. These project management processes are effective in 5 phases of a project. These phases make up the project life cycle. They are as follows:
Initiating – When an organization is faced with an issue or problem to be resolved, an idea is conceptualized to be used in order to eliminate that issue or subdue it. In this phase, this idea is carefully weighed against the odds and its advantages and disadvantages are plotted to check if this project will surely benefit the organization and if it's realistic to be carried out. The decision-making team is at play here and heads this phase. The Master project manager proposes the course of action to resolve the problem and thus, through consent, a project is initiated.
Planning – Once a project has a go-ahead, the project manager drafts a plan to get the project on track. The plan is a step-by-step document stating what takes place in chronological order and how much of time and resources should be associated with each step, subdivided into many tasks, and further divided into subtasks. This planning phase is the most important and needs to be given adequate time by managers to think through each nuance and make appropriate decisions. This will ensure that no time is wasted in the later stages and risk is taken care of.
Executing – In this phase the project is launched after the planning is successfully completed. Here, the plan turns into the actuals and work is performed by the team members in the way designated by the project manager. The project manager manages and steers the project, as per the plan, to achieve the project objectives set during the initiating stage. The tasks are distributed or assigned to all project team members, who methodically follow the project plan and while giving in their own expertise and inputs work towards attaining the goal set by the plan for them. Roles and responsibilities are slated and work is undertaken.
Monitoring and Controlling – After the project is successfully executed, the next step is to closely monitor the results or outcomes of the project. Monitoring will require the team to check whether the results match the expected output listed in the project objective. The project objective needs to be completely implemented. Controlling will involve maintaining the desired output until the objective is achieved. Schedules need to be shifted accordingly and any modifications to the tasks or activities should be undertaken in this stage.
Closing – Once the project completes its set objective and the issue/problem has been resolved, the project is stated as completed and it's time for its closure. The client will check and review if this is the product needed and evaluate the project's success. Once the go-ahead is given, the project is officially closed.
With project management and thorough knowledge gained from certifications such as MPM, you can gain control over the following aspects within your project:
What is MPM?
A graduate project management certification from AAPM and IPMC, the Master Project Manager (MPM) credential includes training professionals in the art of detailed project management. Unlike PMP, which solely concentrates on professional project managers, AAPM's MPM aims at professional in the business as well as the technical areas within a corporation.
MPM is mostly beneficial for IT and tech professionals as it heavily concentrates on correlating technical prowess of candidates and is priced at a lower cost as compared to a PMP certification. Along with lower cost, MPM also is designed in such a way so as to attain a shorter course time, thus, encouraging faster payback on the investment made with regard to training for MPM.
AAPM ensures that individuals applying for the MPM certification are meeting 6 levels of global criteria, including work ethics and those issued by the global body of standards (international body of standards – IBS). Acceptance into this institute for MPM requires a high level of distinction and the individual should be a graduate holding a good portfolio of skills and knowledge to stay abreast with the training provided. In detail, the requirements are as follows:
Benefits Of A PMP Certification
College education or global equivalent
Successful passage through the test
IPMC Ethics Agreement
IPMC commissioned sanctioned training
IPMC continuing education
Project management work experience
Through training and appropriate education, in due course of the certification, the credential of MPM is bestowed on a candidate who has performed exceptionally well and who has now mastered and has been completely enriched with the following skills and qualities
Master Project manager (PMP)
Experience
Ability to take calculated risks
Enhanced technical understanding
Ability to prod others to arrive in a consensus
Ability to always look at the big picture and make decisions based on that
Ability to drive and motivate project team members and provide them with appropriate guidance and learning
Project management has expanded its wings towards all different kinds of industries, which demands a project manager to take up a lot of responsibilities. Project managers need to be able to swing into different technical fields and yet stay successful while conducting projects from initiation to closure.
Enlisted below is every detail you need to know while deciding to take up the MPM certification course from the Institute of accreditation:
Prerequisites
Eligibility with less than 3 years' experience in the field of project management. Candidate with 3 years or more experience and possessing either a master Project Manager degree or qualified training and experience can obtain an executive waiver.

The MPM credential is valid for a time period of 2 years and a certain fee needs to be paid after the 2 years to maintain the credential.

Examination
There is one online examination that consists of 20 questions for 55 minutes of time allotted. The candidate must score a total of 65% or above to clear the examination.
Cost for the examination
Examination is free; however, there is a cost for application, review, initiation of training, and processing and designation of certification. This cost amounts to $300.
Official site for information
http://projectmanagementcertification.org/masterprojectmanager.html
Benefits Of A PMP Certification
MPM is a great certification to carry around alongside your name and can prove to be quite the feather in your hat for you to bag on opportunities that come your way. MPM assures quality knowledge in all the tools and techniques and methodologies adopted by project managers across the globe. Listed below are the benefits you can tap on as you gear up to pursue this credential in the wide scheme of project management. Here we go!
Tips For Master Project Manager Certification
Employability – The credential of MPM considerably enhances employability and even lets your employer know of your dedication towards the field of project management. With the experience you garner from the course and training, you will surely be way ahead of your game to get the buck rolling for your projects. MPM is a seal for quality professionals who have made the cut to bring out the best in project management.
More informed decision – With abundant practical and theoretical knowledge, there's going to surely be an amalgamation of thoughts and ideas and what goes where. Amidst all of the various choices to be made, project managers with an MPM certification will surely be able to think through the periscope and make an informed and accurate decision in all the undertakings of the project. It's important to make the right decisions when it comes to delays, mishaps, and plans going kaput. This is where the caliber and training come into play so that decision-making is simply flawless.
From basic to exemplary – MPM is that certificate that helps you achieve project management knowledge right from the basic level to the highest level. It encourages project managers even with lesser years' experience but with potential and smart thinking to apply and get a step closer to earning a certification that can make a lot of difference.
Cost-effective – As compared to PMI's PMP certification, AAPM's MPM is going to be lesser on the pay scale with almost the same effectiveness. But, when I say almost, PMP does have a better hold on the business and organizational market when it comes to job opportunities.
Time-effective – What would take PMP 3 years, MPM ensures faster training schedules with faster returns on investment.
Recommended
So here are some courses that will help you to get the more detail about the Master Project Manager, benefits of a pmp certification, master project manager certification and also master project manager (mpm) so just go through the link which is given below.