Updated June 15, 2023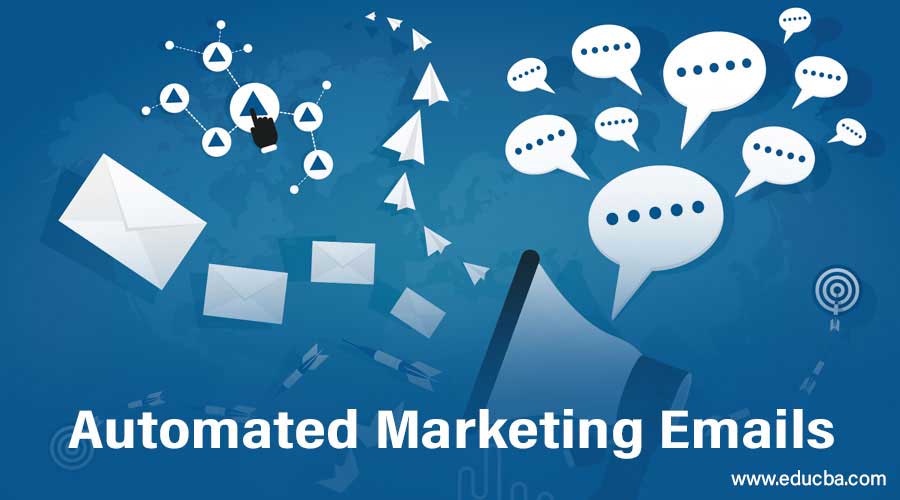 Best ways to get the Best out of Automated Marketing Emails
In this Topic, we are going to learn about Automated Marketing Emails. Businesses send millions of emails to customers or prospective customers every day, but some emails have higher open rates than others. The conventional email marketing method focused on sending promotional mail, followed by another mail after an interval. With more and more email service providers sorting primary, social, and business promotion emails, users can delete them without opening a promo mail. Just as repeated cold calls from different companies turn offensive for customers, so do repeated promo emails.
People receive automated marketing emails when they meet a certain criterion or perform an action on a website or social media that triggers the system to send a message. In such a scenario sending automated marketing emails to people who have shown an interest in the company or product is now becoming more acceptable and results in better customer engagement. Automated marketing emails have the following important features- they are timely, very hyper-relevant, and personalized instead of a generic promotion message.
Here are 12 ways to get the Best out of Automated Marketing Emails
Following are the different ways:
1. The Importance of a Welcome Message
Somebody may have visited your website for the first time and signed up for a service or membership. After capturing the name, email, and other details, the system can send a greeting message to the subscriber. An eye-catching personalized email to a new customer will show how much you care for them.
Most first visitors to a website aren't willing to buy a product or service but need to know more about the company and its products, the values you stand for, your track record, and so on. Instead of manually sending a message each time someone signs up or registers on your site, tools such as Mailchimp can use to automate the sending of emails. You can save and send email templates and content once a person signs up on your site or through social media.
Creating a 'wow' factor is essential for the success of a welcome message. Scheduling the first introductory email to be received on the same day or in succeeding days, followed by automated follow-up emails, is possible. Offering a 10% or 20% discount to new members in the welcome email can create an extra wow factor.
2. Order Confirmation
You may be a product manufacturer having an e-commerce site or a service provider. When someone orders a product online and pays, you can establish your credibility and customer satisfaction by sending a confirmation email. Automating the email that contains product details, value, tracking or reference number, and contact information is possible and should be done. (email, customer care number) and a tracking link. These steps will assure the customer of having disbursed the money and assurance of getting the product or service within a specified time frame.
3. Sending Bills or Vouchers
Automated marketing emails can send bills and vouchers for online or offline transactions. Decathlon Sports sent the following email immediately after a purchase was made at their Kochi outlet. It contains a thanks message for rating high on customer satisfaction and also attaching a soft copy of the bill.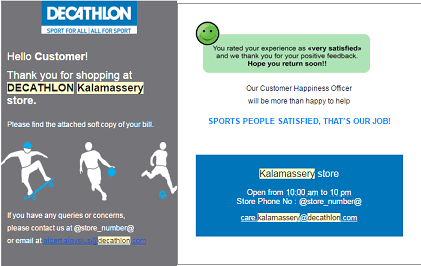 4. Customize leads based on lead Scoring
When classifying visitors to your site, segmenting them according to their proximity to the company as a customer is better. E.g., they may be segmented as a prospect, cold prospect, warm, or customer….. It is possible to have automated programs such as Eloqua or Marketo. MailChimp also enables businesses to have a lead scoring model using its Automation settings. These are available to subscribers in the premium category who pay $10 per month.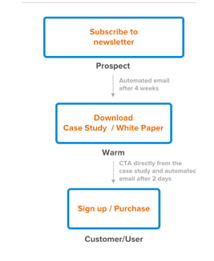 The lead scoring model evolved will help the company to send personalized messages according to how high they score on the lead charts. The idea is to generate lead scores for the prospects not from a single campaign but several campaigns.
5. Reward Your Loyal Customers
The automated marketing email mechanism can be used to announce rewards for existing customers who have shown high loyalty to your products. Such customers can be given bonus points and rewards for referring friends and relations. E.g., Citibank routinely sends emails regarding reward points of Rs 9999 for five referrals.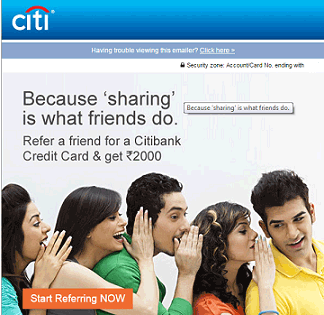 Engaged customers are more likely to share company products, offers, and other information within their personal and professional networks.
6. Use Pre-filled forms for Greater Engagement
It is common practice to get an invitation to a webinar or any company event through email. It may lead you to a landing page with a form to be filled out and submitted. Any user may be getting a dozen such emails daily, so it makes sense to have a pre-fill personal data form that must be verified and submitted. It reduces the burden on the user and leaves a good impression on the company.
Lead Pages, a lead generation tool, can help you with the automatic pre-population of forms. The data has to be entered by the user only once, and in all future signups, the data will be automatically pre-populated. Automation will be easier to implement if Lead Pages are integrated with MailChimp.
7. How to get Connected to Customers with Abandoned Carts
In an online or e-commerce site, people can only easily add several things to a cart after confirming the order or pressing the buy button. They might have abandoned the coaches for various reasons, such as delivery charges, slow network processing, or error messages appearing on transactions. You can send automated marketing emails to these individuals, reminding them of their empty shopping carts and urging them to complete their purchase. An additional offer of free delivery may entice the customer, showing that the company cares about the customer and their order.
You can send a comeback soon message to a customer who hasn't made a repeat purchase for a long time, showing them that you value them as a customer. An offer to exchange products with attractive benefits or a new request can entice the dormant customer. Abandoned cart emails can help the company grow, richer-according to studies; it allows them to earn $5.64 per mail. Outstanding indeed, while most other emails earn less than $1.
8. Plain-text looks have more Readability
Emails are like letters; the more personal touch it has, the more it will read. Email text that appears as plain text but is HTML-enabled has a 20% higher click-through rate than other forms of text material, however fancy or colorful they may be. Experts said that formal language and appearance could hinder getting more engagement with customers.
9. Keep Customers Happy with After-sales Messages
Most consumers feel that some companies ignore them once they have made the purchase. Until then, their marketing team may have called or met several times to get business. After confirming the sale, the system can send a thank-you email immediately and automatically. It can encourage Feedback forms. It can also update customers on new product launches and suggest useful add-on products that may use with the product. E.g., a computer hardware company can give reminders about a mouse, printers, and devices that go with the product. A mobile phone manufacturer can enlighten the customer by suggesting a selfie stick or screen guard that the company manufactures.
There is a great way to gain customer confidence and satisfaction- inform them of an expiration of a subscription, membership, or updating of a license. Life and general insurance policyholders often receive one or two reminders before their next premium renewal. Usually, people obtain a one-year license for anti-virus programs. Just before expiry, most companies inform users about the impending expiry, new offers, and how to renew their subscriptions. It reinforces the message that the customer is quite important to the company.
GoDaddy, the domain name and storage solutions provider, keeps reminding customers about the impending expiration date and new offers related to renewal. The emailing software can include the expiration date, which helps rapidly send a series of reminder messages. It helps in retaining customers. As the marketing wisdom goes, retaining an existing customer is easier than converting a new one. Analysts state that retaining an existing customer costs one-fifth the amount of acquiring a new one.
10. Automation is about the Integration of Various Tools
Automated marketing emails should happen automatically for the most part, but they may require a little manual intervention. Integrating all tools used with the email software is crucial for the success of the entire effort, and this can be achieved with tools like Zapier. So there is no need to invent them again.
The advantage of Zapier is that it comprises a trigger and action mechanism. An action in one application triggers another in the email management software. It integrates well with the Customer Relationship Management (CRM) software; every time a new purchase, registration, or inquiry is made, an email is recorded.
11. Educate the Customer about the Product don't go for the Hard Sell
Automated sales email campaigns can use serially to educate customers about their pain points, what your product can deliver, how it differs from the competition, and so on. It gives the feeling that the company is not in hard-sell mode and genuinely helping the customer arrive at a decision. It can include customer testimonials, case studies, and suggested resources that give more information about the product. E.g, To promote a new concept such as cleaning robots for homes, one can begin with a generic introductory mail and follow it up with information on how the product is used in homes, how it works, and how it can help the consumer. It can carry out with testimonials, links to newspaper articles, and so on.
12. Reminding Customers about Events and Sources for Information
A Canada immigration company or an overseas educational consultant can send registered candidates information about their upcoming events and sources of information within your company and outside, including blogs, websites, webinars, etc. When sending emails for registration for live events and webinars, it should not be a one-off affair; some customers may need a few more reminders to rope them in. The company should ensure more touchpoints to interact and increase consumer confidence for some service providers such as overseas consultancy, job consultancy, or interior decoration services. A buy decision doesn't happen linearly, and it is useful to understand all possible paths a consumer might take before he triggers the buy button.
Conclusion
The success of automated sales email campaigns goes beyond the twelve major points listed above. It should have a personal touch- some companies capture birthdays and wedding anniversaries to send greetings or make offers. Some offers can be related to festivals and events in a particular geographical region or community.
The automated campaigns become successful only when there is a proper evaluation of the results based on visits, customers, revenue, new business value, etc. Then as with any other form of written and visual communication, automated sales emails also need good, compelling headlines and copy with suitable call-to-action buttons (Buy, Register, Join). Research indicates that call-to-action buttons can increase sales conversions by 28%.
According to some studies, the average revenue per automated email is $0.02, while birthday reminders result in $0.07, while abandoned cart email brings the highest revenue.
There is talk in marketing circles that email marketing is dead. Automated sales email campaigns can achieve a better return on investment (ROI) and enable companies to approach consumer pain points with a gentle and humane touch, providing solutions to address them.
Recommended Articles
This has been a guide to Automated Marketing Emails. Here we discussed the 12 best ways to get the best out of automated marketing emails. You can also go through our other suggested articles to learn more –