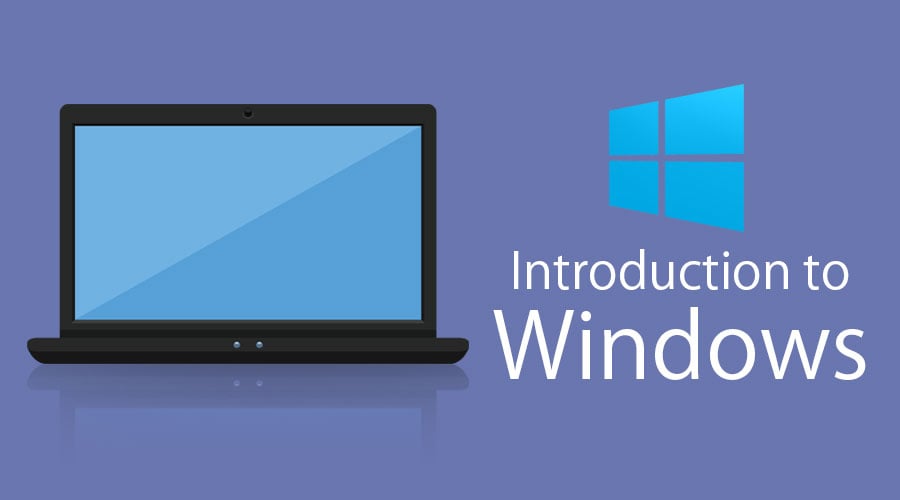 Introduction to Windows
In this topic, we are going to learn about the Introduction to Windows. Microsoft Windows is a multitasking operating system developed by Microsoft Corporation which uses Graphical User Interface to interact with the users. Microsoft was originally named "Traf-O-Data" in 1972, was renamed as "Micro-soft" in November 1975, then "Microsoft" on November 26, 1976. Microsoft entered the marketplace in August 1981 by releasing version 1.0 of the operating system Microsoft DOS (MS-DOS), a 16-bit command-line operating system. Bill Gates and Paul Allen founded Microsoft and windows operating system has been its primary product.
In this Introduction to Windows, we will also clear you about the latest OS release of Windows is "Windows 10" which was launched in the year 2015.
In a nutshell, below is how Microsoft windows evolved over time:
Windows 1.0 – Nov 1985
Windows 2.0 – Dec 1987
Windows 3.0 – May 1990
Windows 95 – Aug 1995
Windows 98 – June 1998
Windows ME – Sep 2000
Windows XP – Oct 2001
Windows Vista – Nov 2006
Windows 7 – July 2009
Windows 8.0 – Oct 2012
Windows 8.1 – Oct 2013
Windows 10 – July 2015
Main Components of Windows
After learning about the Introduction to Windows, we are now going to study about the main components of Windows. The main components of the Windows Operating System are the following:
Configuration and maintenance
User interface
Applications and utilities
Windows Server components
File systems
Core components
Services
DirectX
Networking
Scripting and command-line
Kernel
NET Framework
Security
Deprecated components and apps
APIs
Source Link: https://en.wikipedia.org/wiki/List_of_Microsoft_Windows_components
When coming to GUI components, we have the following as the main components:
It is the very first screen that you will see once the windows start. Here you will see "My Computer", "My Documents", "Start Menu", "Recycle Bin", and the shortcuts of any applications that you might have created.
At the bottom, you will see a row which is known as the taskbar. It has the currently running applications, you can also pin applications that you frequently use by using an option Pin to Taskbar".
This is located in the bottom left corner of Windows OS GUI. This is the place where the user can search for any setting and for any application for their use. Users can uninstall or repair applications from the control panel. The user can do a lot of activities just by searching through the start menu.
When you double click on "My Computer" menu, it will let you navigate between your different computer drives and the control panel tools. You can see and manage the contents that are inside your drive.
When you delete an item from any of your drives by making use of "delete" button or even by simply clicking right clicking and selecting "delete" option, it is not deleted completely, instead, it is moved to "Recycle Bin" folder of Windows. You can recover your content if you have deleted it by mistake from here or if you choose to delete the items from here, it will get deleted permanently. Should you wish to delete the item in first go itself without moving it to recycle bin, you can use the key "Shift+Del"
Image Source: https://win10help.info/windows-10-gui-basics/
Features of Windows
As we learned about Introduction to Windows in the above section, so let's explore the main Features of Windows:
Windows Search: We can have numerous files and contents located on our system and sometimes we may run out of memory about the exact location of our file. Windows Search is a search function included with Windows that allows the user to search their entire computer
Windows File Transfer: We may have the need to transfer in or transfer out the files and contents from our machine to other devices such as other computers or mobiles and tablets. We can do this by using an Easy Transfer Cable, CDs or DVDs, a USB flash drive, wireless Bluetooth, a network folder, or an external hard disk.
Windows Updates: Windows includes an automatic update feature with the intended purpose of keeping its operating system safe and up-to-date.
Windows taskbar: At the bottom most part of your windows, you will see a row which is known as the taskbar. It has the currently running applications, you can also pin applications that you frequently use by using an option Pin to Taskbar". The taskbar is the main navigation tool for Windows
Remote Desktop Connection: This feature of windows allows you to connect to another system and work remotely on another system.
Windows Applications
Image Source: https://goo.gl/images/x3TynS
A program that is written to run under MS operating System is the Windows Application. Examples of applications that run on Windows OS are the Microsoft Outlook, Internet Explorer, Remote Desktop Condition, Snipping Tool, and numerous others.
These applications provide great functionality for users to do their day to day activities. Every application that is developed, for them to launch on windows, should be compatible with the Windows operating system. That is why when you install a software, you might be seeing two or three download option, download for Windows, download for Linux and download for iOS. If you are interested in developing applications for Windows, you can start right here: https://docs.microsoft.com/en-us/windows/win32/
Advantages and Disadvantages of Windows
After going through all the components, Features and the wide Introduction to Windows, we are going to explore the advantages and disadvantages of Windows
Advantages
Let us see some advantages:
Desktop as well as tablet-friendly OS
Switch between applications is very easy
Not much technical knowledge is required to operate windows
Windows OS is the dominant OS and enjoys more than 90% of Market share
MS OS have a great support community and it also has the largest number of applications
Microsoft provides a powerful set of Enterprise focused Operating System, Applications and the services making it the most dominant player in the OS market.
More gaming
Disadvantages
There are privacy and security concerns and incidents and they are widespread. Linux OS is by far most secure OS ever built.
Cost for upgrade
Windows OS attracts a large number of virus programs due to its largest market share and easy to breach paradigm
Windows OS is not that much of touch-friendly
Recommended Articles
This has been a guide on introduction to windows. Here we have discuss detailed Features, components, advantages and disadvantages of Windows. You may also look at the following articles to learn more –