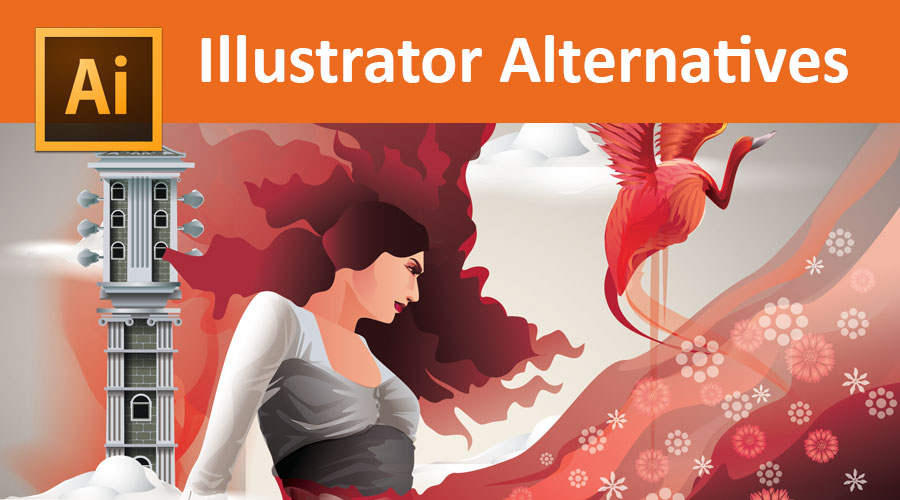 Introduction to Illustrator Alternatives
Adobe Illustrator is a popular vector graphics software and is a part of Adobe Creative Suite and Cloud. The program was first created in the year 1987 by Adobe Inc for editing and creating 2d vector content. Illustrator is the most common software used by graphic designers and artists. It is a storehouse of effects and features and supports a huge set of interactive tools and options. Some of the alternatives have tools that are hugely used and admired in Illustrator are the Custom Brushes, Rebuilt pencil tool, pen tool, data import, image libraries, cloud libraries, live shaping, snap setting, and many more tools and settings are available that has made the software a demanding and a huge sensation in the market presently.
Illustrator also helps in creating motion graphics and provides a medium to the artists before importing the graphics to Adobe After Effects. Moreover, the illustrator can be used in the design of the detailed game as well. Some of the professional complex games, logos, creative graphics contents, web pages, and similar 2d artworks are created initially on Illustrator, and then they are exported to the respective software.
Alternatives to Illustrator
Below are the different alternatives as follows:
1. Corel Draw
This is a perfect alternative to Illustrator. Most of the tools and functions are similar and perform a similar process. The pen tool of Illustrator is very smooth and easy to work with in comparison to Illustrator. But as an illustrator is a paid software, so is Corel Draw. The user can choose either of them and work limitlessly and without any difficulties.
2. Inkscape
This software is said to be the best substitute for Illustrator. The program is available for free of cost and is an open-source program. This application proves best for both professional and beginner both and is very much in demand because of its adaptable workflow and user interface. It also supports regular updates and modifications and a robust and extensive toolset. This application is compatible with a lot of image formats and is very similar to Illustrator. The latest updated version of the application supports mesh gradients and newly updated path effects.
3. Boxy SVG
This application is a free and open-source application. It is used to create vector graphic content and is available in a browser extension. It has the basic tools for editing and creating artworks and is a very easy-to-use program. Tools such as pen tool, text tool, basic shapes, Bezier tool, gradient color, transform, scale. Layers and other tools are present in the application. This application supports most of the graphic formats and is extensively used because of its simple User Interface. The tools are very easy to understand and work upon than Illustrator; the files and projects created are efficient and convenient.
4. Vectr
This is an efficient vector editor that can be used both on the browser and desktop. It is a basic free-of-cost and open-source graphics editor used mostly for its simple tools and functions. The application is compatible with Windows, Linux, Chrome, and Mac Operating Systems. Vectr is a good option for beginners and people with minimal knowledge about graphic design. Some of the advanced tools of illustrator are not present in Vectr, but the basic editing tools such as text, scale, transform, shapes, colors are present in the application. The files can be saved online or in the preferred format.
5. GIMP
This application has been used popularly among graphic designers and artists. Commonly called a GNU Image Manipulation Program, GIMP is open-source and free of cost software. It has the basic editing tools needed to edit images and artworks. The application is compatible with Windows, Linux, and Mac Operating Systems.
4. Pixlr
This is a less advanced application in comparison to Illustrator. But, it has the needful and useful functions and tools required for creating, editing, and sharing 2d artwork. The application is based on a cloud version and is compatible with Windows, Mac, Mobile, and web operating systems. This is a useful app if the user works on the same files using different devices and operating platforms.
5. Open Office Draw
This software is equipped with upgraded and advanced editing tools. It can create flowcharts, diagrams, bar graphs, and other visual content. The program is also used to create flash animations and 3D objects. Smart connectors are useful in making network diagrams and flowcharts. The application also supports other graphics formats such as JPEG, GIF, BMP, TIFF, and others. The application is compatible with Windows, Mac, and Linux Operating Systems.
6. Gravit
This application consists of a number of graphics editing tools such as pen tool, gradient, text, shaped, layers, line, and other tools. The application is extensively used by graphic designers and artists. Advanced functions and effects are also available in the software. The program is also capable of the CMYK rendering feature. The various image formats such as PNG, JPEG, PDF can be imported and exported from the application. This application is compatible with Windows, Linux, Mac Operating Systems, and it can also be used on any browser. This makes Gravit a demanding program amongst the users.
Conclusion
Adobe Illustrator is not just a user-friendly program, but also it provides a huge collection of tools and features for vector editing. Above, we have mentioned some of the substitutes of Adobe Illustrator, which can be used as and when required. Some of them are better than Illustrator, while some are easier to use and work upon. It depends on the user's choice to use what and when.
Recommended Articles
This has been a guide to the Illustrator Alternatives. Here we discuss the Concept and Different Types of Illustrator Alternatives. You can also go through our other Suggested Articles to learn more –