Updated June 9, 2023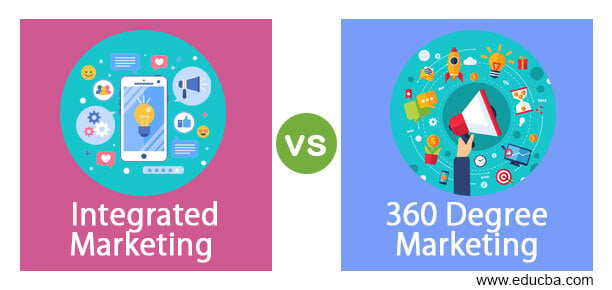 Introduction to Integrated Marketing vs 360 Degree Marketing
Integrated marketing begins with identifying the need or solution and doesn't end with developing the product and sales. Integrated marketing enables companies to expand their offerings by filling gaps for a particular product category- for example, small, affordable cars. The role of 360-degree marketing can play in a crisis for the brand, as well as a general situation shows the value of this strategy in business promotion activity in the digital era. The 360 degrees has also enlarged the scope of brand-building beyond traditional media channels.
Let us study much more about Integrated Marketing vs 360 Degree Marketing in detail: 
The marketing landscape is changing with the rapid advances in technology. Some media we currently use, or our deploy strategies may have been unheard of two decades ago. Long ago, marketing meant identifying a need, developing a product, marketing through mass media, setting up distributor channels, and achieving sales targets.
The marketing concept has gone a sea change, and now with big data, data mining capabilities, and analysis tools at the marketer's disposal. Market segmentation and targeting have become easier, and developing customized solutions for different price points has also become easier.
Along with changes in technology, new communication media, and innovative approach being adopted, several new terms have evolved, reflecting the strategies inherent in them. Two key techniques in marketing have emerged – integrated marketing and 360-degree marketing. There could be grey areas where both strategies overlap and cannot be bottled into watertight compartments.
Integrated Marketing vs 360 Degree Marketing Infographics
Below infographics on Integrated Marketing vs 360-degree marketing throws light on the significant differences between the two.

Let's assume that a particular need has been identified for the kitchen, which will help homemakers finish cooking faster. Chopping vegetables into fine pieces and grating coconuts, onions chilies may be a cumbersome process in the kitchen, especially for working people strapped for time. Morphy Richards came up with a solution called Kitchen Chopper. Thus the first two processes are complete-identifying a need, developing a product, and now it needs to be promoted.
They can use television, trade fairs, existing distributor network, and online marketing channels. The objective of integrated marketing is to manage and optimize the various channels to achieve the brand's objective of reaching the maximum number of people in the targeted group. Integrated marketing also works in industries with the same product's entry, standard and premium categories.
The leading automobile manufacturer in India, Maruti Suzuki, created a distinct sales outlet called Nexa to exclusively sell unavailable premium cars through their nationwide network of dealerships, which focus on selling entry-level or budget cars from the mid-segment up to the C-class.
Thus, upmarket customers looking for a different branding and value began to notice their premium cars, which had failed to make headway in the market when sold along with budget cars. Thus, the SX4 was transformed into the S-Cross, the Baleno was reintroduced as a hatchback, and automobile enthusiasts were introduced to the revamped Vitara, now known as the Brezza.
Nano was the answer from Tata Motors for a large market looking for cheap cars and also found a vast export market in emerging market economies.
It is said that by altering the marketing mix and targeting integrated marketing, a marketer can touch every population segment. To achieve this, companies change their products and prices. Integrated marketing is a comprehensive function that involves identifying a need, creating a product, developing and naming the brand, establishing channel sales, receiving feedback, and continuously improving offerings.
Advantages of Integrated Marketing
The following are some advantages:
1. Holistic approach
Integrated marketing sees the whole aspect of a brand, from identifying the need or solution in a particular consumer or business segment, developing the product and branding, marketing promotion and communication activities, achieving sales and feedback as an integrated marketing activity and that applies to the development of new subcategories within a product or brand. This approach should help any company achieve better brand building and promotion, sales, and market share compared to the competition. It is about developing the product and finding the appropriate communication strategies to reach the target audience.
2. Consumer in focus
 Integrated marketing begins with identifying the need or solution and doesn't end with developing the product and sales. It continues with feedback, innovations, or new products developed. The focus on the consumer is an essential feature of integrated marketing communications.
3. Selective changes in activity change market offering
In an integrated marketing approach, selective changes in marketing activity can change the market offering by providing a better price, quality, or features. Increasing the sales force, concentrating on push than pull, increasing marketing budgets, and achieving cost-effectiveness can offer better customer pricing, thus ensuring a higher market share.
4. Fills gaps in the market
Often some companies develop a product and believe in the 'one size fits all' theory. However, customer tastes, preferences, income, desires, and satisfaction levels differ. There could always be demand for smaller LED TVs as much as premium TVs, just as watches with smart features will have a market while plain vanilla offerings also cater to entry-level consumers. By altering the marketing mix, the marketer can touch every population segment. Unilever has successfully implemented this in emerging markets. For example, cooking oil and shampoos in sachets.
5. 360-degree marketing and its relevance
There are two ways of approaching marketing- one focusing on the brand and its merits, and the other is to have the consumer at the center stage and then develop products that appeal to them, then devise appropriate communication strategies to achieve the objective. Integrated marketing is all-encompassing, identifying the customer's needs, developing the product for him or her, and developing the communication strategy to reach them. Throughout the process, the consumer is at the center stage.
Let's imagine a situation where the team has developed the product, and now the focus has shifted to branding, marketing, and selling it. In such a scenario, the 360-degree marketing strategist has an arsenal of media for their disposal-print media, television, social media, public relations, email marketing, websites, telemarketing, events, and trade fairs.
The goal of 360-degree marketing is to ensure that the message is consistent across the channels, which is necessary to keep consumers engaged with the product and understand the brand better.
Advantages of 360 Degree Marketing
The following are some advantages:
1. Communication holds the key
The best products can fail if there is a product and distribution channel but no linear or interactive communication. In 360-degree marketing, a particular emphasis is on keeping in touch with consumers from the beginning of the journey – from discovering the product to purchasing at different touchpoints across multiple devices.
Identifying the communication channels to deliver the message in any product promotion is crucial for success. Once print media held the center stage but now electronic media (radio and TV), social media (Twitter, Facebook, Reddit, Pinterest), blogging, websites, events, public relations, email marketing, direct customer interactions, Pay Per Click Advertising, Inbound lead nurturing, getting customer feedback through various channels are all essential part of 360 degrees marketing.
2. Combines the best of integrated marketing and web
The prime advantage of 360-degree marketing is its communication focus on the consumer. It is also at the heart of integrated marketing communications and delivers a consistent message across touchpoints. It is a powerful strategy combining print, web, social media, mobile advertising, and market promotion. Truly quite holistic.
3. Capable of being utilized across industries
Oil company Shell is associated with Ferrari, KFC, Australian tourism, and other consumer and business industries. Tourism Australia has created a There's Nothing Like Australia campaign that uses virtual reality (VR) to showcase the country's aquatic and coastal experiences. The seventeen films cover rides over the 12 Apostles, sailing the Whitsundays, swimming with sea lions and dolphins in Australia, cruising Sydney Harbour, and snorkeling in the Great Barrier Reef.
4. Creativity is at the heart of 360 degree
According to DC Priyan, who has worked earlier with Ogilvy & Mather, creativity is at the heart of 360-degree marketing. Ideas will continue to drive execution, but pervasive creativity will define the campaign's success and the brand in the marketplace.
5. 360 degree for crisis management and control
It is not just for a market promotion that a 360-degree strategy would be appropriate. When a product or brand runs into trouble, as in the case of Volkswagen in many countries for its pollution control issue, Maggi for its content that was seen to be carcinogenic, or automobile makers like Toyota who had to recall cars in ten thousand, appropriate 360-degree strategy can be deployed to create a favorable image among the consumers and general public. Maggi could have used the print media with advertisements on their version of the issue, and a web platform could have been deployed to reach the target audience- children and youth.
Volkswagen did not attempt to address the customer concerns raised in court regarding the pollution control measures and product claims.
Even in times of crisis, such as the Chennai floods that ravaged for weeks submerging the city, Ola Cabs reached out to a larger community by deploying boats to ferry people in distress. The resultant coverage in the press and social media likes and shares will contribute to its brand building in the long run, which no mass media coverage would have done.
Conclusion
In Integrated Marketing vs 360 Degree Marketing, we have seen both Integrated Marketing and 360-degree Marketing have their advantages, which are not easily comparable. According to experts and analysts, integrating and 360-degree marketing activities in many industries will be better.
To identify a need, develop the product, determine the price, and promote, an integrated marketing approach necessitates utilizing the latest technology and adapting to new paradigm shifts in business. Big data, until recently a hype, has now begun to be used to understand customer behavior, spending patterns, differences, and tastes which can be used to develop new products or services. Big data will have a larger role in developing new products, innovating on existing ones, and defining new uses for existing products or services.
For most purposes, integrated and 360-degree marketing cannot be put into watertight compartments as some grey areas overlap. One of the parts is communication, and another is working with data or a database to develop new ideas or identify the target audience.
The 360 degrees has also enlarged the scope of the brand-building beyond the traditional media channels capitalizing on the plethora of opportunities in the web, social media, and virtual reality. The Internet has become an integral part of marketing strategy. Thus, the digital and mobile platform has become an inevitable medium for marketers.
Even as there are many opportunities to communicate with consumers and target groups, each industry can choose what is relevant within the scope of integrated marketing efforts. Localized businesses may find it appropriate to use print media and BTL (Below the line) campaigns, which involve distributing leaflets, putting up banners and hoardings, and running local TV campaigns. On the other hand, consumer products sold across geographies require extensive use of all media.
Both 360-degree and integrated marketing efforts can't be run by a single department or a small group of individuals but require the expertise of data science, advertising, content, marketing, public relations, and creative teams to deliver better results.
In tune with the blending of various disciplines into integrated marketing, a few universities across the globe have started offering courses in integrated marketing at undergraduate and postgraduate levels. They combine advertising, public relations, marketing, and content management streams and the natural connections between them. Perhaps, such training can create leaders in integrated marketing who can build a team of differing talents.
A decade ago, the American Association of Advertising Agencies identified integrated marketing as the future for the success of any brand. From being a media planning tool, 360 Degrees has expanded to embrace the entire communication process with customers and prospects.
Recommended Articles
Here are some articles that will help you to get more detail about Integrated Marketing vs 360-degree Marketing, so go through the link.