Updated November 24, 2023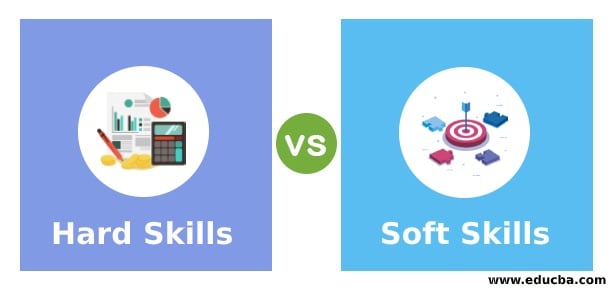 Introduction to Hard Skills vs Soft Skills
You very well understand that skill is an innate or acquired ability to perform a task with expertise. We have different tasks to perform throughout our lives; we need to develop different types of Hard Skills vs Soft Skills to meet our needs and requirements of the specific task.
Let us now check out the different types of Hard Skills vs Soft Skills through the story of Peter.
Once, a huge merchant ship harbored on a port for trading. Despite the best efforts of numerous expert engineers and technicians, including top technicians deployed at the port for ship maintenance, the ship's engine would not start, and the cause of the problem could not be determined.
Some local townspeople hired to load and unload the ships suggested to the captain that he should try the service of one of their local man, Peter, an old fisherman who also fixed fishing boats around the town. In a hurry to depart, the captain instructed Peter to be brought aboard the ship at their earliest convenience.
Peter walked in with some tools in his overalls, went to the engine room, and began to inspect the engine intently. As the captain soon lost hope of leaving the town, Peter took out a small hammer and tapped the engine three times before him. Lo behold, the engine roared to life when it started, dropping the captain's jaw to the floor. He shook Peter's rough hands, saying, "I couldn't thank you enough for what you have done." Peter acknowledged the appreciation, then pulled out a piece of paper and handed his roughly written bill, which amounted to $6000, to the captain.
The captain's desperation dissipated now that the ship had returned to life. He hesitated to pay a massive amount for tapping an engine with a small hammer. Since Peter had a huge fan following in the town, he could not offend him by refusing to pay the bill.
He came up with a brilliant idea and asked Peter politely to break up the charges and provide him with an itemized bill instead.
Without blinking for a second, Peter took back a scrap of the bill and added above $6000,
Tapping with hammer = $ 2.00
Knowing where to tap = $ 5998
Total = $ 6000
Peter's skill for repairing ship engines was complex, which is required for a job. Being confident and walking in to fix a ship that experts had failed to repair was his life skill. People in the town vouching, trusting, and promoting him was his social skill. Using his creativity to itemize the bill was his soft skill. Thanks to Peter, you must clearly understand different skills and their usefulness.
Now, let us move ahead and explore Hard Skills vs Soft Skills, determining how important they are for our career development.
The article on Hard Skills vs Soft Skills is structured as below:
Table of Contents
Hard Skills vs Soft Skills Infographics
The infographics on Hard Skills vs Soft Skills highlight the major differences between the two skills.

What are Hard Skills?
Your workplace or business demands hard skills for performing specific tasks. They are teachable skills that can be tangible and measured with tests, exams, and interviews. For a person to acquire a complex skill, specific prerequisites should be met by them. For example, to be a surgeon, that particular individual should possess an above-average IQ (Intelligence Quotient). Your hard skills are often centered on the logical or left side of your brain.
A few examples of hard skills are:
Programming
Mathematics and Science skills
Typing/shorthand
Proofreading
Operating certain machines
What are Soft Skills?
Soft skills are psychological and emotional competencies that enable a person to deal effectively with challenges in personal or professional life. Compared to hard skills, soft skills are not prerequisites for acquiring them and are not job-specific. They promote the social, physical, and mental well-being of a person. They are also referred to as life skills.
Soft skills are closely linked to one's Emotional Quotient (EQ) and are primarily based on the right side of the brain. Since they are interpersonal and people skills, though we can recognize a soft skill, it takes work to measure it.
The top ten soft skills or life skills identified by WHO are:
Decision making
Problem-solving
Creative thinking
Critical thinking
Effective communication
Self-awareness
Empathy
Coping with emotions
Coping with stress
Which are important, Hard Skills vs Soft Skills?
There is no competition between hard skills and soft skills. They are both essential and play important roles in your career development. You may set up an interview with an employer with the strength of complex skills, but your soft skills will play an essential role in your being hired.
Again, your soft skills will play a massive part as you adapt to your new role, interact with colleagues, and handle challenges cropping up in your working environment. Your job performance relies heavily on your hard skills, which are necessary for carrying out the tasks assigned to you efficiently according to your job role. Your soft skills will show that you use your hard skills effectively for success.
Why do we Neglect Soft Skills?
Recently, there has been a lot of stress on soft skills, even in schools and colleges, besides corporations or workplaces. Candidates work hard to acquire complex skills for higher pay but often ignore their soft skills. Since there is no certificate for good communication skills or the ability to cope with stress, we take such skills for granted.
Recently, there has been a lot of stress on soft skills, even in schools and colleges, besides corporations or workplaces. Candidates work hard to acquire complex skills for higher pay but often ignore their soft skills. Since there is no certificate for good communication skills or the ability to cope with stress, we take such skills for granted.
Though hard skills remain the same in every company you work for, the soft skills requirement may change depending on the culture, nature, and professional attitude of the people you work with. It is common for people to undervalue the significance of soft skills, as it can be challenging to identify the specific skills required for a given situation.
Hard skills can be listed on a resume and cover letter for a job application. This makes it very lucrative for candidates. Though they mention soft skills in the CV, they know they are personal skills, making it challenging for the employer to quantify them. Hence, they need to pay more attention to this skill set and realize that they will be evaluated by how they interact and relate to the interviewer during an interview.
Neglecting your soft skills will be one of the biggest career blunders you will commit since soft skills will help you translate your hard skills, knowledge, and abilities into actual talents. You will have the edge over others by knowing what to do, how, and when.
Careers and Skill Priorities
Even though we stress a lot today about the importance of soft skills, there is no doubt that there are specific careers where you may succeed with good hard skills, even if your soft skills are questionable. Physicists and Mathematicians are excellent examples of this category. Many top scientists, including Albert Einstein, needed to gain social and life skills, yet it did not affect their achievements. We will never know whether such scientists would have achieved more or less if they had soft skills and socialized quite often.
The Italian Renaissance painter Michelangelo had poor soft skills, avoided socializing, and neglected his hygiene. That, however, did not stop him from being a great artist of all time.
Careers in Mathematics, Physics, or mechanics may require fewer soft skills than hard skills. In some situations, the presence of other people may even hinder the work, one of the reasons why some people like to work alone.
Even though teachers, lawyers, or accountants need good hard skills, they can only be successful in their careers with soft skills. Though they need thorough knowledge about their subject matter, they will only make much progress if they build a good rapport with their clients. They need excellent communication, relationship, and social skills for success.
Marketing and sales, business, PRO, front desk management, and many more similar jobs are careers that need high soft skills and just a few hard skills. Even though knowledge about the product is necessary, success in such careers depends on soft skills like communication, negotiation, persuasion, identifying potentials, and cracking and closing deals.
The Right Time to Learn
While there is often an emphasis on children acquiring hard skills early, focusing on developing soft skills during the early stages of life is more important. For example – even though it is easy for an adult to learn mathematics at any stage of life, it will not be as easy to change how they communicate so easily.
Soft skills play a crucial role in shaping an individual's personality, as they become deeply ingrained and challenging to modify once developed. Soft skills, when taught to children, would help them acquire hard skills much more quickly. They would also develop into individuals with a more positive attitude, self-confidence, leadership quality, good teamwork, decision-making ability, and creativity, enhancing their challenging skill acquisition throughout life.
Acquiring soft skills will also promote the mental well-being of an individual, bringing down incidences of unwanted and unhealthy coping mechanisms like living in denial, substance abuse to manage stress or grief, and violent behavior, to name just a few.
With the changing lifestyles, young people lack the necessary soft skills to manage their lives effectively. The cultural and traditional mechanisms that subtly passed on soft skills to youngsters are now obsolete. Many schools worldwide have adopted soft skills/ life skills programs in their curriculum to deal with this social problem facing our generation.
What do Employers Look for?
Realizing the importance of soft skills, today, more and more employers are looking for candidates with both skill sets – hard skills vs soft skills for their companies. During the interview, they often observe how the applicant is dressed, how they walk in, shake hands with the people present, introduce themselves, communicate, and make eye contact. All these will have a significant impact on the outcome of the interview.
Wise employers have realized that teaching simple, hard skills like typing or computer programming is easy. In contrast, it is either impossible or challenging to teach soft skills.
People do not change overnight, and learning soft skills is making a complete personality makeover. It is never too late to learn. If you have ignored your soft skills, take the initiative and start today. Begin with decision-making and goal setting, with the decision being that you will improve your soft skills and the goal being which areas you will touch in a year.
Conclusion
As mentioned, there is no competition between your hard and soft skills; they are crucial in determining your value to an employer. Just because soft skills are not tangible and measurable, do not make a list of skills from the internet to add to your resume. It would be best to learn to identify your soft skills or lack thereof to make progress.
Do not use vague words which do not mean anything. If you believe in and specify your hard skills in a resume, do the same for your soft skills. If you mention that you have a good command of a language, make sure you do. Your interviewer may check it out for you during the interview process. If it is found you have made false claims, the whole integrity of your resume will be lost.
Another challenge you will face is identifying your soft skills. You know your hard skills, but are you even aware of your soft skills? You may have to take some tests or conduct self-evaluation with feedback from friends and others to know your strong and weak soft skills. Emphasize your strong points while trying to improve over the weaker ones.
Make sure you balance your hard and soft skills well and use them to advance your career.
Recommended Articles
This is a guide to Hard Skills vs Soft Skills. Here, we discuss the introduction, infographics, and important hard Skills or Soft Skills. You can also look at the following articles to learn more –