Updated June 20, 2023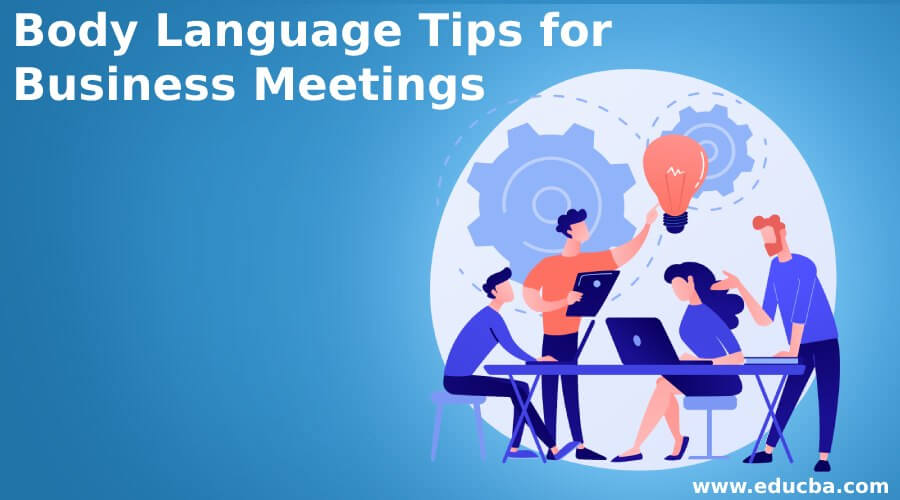 You may be handsome, reasonably tall, well-dressed, and good at talking, but will it be sufficient to impress others?  According to new research, body language is important for making a good impression in job interviews and business meetings. It communicates your confidence, thoughts, and attitude in a non-verbal way and often decides your fate or outcome. Our subconscious mind controls them like breathing, heartbeat, and other involuntary bodily movements.
Hence, some time, effort, and attention must be paid to our body language- hand gestures, eye movements, posture, facial expressions, dress, the color of dress, accessories, walking, and sitting.
Even before you shake hands with someone or fold your hands in Namaste, the other person(s) you will meet have already made their first assessment.
12 Body Language Tips For Having A Perfect Business Meeting
Here are body language tips to help you make a good impression while attending interviews, important business meetings, or discussions.
1. Walk upright, don't bend or have drooping shoulders
Nothing communicates your energy and attitude as much as the way you walk. When walking into an interview room, a first impression is formed, and sometimes even a hiring judgment is made within the first ten seconds. That is when you should be seen at your best. It would be best if you neither walked slowly nor too fast.
Each stride should be one to two feet wide; Pull your shoulders back and elongate your neck. Your feet should be firmly on the ground and there is a scientific reason for it- it helps to be rational, creative, and have a great presence of mind, according to experts.
If you are asked to wait in the reception area or a waiting room, you must ensure your posture is upright and sit confidently, waiting for your turn.  Some companies may have installed CCTV cameras to record your movements and also seek the receptionist or front office manager's opinion regarding body language and arrival performance.
While walking into the room, smile and have direct eye contact with the person you will meet, apart from having a fleeting glimpse of others present.
2. Don't lean backward or too forward
Once you are told to sit, gently adjust the chair if required without making a sound and sit comfortably. Avoid hunching your shoulders or getting your chin tucked into your chest. If you lean back, interviewers may judge you as lazy while sitting on the edge of the seat, and leaning forward may denote aggression – both are not desirable in business meetings or interviews.  Ideal posture would be back straight and chest open with expansive shoulders.
Appear at ease but not lazy, but the posture should not be too stiff to denote a lack of confidence. It is good to maintain eye contact but don't stare directly into the eye of the interviewer or chairman; instead, maintain face contact. Avoid getting distracted by anything on the walls or letting your eyes wander, as it denotes a lack of focus and attention.
It is better to follow the interviewers' body language- if they are leaning forward, you can also lean forward a bit. It will build better connections and rapport.
3. Hand gestures are important
Both your hands can become a handicap or an advantage depending on how fruitfully you utilize it. Most people turn nervous and don't know how to use their hands while speaking or talking. You must have seen politicians and public speakers gesticulating with their hands and fingers while making a point or drawing attention to themselves, sometimes even thumping the desk or podium.  When greeting someone, make sure your handshake is confident and warm. A weak handshake denotes a lack of confidence and lack of authority. As you have to give a handshake with the right hand, keep all your belongings, including your resume or files, on the left hand so that the right is free, or else you may look clumsy transferring the folders to the other hand before the handshake.
When gesturing, keep your hands above the desk but below the collarbone so you don't appear aggressive or frantic. If you are positioned a foot away from the table, you must be comfortable with your hand gestures and leg movements.
According to experts, it is better not to hide your hands; instead, you can use gestures and show your palm, which denotes honesty and a desire to engage. This will keep the interviewer calm and comfortable in pursuing his conversation. The limbic brain picks up the positive signals from such gestures and helps the interviewer to get ahead with the rest of the questions.
4. Control your breathing
You can appear tensed or relaxed depending on your breathing patterns. According to experts, the candidate has to focus on breathing throughout the session to give a good impression to the interviewer. It is better to inhale while listening to a question and exhale while talking. There is also a physiological reason for breath control during interviews and meetings. It will enable you to lower the heart rate, blood pressure and reduces stress associated with the event. It is better to take ten deep diaphragmatic breaths before the interview, which should make you comfortable.
5. Nodding your head often
When an interviewer says something, if it is about the job profile, the company, and any other information related to the job, then it is better to nod a few times when an important message is conveyed. Nodding your head too often may denote that you agree with everything, sometimes not listening correctly or being a 'Yes' person.
6. Don't appear to be in a hurry
You might have taken leave or arrived early to ensure you were on time for the interview. You might have traveled some distance to attend it and waited half an hour or more for your turn to be called. And once you attend the interview, don't appear bored or in a hurry. After all, you need the job. Avoid peeping at the clock or wrist watch which shows you are not serious about the job. If the interview drags for a long time, they are likely taking more time to assess you and possibly decide on your appointment than itself.
7. The art of exiting
The article states that the assessment of a candidate begins right from their entry into the building and reception area and continues through to the board room. Once the interview process is over, even while departing, consider posture and steps essential. If the interviewer or the hiring person gives a handshake, give a warm handshake and thank them for their time. Mark Bowden, who authored Winning Body Language, points out that we must keep away any thoughts about the session while we depart, as it could leave a negative impression on the panel.  It is also better not to judge the interviewers' body language as they may be adept at hiding their emotions or giving any clue as to what decision they may be taking.
8. Avoid undesirable body movements and actions
There are some don'ts concerning body language that will wreck your career prospects. It includes biting your nails, playing with your hair out of nervousness, clicking the ballpoint pen, and vibrating your legs while your feet are on your toes. It is better to avoid touching your mouth while speaking.
According to experts, some people have the habit of adjusting the collar and smiling too often to please; this should be avoided.
9. The best dress to wear for the interview
It is quite usual for some companies or organizations to suggest a dress code for business meetings or interviews. Unless specified otherwise, a suit is best for interviews, while women can wear a pantsuit. Experts say a suit denotes respect toward the company and the interviewing panel. Unpolished shoes denote a lack of attention to detail and grooming. A suit is not a must for technology jobs, but candidates can wear formal shirts and trousers.  It is better to appear formal for government jobs, avoiding a flashy style. Sales, marketing, and management cadres require suits, while automotive jobs may be quite harsh and greasy, but for interviews, they can appear in formal clothes.
For women, it is better to pay close attention to dress and accessories. Flash nail polish, jangly jewelry, backless shoes, and showing too much skin can only backfire. Even in hot summers, stockings of neutral colors can be worn. Avoid leather jackets, short skirts three inches above the knee, and trendy handbags.
10. Understand color psychology
You knowingly or unknowingly communicate through the choice of colors for your dress, watch, tie, trousers, shoes, etc.  The color of the interview choice is blue, which denotes stability, truth, calmness, security, and confidence. Grey is also a formal color and less distracting for both men and women. It gives a sophisticated look and is quite pleasing too.  As it is not distracting, interviewers will focus on what you say rather than your appearance. Trousers may be suited for black, but shirts or churidars are not.
Although it represents authority and formality, it should be used cautiously as too much black with a lighter contrasting color, especially for suits, could give a mourning feeling. During interviews, it is best to avoid wearing red as it may be associated with aggression, violence, desire, power, and greed. On the other hand, white is a color that represents peace and purity and is suitable for both men and women. Shirts and blouses in white can be safely used as they also suggest simplicity and goodness. Some companies, especially airlines have white and navy blue, while some have white and black; white-grey are all good combinations.
Some colors are quite gaudy and worn during social meetings, parties, and functions. They are green, yellow, brown, orange, pink, violet, and other tones. As a general rule, use formal colors and avoid flashy colors. It may be true that posture, mannerisms, hand, facial and body gestures are more important than color, but color reinforces a good impression formed and could help clinch a job.
11. Tone of your voice
Along with body movements and gestures, the tone of your voice has a significant bearing on your success.  High-pitched voices and low-pitched voices are not desirable. To get an optimal tone one can practice saying 'Um hum, um, hum, um hum to relax voice. In telephonic interviews, the tone of your voice sound matters.
12. Wear a smile
Research shows that a smile can increase attractiveness in interviews and meetings. It gives a sense of well-being and gives a feeling of warmth, trust, and friendliness. Duke University researchers found that smiling faces are more recalled by people. Researchers conducted an MRI on individuals who recalled smiling people, revealing high activity in the brain's orbitofrontal cortices or reward centers. Smiling is infectious, and people reciprocate creating good well and warmth. It also tells about the emotional state of the candidate.
Conclusion
Body language has become an essential indicator of behavior as, most often in interviews and meetings, the interviewer has only a short period to judge or evaluate the candidate's personality. Even in routine life, we come across many people, and it is impossible to judge them all by talking and analyzing. Policemen, doctors, psychologists, shopkeepers, government officials, and managers all use their power to judge people by body language to help assess somebody where quickly. Although body language is not an exact science, it goes by some human traits, customs, beliefs, and traditions acquired over the years and classified as desirable and non-desirable.
It is quite natural that those with desirable traits succeed in careers and life. It also has an essential bearing on the right selection of employees and workers, leading to increased productivity.
Recommended Articles
We hope that this EDUCBA information on "12 Body Language Tips for Business Meetings" was beneficial to you. You can view EDUCBA's recommended articles for more information.