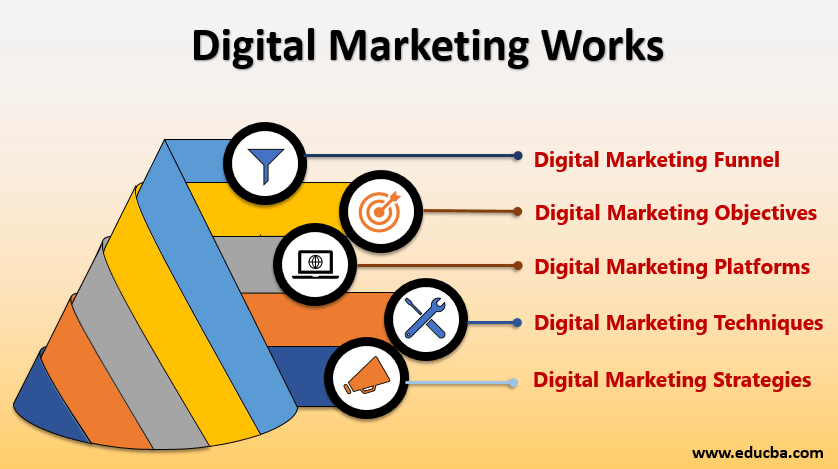 Introduction to Digital Marketing Work
Ever wondered how people build an identity for themselves in the Internet world? How do they market themselves so well that it differentiates themselves from the crowd? Digital marketing does the job for them. And, before you start your digital journey too, you need to understand how digital marketing works exactly.
It is comparatively easy to explain the concepts of digital marketing than to understand how digital marketing works. Yes, digital marketing is about using digital channels and techniques to promote your brand. But honestly, there is much more to it.
How Does Digital Marketing Work?
Let's put this simply in the start. When you integrate digital platforms like Google and Facebook with digital techniques like SEO and social media marketing to attract and convert customers, it sets the stage for digital marketing. The process helps targets your potential customers to make them aware and interested in your offering and finally encourage them to subscribe or make a purchase.
Also, different digital marketing platforms and techniques suit different sets of advertisers. For example, one advertiser's goal can be to direct the relevant audience to their website to generate leads. In this case, using SEO or PPC campaigns can be helpful. On the other hand, if one wants to build awareness about a new product, social media marketing can be the way to go.
Unique Brands, Unique Strategies!
So, digital marketing can work differently as per your ultimate marketing or business goals. Once you realize your goal, we can move further to understand how digital marketing works.
Digital Marketing Process
To gain a deep understanding of how digital marketing works, let's understand the building blocks of digital marketing. The steps are categorized for your better understanding.
1. Digital Marketing Funnel
Let' understand what Digital marketing funnel is.
The digital marketing funnel is the journey of a customer right from when a product is introduced to them for the first time till they buy that product and become your customer. Here is a typical customer life cycle of how the digital marketing funnel operates:
You make the potential audience aware of your products or brand
They feel interested in the products and enquire more by going to your website or social media page
They perform some kind of action like making an inquiry, signing up, or adding your products to the wishlist/cart
They either make the purchase or leave it due to some doubts you re-approach them through mail or remarketing to bring them back
They finally make the purchase and become your customer
Broadly categorized, digital marketing funnel has three main stages:
Top of the Funnel: This stage is about Awareness. It involves increasing the visibility of your brand in front of your target audience through the help of digital marketing platforms.
Middle of the Funnel: This stage is about the customers who have entered your funnel and are deciding on whether to go ahead with your brand. Various factors like relevancy of your products, the efficiency of your website, shipping charges and competitor's offering form their final decision.
Bottom of the Funnel: This stage is about finally converting your audience. The discounts, offers and better delivery options that you offer increase your chances of conversion.
This is how somebody is taken from zero awareness to becoming your customer. The steps performed during this will help you understand how and where to implement your digital marketing strategy.
2. Digital Marketing Objectives
You must outline and define your digital marketing objectives before planning anything else. You must ensure it covers everything that you would want as a result of your digital marketing campaign. Also, it is very important that the digital marketing objectives for your product must be in alignment with the overall business goal. Let's look at the main digital marketing objectives to help you form your own
Increasing Brand Visibility: Digital marketing is all about promotions and brand visibility. Setting this objective specifically is very important for new brands or individuals that want to establish their brand name in the customer's mind, build conversation and trust.
Growing Traffic: In order to gain awareness among your target audience, you need more people to come through your website and social media pages. Without getting relevant traffic, one can't think of getting conversions.
Generating Leads: One criterion that results in sales is the leads generation. Lead generation can be very important for both B2B and B2C businesses selling some products or services.
Increasing Sales: Increasing sales is the ultimate goal of every business that exists. It is a top-level goal that drives all other objectives to grow the business.
Reducing Cost: For companies on a budget constraint, reducing customer acquisition costs can form an important objective. With the use of various optimization techniques like marketing automation, it is very much possible.
3. Digital Marketing Platforms / Channels
The medium through which you communicate to your target audience and introduce them to your products or brand forms the digital marketing platforms. Let's have a look at the main digital marketing channels.
Google Search Engine – Organic Marketing
Google Ads – Paid Marketing
Digital Advertising Channels – Display Ads
Email Marketing
Social Media – Facebook, LinkedIn, Instagram Ads
YouTube – Video Marketing
These various digital marketing channels can be utilized to boost your visibility and efficiency of your marketing campaign. Your presence on all major platforms will ensure your brand's credibility and recall among your audience.
4. Digital Marketing Techniques
If digital marketing channels and techniques sound the same to you, then let us clarify it for you. Digital marketing techniques are the ways in which you use the digital marketing channel for your promotion. For example, paid marketing is a technique of promoting your business and generating leads. The channels used for this may include Google Ads or Facebook Ads.
Digital marketing techniques are as follows:
Content Marketing
Search Engine Optimisation
Paid Advertising
Remarketing
Blogging
Display & Video Marketing
Social Media Marketing
Email Marketing
Mobile Marketing
Affiliate Marketing
Influencer Marketing/Digital PR
Marketing Automation
5. Digital Marketing Strategies
You need a strategy for every plan to work. Hence, Digital marketing strategies deal with gathering all the relevant data about your own product, your competitor's product, recent market trends, and your target audience. It is the blueprint of your digital marketing campaign with guidelines on how to go about the plan. It takes into account your business objectives, channels to be selected and techniques to be used.
You can build your digital marketing strategy on the following lines:
Define marketing objectives
Align marketing objectives with the overall business goal
Classify target audience
Outline customer profiles
Perform competition analysis
Define the budget
Select digital marketing channels
Plan digital marketing techniques
Review test results and modify the strategy
Conclusion
So, now you understand that knowing the concept of digital marketing is not sufficient. Comprehending how digital marketing works for businesses needs a deep understanding of all the five steps mentioned above. Digital marketing is a vast field and getting a good command over the digital marketing channels and techniques can time and expertise. Hence, should you choose to go ahead with full force, you may consider getting certified as a digital marketing professional.
Recommended Articles
This is a guide to Digital Marketing Works. Here we discuss how does it work? and different process of digital marketing in detail. You may also look at the following articles to learn more –