Updated July 28, 2023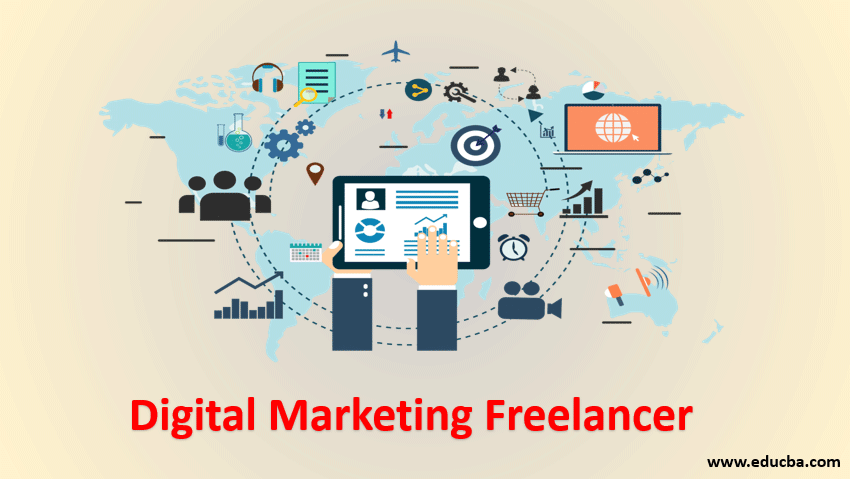 Introduction to Digital Marketing Freelancer
The following article provides an outline for Digital Marketing Freelancer. Are you thinking about freelancing? Are you a student willing to start earning in your spare time? Or do you want to earn some extra cash besides your 9-5 job? Don't worry if you are unsatisfied or doubtful about your career. Full-time or part-time, freelancing is a great choice to make. If you talk about the most popular freelancing option today, digital marketing freelance is highly trending. The best part is that it offers a variety of jobs for you to choose from. Also, if you have or learn the required digital marketing skills, the opportunity is endless. You can start working as an independent freelancer, and as your work grows, you can even hire people under you to expand your brand. Digital marketing freelance is a golden startup opportunity that requires no investment.
What is a Digital Marketing Freelance?
A freelancer is who works with various clients on a project basis instead of working for one particular organization. This role offers you the flexibility to take as much work as you want and work from any place of your choice.
You can be a student, a working professional, or a retired person. Digital marketing freelance is an amazing lifestyle that anyone can adopt at any point in their life to earn freely, develop new skills, and fall in love with the work as you grow professionally.
For entering the digital marketing freelance world, you will need to acquire some marketing skills, if you don't have them already. It can range from making excellent ad copy, writing blogs and articles, designing websites, search engine optimization, social media marketing, to compelling ad creation.
Pros and Cons of Digital Marketing Freelancer
Given below are the pros and cons of Digital Marketing Freelancer:
Pros:
Work from anywhere in the world.
Choose your own office – coffee shops, co-working space, or even your home.
Take as much or less work as it suits you.
Select the clients and projects you want to work on.
No time, energy, and money spent on traveling.
Create your own timelines.
Finally, be your own boss.
Cons:
No fixed income, you earn how much you work.
No employee benefits, like health insurance or maternity leaves.
No team, manage everything from client hunting to accounts to working and editing.
Work alone with no company.
More distractions due to no supervision.
Digital Marketing Freelance Jobs You Can Do
As it's a one-man show, you can take up one or multiple tasks depending on your expertise.
Write blogs and articles for websites.
Write eBooks, technical descriptions, case studies, whitepapers, etc.
Copywriting for landing pages and ads.
Design and monetize websites.
Manage social media accounts.
Search engine optimisation.
Facebook or google paid marketing.
Managing email campaigns.
Designing and managing digital marketing campaigns.
Managing analytics and preparing reports.
Skills Required Freelance
Skills Required for Digital Marketing Freelance are:
Content Marketing: You should know how to create content that talks for itself. Digital marketing is highly based on the quality of content created and the way it is promoted. You need to learn how to optimize texts, images, videos, or audio. Good communication and writing proficiency are the skills you need.
Seo: The internet world is full of content. The way to take your product to the first page of Google is through mastering SEO. Companies are on the constant lookout for SEO experts. Also, it may fetch you a long-term project.
Website Designing & Management: A professional looking website is the need of every business. and, if you master this skill, you will never be short of projects.
Paid Marketing – Google & Fb Ads: Paid marketing tools like Google and Facebook Ads are in great demand, as businesses today want to get fast results for their marketing campaigns. Mastering this skill is going to land with high-paying projects.
Email Marketing: Email is still a powerful tool to get your audience's attention. Hence, more businesses today are looking for freelancers who can manage their email marketing campaigns. Writing good email copy and mastering email marketing platforms is the key.
Analytics: Learning analytics need not require you to be a dada geek. All you need is to measure the campaign results for the companies and prepare reports with actionable suggestions. Google Analytics is an easy and effective tool to capture data and analyze it.
How to Start Your Career in Digital Marketing Freelance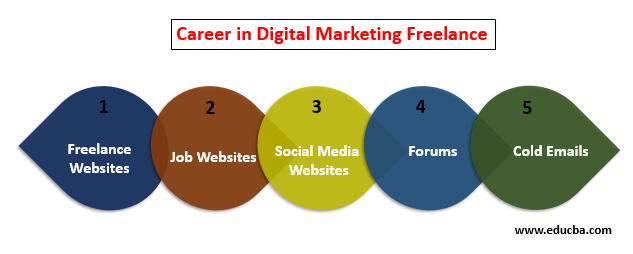 Here we discuss some important things to start your career in digital marketing freelance:
1. Freelance Websites
Various websites connect freelancers and clients and act as a mediator. Here, you can see multiple projects being uploaded and you can choose to pitch to the ones that interest you. Make an interesting profile that can impress and bag clients. These websites charge a commission on the pay you get. Some websites to start with are Upwork, Peopleperhour, Fiverr, Freelancer, Wittypen, etc.
2. Job Websites
Honestly, we won't prefer to give out a portion of my hard-earned money as commission to anybody. Hence, you can tap on the regular job-hunting websites like Timesjob or Monster to find clients hiring freelance workers.
3. Social Media Websites
There is an increase in the freelance communities that have come up today. You can tap platforms like Facebook and LinkedIn groups and communities that host digital marketing freelancers. Here, you will find clients offering projects. Hence, optimizing your social media profile boasting your best work can be really helpful.
4. Forums
There are forums like Quora where people ask questions and others answer. You can find a ton of references that people give from their personal experiences. You can take the help of those references and approach them for work.
5. Cold Emails
Even if it doesn't sound appealing, sending cold emails to potential clients can actually help you bag a client. It doesn't really harm anybody to send or receive emails. But out of 10 emails that you send, one client may actually seem interested in your expertise and hire you.
Recommended Articles
This is a guide to Digital Marketing Freelancer. Here we discuss the pros and cons of digital marketing freelance along with how to start your career in digital marketing freelance? You may also look at the following articles to learn more –