Updated July 7, 2023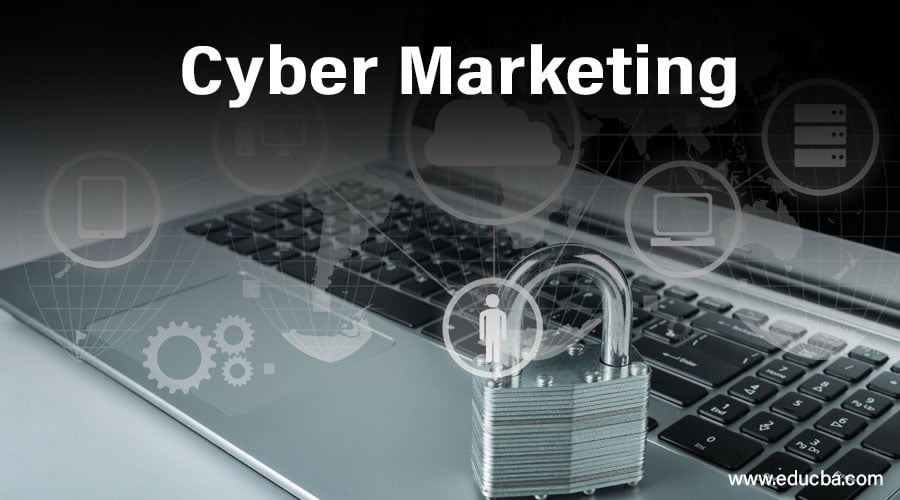 Overview of Cyber Marketing
From the beginning of the twenty­-first century, the usage of computers is not limited only in collecting, storing, and processing data. Still, its application has got revolutionary changes with the inception of the internet. Gradually the rapid growth of internet applications affects a wide range of areas such as education, trade, marketing, communication, management, and entertainment so that it becomes part and parcel of our day-to-day life. Now the internet usage populations are also increasing rapidly.
The domain of marketing is also not far away from receiving significant changes after the Internet revolution. To promote products or services, the owners of MSME to giant industries can choose between conventional and cyber marketing.  Unlike conventional methods, cyber marketing is based on an internet system, including promotion, product information sharing, communication, receiving feedback, distributing, and receiving customer payments. However, it is the sole decision of owners to choose any of the avenues according to their mission.
Cyber Marketing
Cyber marketing is fully grounded on marketing products or services over the internet through various ways such as display advertising, search engine marketing campaign, blog marketing, content marketing, viral marketing, creating videos of people using a product, social media, and email marketing. Compared to the traditional marketing system, cyber marketing is a little inexpensive and provides an opportunity to reach a band of computer-usage customers.
Before two decades ago, the concept of cyber marketing was irrelevant, but the revolutionary entry of the internet has increased the usage of computers at home rather than in offices or organizations due to its online data handling capability. Considerably, marketers found a new opportunity to promote their products or services with a new avenue. It advances the delivery system of output by trailing millions of customers, segmenting them online, giving the option to select customized products, fixing prices, providing appropriate information and services related to products, and delivering the products to the customers through a proper distribution system. The transactions and every customer's characteristic details are stored for future business opportunities with the customer, and it also helps to know about customers' preferences for products or services.
Structure of Cyber Marketing
In cyber marketing, marketers can communicate with customers directly. This new domain of customer-owner linkage may create more business opportunities. Now marketers can make content about product details and offer them more innovatively and dynamically. Whatever the geographical zone, the marketers directly reach the customers with their products and offers. Because of a direct relationship with customers, the marketers segment the customer group into subgroups according to their needs and preferences, and these segments are utilized as a target customer group.
In the cyber marketing model, the first portion is 'content', which defines marketers' objectives, identifies customers' profiles, and creates a target customer community. The second part, 'community,' indicates the target community. In the traditional marketing process, sometimes remote geographical locations may cause a barrier to communication with the customers. Cyber marketing removes this limitation by converting these existing communities into the cyber community.  The transaction becomes more stress-free because of the presence of these target communities. In the third part 'commerce' portion, the customer can access all the product-related information available on the site and even the marketers also get to know about the customers' characteristics. In cyber marketing, consumers can promptly access the delivery process online and make electronic payments. So the cyber marketing concept opens a new opportunity for promoting and transacting products or services.
Features
The following features make differences between traditional marketing concepts and cyber marketing.
1. Consumer Details
In cyber marketing, companies implement various data mining tools to obtain consumers' profile details actively. These tools use sorting, bunching, and correlating similar characteristics of consumers in a group. Customers' purchasing behavior and past transaction produce data automatically related to customers' profiles. These data help make customized products and segment the entire market into subgroups to identify the target customers. In cyber marketing, the segmentation process may reach the micro-segmentation where each customer gets equal importance. The recent growth in marketing indicates the presence of various cyber marketing tools.
2. Product Development
Producing customized products is one of the important features, and for that purpose, marketers use product optimization tools to align customers' requirements with marketing objectives. Here the marketer can measure the profitability at each stage of customization.
Today many products, including audio, video, cyber-related products, and books, are available in the market in digitized form, and these digitized products can be displayed, presented, and delivered through the internet. Other physical products with digital components can also be present on the internet.
3. Branding
Branding is the image of a product or service to the customers, distinguishing it from similar products. Products on the internet can benefit from branding for a repeated exhibition.
4. Fixing Prices
The Internet provides a large array of prices for different products and their significant features. Customers can easily get information and compare the less valuable feature with the important ones. As the market is flooded with various products of different organizations and their varying features, customers can check the reviews of fellow customers before deciding on purchasing. Customers get the benefit of better pricing and bargaining. Another significant feature of cyber marketing is the ease and speed of collection prices through the electronic money transfer system.
5. Promotions
Promoting products or advertisements generate a chain of impacts, such as creating awareness, interest, desire, and action in customers' minds. Internet marketing can finely tune up these impacts. So a customer can easily transfer from one impact to another by including his or her characteristic. Like customized products and prices, customized promotions are also possible in cyber marketing
6. Distribution
Cyber marketing is also recognized for actively disrupting the distribution chain. With the emergence of marketing concepts through the internet, the task of distribution intermediaries has become obsolete. Saving costs and time in distribution is a significant contribution of cyber marketing.
7. Market Research
Online implementation of various computer-assisted data collection tools enables the active conduct of specific market research.
Though cyber marketing also has certain limitations, the accessibility and popularity of social platforms give ample scope to communicate and deal with customers more inexpensively and effectively.
Recommended Articles
We hope that this EDUCBA information on "Cyber Marketing" was beneficial to you. You can view EDUCBA's recommended articles for more information.