Updated April 28, 2023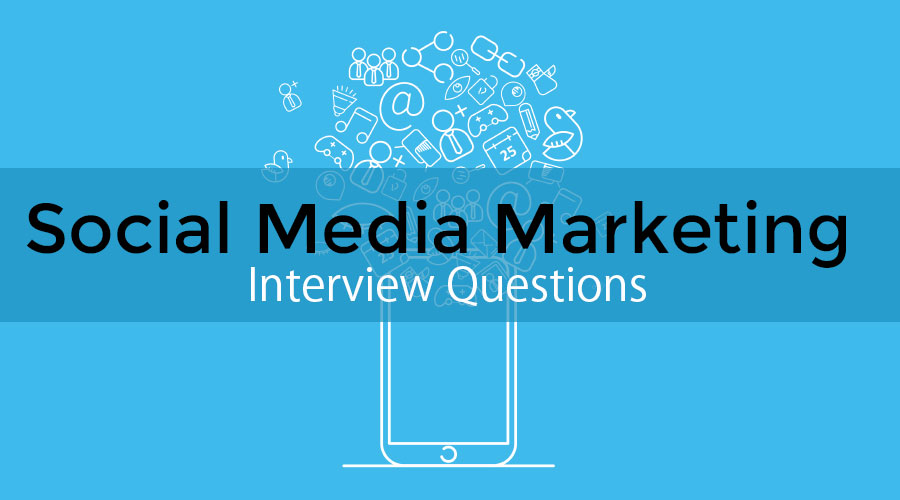 Introduction To Social Media Marketing Interview Questions and Answers
Social Media Marketing could be a well-established field despite its relative youth. Social Media is common today for professionals and, therefore, businesses. Several social media jobs are being generated daily, so folks wish to build a career in social media. Even during a short period, social media marketing has progressed; video, content, and photos may be combined to create a feature-rich post. The sales funnel of each business may be accelerated by social media marketing, so every company has made it required to use this platform for their business.
If you are looking for a job related to Social Media Marketing, you need to prepare for the 2023 Social Media Marketing Interview Questions. Every interview is different as per the various job profiles, but still, to clear the interview, you need to have a good and clear knowledge of Social Media Marketing. Here, we have prepared the important Social Media Marketing Interview Questions and answers to help you succeed in your interview. This list of questions is divided into two parts as follows:
Part 1 – Social Media Marketing Interview Questions (Basic)
This first part covers the basic Social Media Marketing Interview Questions and Answers
Q1. Why is Social Media Industry popular?
Answer:
Through these questions, your questioner needs to see your information concerning the social media trade. He needs to see whether or not you recognize or not concerning the social media trade and its importance. As you have chosen this career, thus whether or not you realize why social media could be a common and most used platform?
Here you'll say that social media is on the boom and you like to beat the challenges of existence, so instead of selecting a boring job, you set social media as your career.
Q2.Describe any Social Media campaign run by you?
Answer:
Though being a skilled social media professional, you may be specific to any of your effective campaigns in your resume; however, still, the recruiter might raise you concerning your campaign. They will wish to concentrate on your accomplishments. Moreover, they will want to focus on your story in your words. They want to understand how you caterpillar-tracked your success and started your campaign. By noting your account, they will decide your passion and enthusiasm towards business.
Let us move to the next Social Media Marketing Interview Questions.
Q3. What are the blog tricks that can increase traffic to the website?
Answer:
There are some of the favored and most used tricks that will facilitate driving additional traffic for the website; they're listed below:
Promoting content through varied common platforms like Facebook.com or Pinterest.com is necessary.
You can share the image and title of your weblog post on Instagram. One can even post pictures on Tumblr, Twitter, Facebook, or Flicker's common platforms.
Offer a direct link to the content and share a brief content presentation on slide-share-like websites.
By using a lovely title or image, you'll share the post on Pinterest
You can additionally pass a quick video of your content to the social media sites
Q4. Explain the uses of social media marketing tools?
Answer:
These are the common Social Media Marketing Interview Questions asked in an interview. Here is the list of some common and most used social media marketing tools which will be wont to leverage your campaign:
Hootsuite: This tool is employed to monitor the social media dashboard and to manage the groups
Radian 6: it's AN enterprise-level social media management application that will be wont to post research, analytics, listening, or campaigns
Sproutsocial: Brands, Multiple pages, and searches may be managed through this tool. It can even post analytics, reports, and contender analysis alongside assignments to the team members.
Zendesk: Through this tool, you'll collect messages from varied platforms cooperatively, like e-mails, client engagement platforms, inboxes, and others.
TweetDeck: It also helps manage multiple platforms like Facebook, LinkedIn, Foursquare and MySpace, etc.
Q5. To generate more leads, enlist some marketing strategies?
Answer:
The ROI of Social media is a cherished variety of leads. Your recruiters want to understand how you adapt to get additional tips. To answer this, you want to apprehend the price of campaigns in social media marketing in quantitative terms. You must observe social media ads that will increase the recruiter's business price.
Part 2 – Social Media Marketing Interview Questions (Advanced)
Let us now have a look at the advanced Social Media Marketing Interview Questions.
Q1. How will you boost Tweets or Twitter posts?
Answer:
Like Facebook, Twitter is additionally common; however, the thanks to boost tweets are different, and one will follow the following listed ways in which to spice up the Twitter post:
Do not use quite two hashtags for any tweet.
Make your tweet short and crisp, simply one hundred words
You will use Tweet Deck to schedule your tweet
You can even manage Twitter marketing activities through the advanced search feature of Twitter.
Keep on checking Twitter Analytics.
Q2. What is the relationship between social media and SEO?
Answer:
You want to discuss Google Analytics and different Google policies, too. One will improve SEO through social media. For that, one should apprehend the newest Google algorithms and what's pleasing and punishing in these algorithms.
Let us move to the next Interview Questions.
Q3. What are the social media metrics to track ROI?
Answer:
Brand reach, Lead generation, Engagement, and Conversations are essential measures for social media marketing. SMMs should be snug in talking concerning these Google Analytics terms. Here you cannot solely live the success by engagement; instead, improving conversion is important. to extend the ROI of the social media campaign.
Q4. How can one decide the budget for social media marketing?
Answer:
These are the most popular Social Media Marketing Questions asked in an interview. Here, you, as a respondent, should provide the solution; however, can you allow the budget and track its success?
As for the marketing campaign for Facebook, the budget is $500 per month, which will be affordable and fruitful for any size organization. Primarily budget may be divided into the following areas when designing for social media marketing:
Staffing
Training
Financial
Time
Attention
Publishing, watching, and reportage software packages or tools
Q10. Differentiate between the marketing environment and customer service environment?
Answer:
This question is asked to the practiced candidates by the recruiters within which they'll outline each singly as:
Social marketing surroundings could be a conversational approach. Most of the social media conversations are outside of hot water sales; thus, professionals should attempt to acknowledge the precise want of their shoppers and thereby require them to reach their desired destination.
Social client service surroundings are to resolve sympathy and conflicts. Here professionals should modify their shoppers like they're their future customers. Attempt to fix the problems and build them into your loyal customers.
Recommended Article
This has been a guide to the List Of Social Media Marketing Interview Questions and Answers so that the candidate can easily crack down on these Social Media Marketing Interview Questions. In this post, we have studied the top Social Media Marketing Interview Questions often asked in interviews. You may also look at the following articles to learn more –