Updated June 8, 2023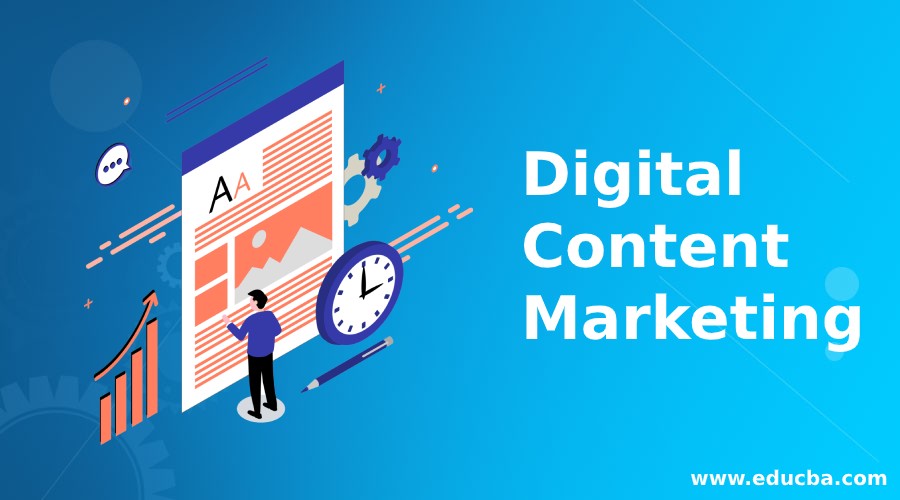 Introduction To Digital Content Marketing
"Digital Content Marketing is a commitment, not a campaign." – Jon Buscall, Head of Jontus Media.
The content is the spirit of digital content marketing. It has been there ever since there was a need to inform prospects about the products or services long before the term' content marketing' was coined by marketers. Then why are people at large in the marketing world so conscious about this term if it is not new? There comes the need to focus on the intricate parts of digital content marketing.
First, clear, concise, and compelling content has to be there to educate people about the product features.
Second, it should build a relationship, which, in turn, is built on trust that drives the revenue.
Third, relevant, consistent, and valuable content must flow
Fourth, meeting the features described in the above three points, we can claim we are creating quality content that should be engaging to attract users' attention
Last but not least, unlike the past practices, today's content is not pitched. Still, it is being spread among the target audience with an expectation to educate them with the product information. They should reward us with sales leads and brand loyalty
Therefore, compiling all these aspects, we can define digital content marketing in the following manner:
"Content marketing is a strategic approach focused on creating and distributing valuable, relevant, and consistent content to attract and retain a clearly-defined audience to drive lucrative customer action."
The content was marketed earlier. The new paradigm added is the valuable, relevant, and consistent content being marketed or distributed. Content marketing, the art of communicating with potential customers, is non-interruption marketing (the inbound marketing facets). The prospects surely revert to lucrative actions for the businesses if they are satisfied with the unconditional objectives to educate them about the products and services.
Good content always draws, informs, influences, serves, and involves buyers' personalities and prospects across the whole lifecycle and bonds with your business and brand. It caters to the questions and answers of potential customers during and after the buying journey in connection with direct and indirect business goals. Digital Content marketing creates the brand; more importantly, digital marketing and business goals are associated with content marketing exercises.
As long as digital marketing is concerned, digital content marketing is a crucial portion that determines the fate of all campaigns. Nearly 81% of shoppers research online before finally buying the intended products. And during that online search process, consumers tentatively spend an average of 79 days.
So, what solid benefits the digital content marketing yield?
The content must educate or inform the customers.
We should establish a thought leadership approach through a digital content marketing drive.
The content must be entertaining.
The content must be proven to overcome all potential objections.
Sparkling, debatable, interactive, and community-driven content should be produced. The ideology behind this objective is to give users a platform to use online content.
The content must improve customer experience and optimize market efficiency.
The content must empower the sales force, partners, and stakeholders.
Having envisaged content that hovers around the mutual profit must be produced – for your business and your customers. Below, B2B organizational goals have been set up based on the success of the content marketing drives. Branded content helps nearly 60% of B2B decision-makers make better purchases, while personalized content prompts 61% of customers to buy from companies.
Content Marketing Evolution and overlaps
Content marketing has become very well-known and accepted by many people from different industries. Despite its name, people view it more as a digital content marketing strategy and tactic. Some early adopters felt it would simply transition into another form of marketing. This is true for all forms of 'marketing' from an integrated viewpoint. Still, it is very much distinguished from other digital content marketing strategies and approaches, such as corporate blogging, which is seen as content marketing, social media, and inbound marketing. Finally, people believe that content marketing will change depending on the evolution of media, such as digital marketing, and will focus on converged media.
People interpret content marketing differently depending on their adoption and success. Some believed content marketing would be a passing trend due to the overwhelming amount of content required. Previous witnesses and practitioners called this 'content shock' or 'content marketing backlash.' Please find below this content marketing popularity as per Google trends.
According to the Gartner study, the peak of inflated expectations shall be reached by 2018-2023; content marketing has not yet reached that mark.
Another key to success is knowing your customers' needs, wants, likes, dislikes, and values. You must understand what exactly interests them. You must ask, find, and engage them through your content. Now, build your content plan and marketing strategy around it when you are sure your content aligns with the intent, quests, needs, and perceptions. So, we can easily say content marketing success and customer experience success are two sides of the same coin.
Digital Content Marketing
This is true that content marketing is not just about digital content marketing, but it cannot be ignored. The digital edge always works the best as long as digital sources become more important in the buyer's journey, the customer lifecycle, and customer psychology and preferences. Content plays the innermost part in digital content marketing. All potential customers do some research before actually buying any product online. There are, however, other channels of digital marketing.
Content marketing plays a decisive role in coordinating with all these facets of digital marketing, and marketers refer to the entire process as integrated digital marketing. This is like a team wherein the content is the leader making a perfect liaison with other channels or team members. Without asking each one of them about their contribution to increasing the customer base, it will employ every one of them as per their relevant strengths and produce something which would be more than what each member can
achieve separately.
Integrated digital marketing workflow
Instead of searching for content in the prominent lanes, start searching for consistent and relevant content everywhere in your company, as it is full of content. You can check in at the customer support desk, in the R&D department, HR pool, in internal communications, and even in the cafeteria and standard rooms. You would be amazed to find they have immense knowledge about the product, the company, long-forgotten things, and the customers. Take the content, and make the proper use of it. You can create engaging content to attract a new audience and build brand loyalty.
The below infographics would give a rough idea of how a company uses its content in different channels of digital marketing; which company is operating as per their spending budgets; which tactics are more renowned; what the challenges face (if any); why companies should use content marketing; and are content marketing budget increasing.
Content marketing and different kinds of media
Digital marketers always use integrated content marketing as it works best. And practically, it would involve a fusion of channels and media. Content marketers have selected the below five most used media for the digital content marketing purpose:
Owned media: The website and blog
Earned media: Where people will talk about you
Shared media: Community-driven platforms and content
Paid media: When you generally pay to share content about your business
Converged media: In this marketing strategy, we integrate two or more channels of paid, owned, or earned media.
Designing engaging content
A well-built content marketing strategy comprises a range of content types, so as single pieces start to take shape, there are some specific things to keep in mind:
Blog posts
Combine digital content marketing strategy with the blog strategy. We must use the digital content marketing company blog to circulate the content online consistently. In the absence of proper SEO, blog marketing really
works best.
E-books
The e-books designed with a descriptive arrangement and good visual design must rock. The language must be conversational if that is okay with your brand personality.
Cheatsheets
This is a maximum of two to three pages document carrying enough room for embedding relevant images so readers can quickly scan through the document.
Workbooks and Templates
Making these documents available for printing and designing as interactive and practical as possible is possible.
White papers and Reports
Known as educational materials, these are similar to e-books, but these are less graphically designed, and the use of language is a bit more specialized. Also, through these, you can effortlessly associate with other companies.
Infographics
The name is self-explanatory – the mixture of less text information and more graphical representation. It would be based more on this ideology – "seeing means believing." You may not have professional artists to create the infographics, but you can get help from many sites catering to free services. But for serious effect, you need to have a dedicated graphics designer.
Slide Decks
Minimal texts, big images, and graphics are in the slide decks. It simply breaks the monotony of complex memes into simple forms.
Videos
Part of the sound digital content marketing strategy involves creating relevant videos and posting them on different sites, including YouTube, several blogs, etc., which will help you get the attention of potential customers.
Case Studies
Prepare case studies with facts and evidence and complete stories. This approach ultimately helps to focus the content on its value and the results it can achieve.
Content Marketing and Social Media
For more entry-level and exciting pieces, social media acts as the primary vehicle to market the content. A content marketer will use different phases of social media promotion (e.g., owned, paid, earned, and converged media). Each social network has different kinds of audiences and users. And accordingly, the content would be changed. For each demographic region, the content would be unique. Some digital content marketing examples of social media are Facebook, Twitter, LinkedIn, and Pinterest.
Content Marketing and SEO
Content is effectively marketed through SEO techniques. Different search engines exist, and there is a specific rule to promote content for each. A good SEO is first customer-centric, other than complying with a need for dedicated algorithms for different search engines. Link building, page ranking, site popularity, effective keyword strategies, generating natural links, etc., are all part of the SEO initiatives. Content, here, acts like flowing blood to take different objects into the heart – digital marketing. And SEO constantly tracks only content. In all these tasks, customer or visitor satisfaction is a must. A search engine will first see how relevant the content is; pertinent content always serves its visitors.
Gated vs. Ungated Content
Once the content library is ready, the next step is to arrange your campaign to steer business objectives. Marketers always know that Digital Content marketing earns trust, but they believe that gating some of their valuable content is the proper practice. Gating large resources is the right way to generate leads, know the seriousness of the visitors, and nurture leads.
Content Marketing Plan
The documented content marketing strategy has seven possible checklists to structure the right content marketing plan.
A business plan for innovation
A business case for content marketing
Persona development and content mapping
Our brand story
Channel plan
Each step has several questions to be answered. Once it is ready, the content marketer can quickly start working to build up a practical digital content marketing framework.
Related Courses
Digital Marketing Training
CRO Advanced for Digital Marketing & Analytics
Conclusion
Again read the content marketing definition, removing the relevant and valuable. That would be the distinction between content marketing and the other informational mumbo jumbo you receive from companies attempting to sell you their "products." Most of the time, the information companies send us is irrelevant or valuable. Can we reject the content? No. At times, we may be misled by this approach and make sales that were not initially intended. That makes content marketing fascinating in today's myriad promotional messages for each individual.
An excellent digital content marketing strategy makes a person stop, read, interpret, feel, and act differently. Companies usually inform potential customers through their content; customers are likely to reciprocate with sales leads when satisfied. Just remember the famous saying by Leo Burnett, "Make it simple. Make it memorable. Be sure it looks inviting. Make it fun to read." And in the words of David Ogilvy, "Do not address your readers as though they were gathered together in a stadium. When people read your copy, they are alone. Pretend you are writing to each of them a letter on behalf of your client."
Recommended Articles
Here are some articles that will help you to get more detail about Digital Content marketing and digital content marketing strategy, so go through the link.