Updated May 31, 2023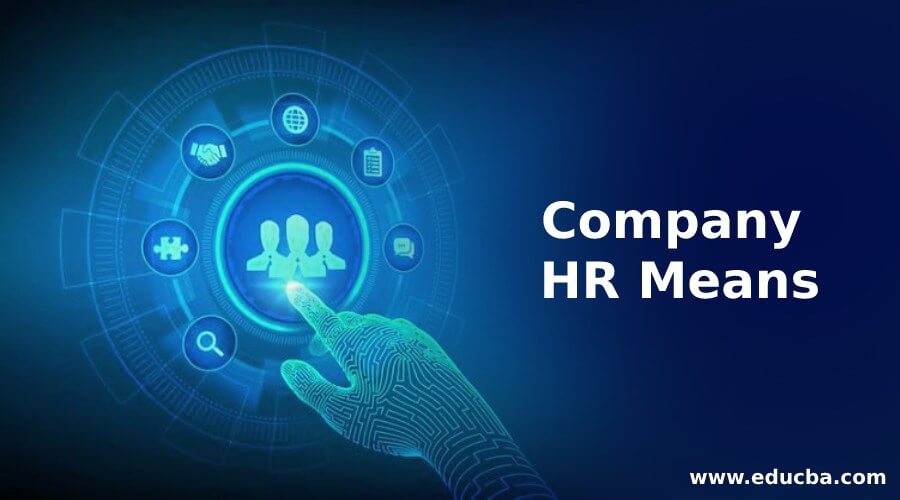 Introduction to Company HR Means
The role of company HR is to interview candidates and hire them according to their skills for a suitable job. Is it an employee of a company or an entrepreneur of a small business, what skills would you want your Company; HR to have before you hire or promote one? The HR manager is a small designation; you need someone with extraordinary skills. He manages a small team in an organization to ensure the smooth running of the Company's employees and provide them with a suitable work atmosphere. It includes managing the comfort of the Company's most important resource, that is, Human resources, by doing human resource planning; mind you, this is the most sensitive resource for the Company.
Company HR Means Skills
Let's get an idea of what you are looking at as skills in your HR manager. Skills differ from person to person; let's point out specific skills that are very important for someone at that critical designation.
Strong and appropriate communication skills
Let's start with the essential skill of the HR team and the HR manager: communicating with the employer and the employees. They should have very strong communication skills and be able to communicate precisely and effectively with employees and employers.
Effective communication helps to keep the motive and expectations of both parties clear. Strong communication needs to be one of the most important and efficient skills a Company HR means must possess.
Peoples person skills
The job of a Company HR Means a lot of interaction with several people, the employees on higher and lower designations, the service providers, the candidates for interviews, attending various meetings like budgeting meetings of the Company, meetings with the management and the employees for each other's concerns, etc. their interactions are endless.
He needs to like these interactions, never display disinterest in exchange, and address issues. He has to be a people person, and he should enjoy interacting with people around him.
The right tact
The corporate world needs a lot of diplomacies and excellent manipulation skills, for there are several negative issues that HR needs to put across positively. Using the correct language, tone, and statements to make sure you do not offend the other person is important.
Your Company HR means you need to have the correct tact and way of positively communicating the negative issues.
Must be approachable
Employees working for any organization come across some other issues at the workplace; some cases need immediate attention, whereas some only need resolution; however, the workplace must have someone who will address your problems, someone who will listen to your concerns and issues, this someone is the Company HR means.
If your Company's HR means is not approachable, you would not want to go to the manager to raise your issues and share your concerns. An approachable HR manager is very important in the workplace. This helps build the trust of the employees towards the Company.
Recommended courses
Professional Function Point Analysis Training
Program on Project Schedule Management
No discrimination or partiality
Playing fair at your workplace; playing favoritism is not correct or inappropriate. When an employee looks at a Company, HR means he looks at her as a management representative who will ensure that the employee is taken care of.
Playing favoritism is a complete setback. The employee will lose hope and interest in working and will only consider raising his concerns to the higher authorities if they favor certain people. Favoritism can lead to losing skilled employees as the management will pay attention to them.
Managing conflicts
An organization has several people working in it. These people come from different backgrounds with different ethical and moral values. They will have different opinions; these differences can lead to fewer conflicts and issues between colleagues, well the difference can also be between management and employees.
Company HR means you should be able to sense the rising conflicts and should have the ability to manage them before these issues grow more robust and get difficult to handle. Quick resolution is essential for such problems requiring efficient conflict handling skills.
Problem-solving skills
Problems are a part of life, and problems in the workplace are extremely common; however, dealing with the problems brings out the employees' fundamental skills. Now problems of employees need to be addressed faster and more aptly.
Company HR needs to be efficient enough to solve the employees' problems. Only if the HR manager and his team are efficient and sufficient in solving concerns raised by the employees will the employees trust them and the Company.
Ethically strong
Every Company has ethical values that every employee needs to adhere to. The values may be related to business, interacting with the employees within the organization, interacting with clients, interacting with vendors, etc.
These values are for every employee and the HR team, and the HR manager ensures that the employees adhere to them. The leader must display solid ethical values before confirming that the employees follow them.
Hence, the Company's HR must believe in its ethical values before ensuring others value them.
Dealing with the Grey area correctly
What is "The Grey Area"? This term is term that is very sensitive and needs immediate action. Every Company issues training on topics like discrimination, harassment, etc.
I am sure that no company, employee, or HR manager would ever want to face these issues. Yet, if most companies deal with problems of a grey area, it is maximum effort and time-consuming for the HR managers.
They have to look for the best possible and available information; and seek the help of experts, coworkers, professionals, and attorneys. They need to have answers to the HR management questions, like what is correct. What can he accommodate in the issue? How far do they have to stretch to approve leaves for such problems?
No HR manager or Company would ever want to make a harsh decision on an efficient employee for a grey area reason; however, crossing lines in such areas leads to potent actions.
Strong negotiation skills
It must execute the organization running within the constrained or set budget. It must hire employees, book vendors with the best services and features, handle appreciations, process incentives, bonuses, etc.
The Company's management discussed its budget with the HR manager and set targets for the HR manager to work within the budget.
Hence the HR manager and the HR team are trained very well in negotiating; they also need to have in-built negotiation skills to ensure they perform well. The HR manager needs to be very good at working within the set budget to maximize company profits.
Knowledge of employment legislation
Every HR executive needs to undergo HR training wherein they will get training about employment legislation. Most companies hire HR personnel from the management institution where they are taught about their legal issues, employment legislation, working culture, functions, etc.
The HR manager must be hands-on with this legislation and be able to solve legal issues that come up with any employee or ex-employee. The employees should be compatible enough to go and discuss such issues with the HR manager himself, and he should display proper knowledge to assure the employee.
The right attitude and approach to work
Company HR Means Any person with a negative attitude and approach to work is a burden on the Company. When you start your day with a negative statement, your entire day goes negative; you start hurting yourself, making you think negatively. Imagine a hostile leader; trust me, you would never like, rather hate going to work.
The right path can lead you, your coworkers, and your Company in the right direction. It needs to have the right positive attitude and problem-solving approach toward work. You enter the premises with a positive problem-solving approach when you visit an office.
Motivational attitude
Motivation is the most significant driving factor to keep the employees with the Company longer. Every employee has different factors of motivation. Some people need monetary motivation, and some need appreciation as motivation; for some employees, the brand name is the motivating factor; for some, it is the immediate supervisor who is the real motivator etc.
The HR of the Company needs to be very good at motivating skills. It needs to have a motivational approach. Every time he talks to his coworkers, he needs to display a motivational attitude that will keep the employees working hard toward the development and profit-earning motive of the Company.
Influencing personality
Some people are born charmers and have a very influential personalities; such people have these skills by birth, whereas some people develop the compelling nature of time with the help of HR management experience.
Come what may, let the skills be natural or developed; the Company HR Means needs to have a very influential person. He should have a knack for influencing people by talking to them, be they coworkers, vendors, or clients. People should like talking, getting solutions, and maintaining a good relationship with the HR manager and his team.
Appropriate experience
No one can become a manager or a leader somewhere and just somehow. To become a leader or manager, one needs to have appropriate experience. Experience working as a team member, working as an average HR executive, knowing the type of issues that come up, and resolving these problems comes with the experience you gain before you become a leader.
Before appointing an executive or a senior executive, the Company checks the employee's background, experience, knowledge levels, and skills.
Hence before employing the HR manager, you need to check their work experience and achievements as an HR executive and a senior HR executive. It is essential to hire an HR manager with the appropriate experience as an HR either in the same Company or another company. It's all about the Company. HR Means need to have the skills.
Conclusion
Before hiring an employee and making them a part of your esteemed organization, you must ensure that the person you are hiring is efficient and skilled enough for the domain you are hiring them for.
Similarly, you must ensure he has most of the HR manager's skills before hiring an HR manager. From proper communication skills to excellent experience in leading the team, the HR manager should be a professional with tact and a people person; he should know how to display his skill as and when and where he must show them.
Each company employee is essential and precious to the Company, for they are trained professionals in various skills and domains. Hence, an appropriate HR manager with a good HR team is vital to handling the entire Company's employees. The leader drives the team; therefore, the HR leader must be appropriately skilled.
Recommended Articles
This is a guide to Company HR Means. Here we have discussed a brief overview of 15 specific skills that are very important for someone in a few critical designations. You may look at the following articles to learn more –