New Year '20 Offer TAKE THIS BUNDLE
Lean Management Training (13 Courses)
This Lean Management Training Certification includes 13 courses with 48+ hours of video tutorials and Lifetime access.

You get to learn Lean management principles and its implementation and understand tools and techniques of lean manufacturing, total productive maintenance.
Lean Six sigma for Champions
Lean Manufacturing System
Lean Management - Waste Reduction Tools
Lean Six Sigma Green Belt Certification Training
Offer ends in:
TAKE THIS BUNDLE
What you get in this Lean Management Training?
Online Classes
Technical Support
Mobile App Access
Case Studies
About Lean Management Course
| Course | | No. of Hours |
| --- | --- | --- |
| Lean Six Sigma Foundation and Principles | | 1h 07m |
| Lean Six sigma for Champions | | 6h 58m |
| Six Sigma and Lean | | 1h 06m |
| Lean Manufacturing System | | 2h 3m |
| Lean Management - Waste Reduction Tools | | 3h 8m |
| Lean Six Sigma Green Belt Training Program | | 4h 36m |
| TQM Applicability in Industries | | 14h 47m |
| Lean Six Sigma White Belt | | 3h 31m |
| Lean Six Sigma Yellow Belt | | 1h 43m |
| Six Sigma Green Belt | | 0m |
| Six Sigma Black Belt | | 24m |
| Lean Six Sigma Application in Information Technology | | 3h 52m |
| Six Sigma using Minitab | | 21m |
| | |
| --- | --- |
| Course Name | Online Lean Management Course Bundle |
| Deal | You get access to all 13 courses bundle. You do not need to purchase each course separately. |
| Hours | 48+ Video Hours |
| Core Coverage | Lean management principles and its implementation and understand tools and techniques of lean manufacturing, total productive maintenance. We shall cover Lean Six Sigma for Champions, Lean Manufacturing System, Waste Reduction Tools, Lean Six Sigma Green Belt and TQM Applicability in Industries. |
| Course Validity | Lifetime Access |
| Eligibility | Anyone who is serious about learning Lean Management and wants to make a career in this Field |
| Pre-Requisites | Basic knowledge about Project Management would be preferable |
| What do you get? | Certificate of Completion for each of the 13 courses |
| Certification Type | Course Completion Certificates |
| Verifiable Certificates? | Yes, you get verifiable certificates for each course with a unique link. These link can be included in your Resume/Linkedin profile to showcase your enhanced project management skills |
| Type of Training | Video Course – Self Paced Learning |
| Software Required | None |
| System Requirement | 1 GB RAM or higher |
| Other Requirement | Speaker / Headphone |
---
Online Lean Management Training Curriculum
---
In this section, each module of the lean management certification is explained.

Goals
The goal of the training is to introduce lean management skills to the trainee with real life case studies and practices. We intend to train you a lean management consultant by the end of the course and to encourage lean management in your organization for improved results.
Objectives
The objective of the course is to train lean management consultants with detailed curriculum of skillsets and practices required to guide and implement lean management methodologies in any organization. In general, lean management can be implemented in any kind of organization with specialized customizations. The course also highlights the importance and guidance for such customizations to provide multitude of benefits across various business models. The objective of the course is not just limited to any organization but to the larger environment by efficient resource and waste management. This leads to a greener world with minimal chemical footprint on the environment thereby providing the room for nature to heal itself from global industrialization.
Course Highlights
The course provides a detailed walkthrough of skillsets and practices to become a lean management consultant. It includes,Lean six sigma foundation and principles provides a quick introduction to six sigma tools and their importance. It also introduces good practices like root cause analysis, deriving optimal solution and gains through controlled methods. Lean six sigma for champions explain all six sigma phases namely Define, Measure, Analyze, Improve, Control and Recognize in detail. Six sigma and lean together defines the lean management with specialized tools to identify, correct and track the resources within the organization. Lean manufacturing system includes tools like SEITON, SEISO, SEIKETSU and SHITSUKE. It continues to explain SMED, JIT system, Kanban production control system, etc. It also explains Total Productive Maintenance (TPM) like overall equipment efficiency, Pillars of TPM, etc. Waste reduction tools introduces tools for better management of waste and resources involved. Lean six sigma green belt training is based on the DMAIC framework (abbreviation for Define – Measure – Analyze – Improve – Control). It explains each parts of this framework in detail to achieve green belt training. Total Quality Management (TQM) is a detailed section about quality philosophies, process improvements, techniques and tools for quality management. Lean six sigma white belt section details about the definition, principles and process of six sigma, DMAIC framework and PDCA cycles with their actual Japanese terms. Lean six sigma yellow belt explains about the lean Hist, Meth, Jidoka, Heijunka and 5S methods for yellow belt certification. Lean six sigma green belt details about DMAIC, DMDAV process, PDCA cycle, correlation and hypothesis. Lean six sigma black belt section takes a deep dive in to key concepts of six sigma and detailed analysis of DMAIC vs DFSS. Lean six sigma application in Information technology details about the adaptation of lean principle for IT waste (resource leak) management and quality assurance. Minitab is a statistical analysis tool used in six sigma to identify, measure, rectify impediments within the organization.
Project Highlights
This lean management course stands out from the rest by providing examples and implementation of various case studies. In addition, it details about the usage of various frameworks and tools in efficient lean management as follows, Toyota's world class waste management methods that defined the six sigma and lean management process. JIT systems that helps build and manage quick processes on demand. Kanban systems that provide a high level view of process and workflow of various divisions of the organization Hands-on on popular manufacturing tools like SEITON, SEISO, SEIKETSU and SHITSUKE. Realtime use cases with SMED and value stream mapping using JIT systems Famous case studies of Juran trilogy, Deming philosophy, The Toyota way TQM, POKA YOKE, etc. Quality improvement techniques with Philip Crosby, Taguchi loss function, Pareto charts, Ishikawa diagrams, scatter plots, run charts, histogram and quality oriented brain storming sessions. Hands-on on total quality management tools helpful on TPM, QFD and FMEA systems Lean principle implementation using Kaizen and quality circles. Real time projects to measure quality cost, employee involvement, customer satisfaction, continuous process improvements, performance measures, etc. Hands-on on Minitab software by measuring, trend spotting and discover valuable insights using real time organization data.
Certificate of Completion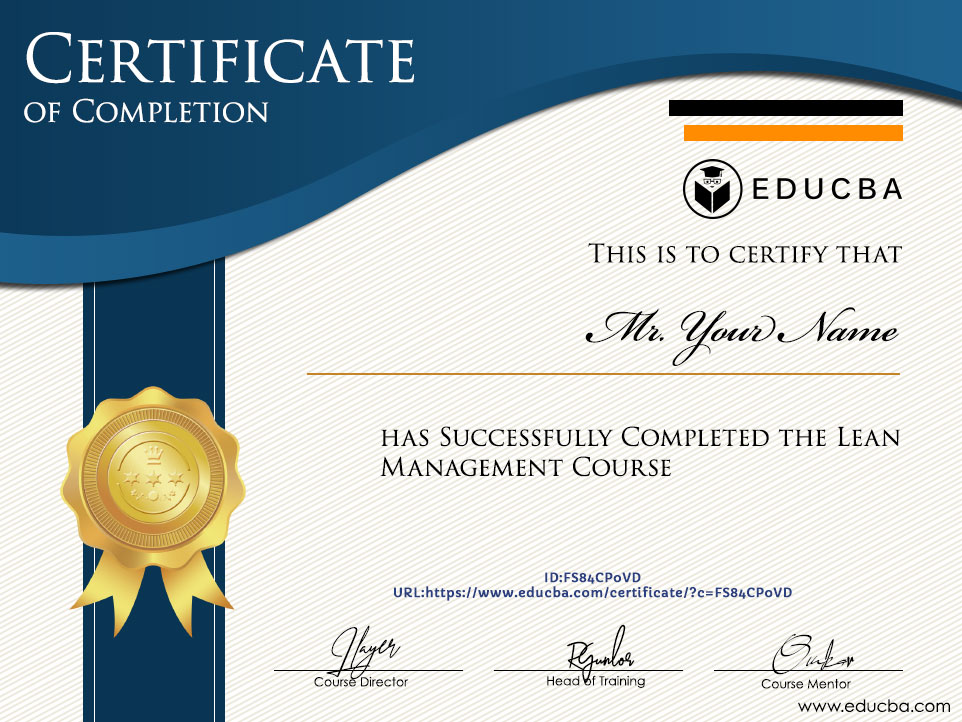 ---
What is Lean Management?
Lean management is either an organization-wide or department-wide approach that supports the ideology of continuous reform, provides value from the customer's perspective, and the elimination of waste.  Lean management is a long-term approach that works in a very systematic way, whose purpose is to achieve success in units and implement small and incremental changes in various processes and workflows. This approach ensures that efficiency and quality improvement in processes and in turn products.
It is management that cares for continuous improvement to maximize worth and minimize waste. In the present competitive market quality and good service to the customer is the main goal of any business and industries. All of this is possible just because the businesses that want to get your attention to use digital marketing.
There are a plethora of opportunities for lean management. Practicing lean management in your current job or in your own business gives excellent results. And if you start learning about it, you will see that you will need at least one year to build a fundamental grip on it.
Courses designed here for Lean Management addressed all issues related to quality and waste. Here, we tried to cover all the valuable knowledge of lean management, so that it is completely valuable to you. Rarely, you will find a lean management course that goes deeper into the concepts of manufacturing systems, waste reduction tools, lean six sigma green belts, quality management, etc. in such a deep sense.

Industry Growth Trend
The Professional Services Automation Market is projected to grow from USD 634.7 Million in 2016 to USD 1,244.8 Million by 2022.
[Source - MarketsandMarkets]
Average Salary
Average Salary
$80,196 per year
The average salary for a Project Manager is $80,196 per year in the United States.
[Source - Indeed]
For details, just go through our course curriculum once again.
Which Skills will you learn in this Lean Management Certification?
You will learn a lot. We're highlighting here the ones that are most relevant in this lean management training course –
You will learn the basic principles of Lean operations and their implementation.
After completion, of course, you will be able to identify waste in production systems and the tools for eliminating waste and making processes better and more effective.
You will learn effective team working techniques and 5S to organize the workplace.
You will be able to manage people through change
You will become a great quality leader
You will gain Project management skills, critical thinking skills, Analytical skills, team building, risk management, time management and many more.
Pre-requisites
Willingness to learn and grow: If you don't like management, this course may not be for you. This lean management training is particularly designed for people who want every element of Lean Management under one umbrella.
Basic Project Management Knowledge: you should have some very basic knowledge of Management.
Basic computer functioning knowledge: Basic computer operating knowledge is required.
Target Audience
This online training directly expands the scope of various aspects of various job roles involved in the production line. The purpose of this lean management certification course is to increase the knowledge already existing and to help those who are new to Lean Management. The following list has a detailed list of those individuals for whom this training will be a great experience:

Students, Professionals in the project management paradigm, Quality Analysts, Quality Executives, Quality Managers, Product Managers, Product Owners, Project Managers, Project Sponsors, Production Managers, Business Analysts, Customer Support Managers, Various Team Leaders, Anyone who wants to learn and understand the concepts of Lean Management and apply them in their professional lives, Entrepreneurs and General managers, Supervisors, Plant managers from manufacturing enterprises
Lean Management Course – FAQ's
---
Why should I do this Lean Management course?
Because there's no better Lean management course you would find in the market. If you're willing to learn Lean Management, your search ends here.
I'm a quality analyst working at an MNC. Can I do this Lean management course?
Yes, you can. In fact, this course is highly recommended. If you want to help your company with quality and or want to start your own business, you must do this lean management certification course.
What is this lean management training course all about?
In this lean management certification course, you will learn everything you need to know about the quality as an important entity towards a successful business or organization. Total Quality Management (TQM) will be introduced to you, and you will learn all the different facets to this quality management technique, in a view to help you with gaining enough knowledge to either step onboard into the world of quality or to understand the ways in which you can bring about a change in the way quality is dealt with at your workplace. Learn the application of these techniques and learn how TQM, when applied in an industrial setup, will give you the required results.
What will I receive on the successful completion of this lean management course?
After completion of the course, you will be given a valid certificate, which can be used as a facility in your resume.
How long is this lean management training course?
This training course is self-paced, and you can take courses according to your convenience and leisure. As you enroll with us, please read the fine print and T & C for those courses that you are entitled to take
Do I need to have any kind of certification to take this lean management course?
No. You don't require any certifications or prior quality management knowledge to get started with this lean management course. This is an intermediate course and will require you to have basic knowledge of project management to understand the applications and applicability of TQM.
Career Benefits
Quality in the global and industrial sectors of the global economy is a huge and steadily growing area. Organizations and businesses strive to inspire higher levels of quality at each level of the process on which products, services pass through. This course addresses the need for quality and quality management techniques offered by TQM. With this lean management course, you will be able to:
Open the pile of various job opportunities because your knowledge base is now extensive.
You can help the company to increase its quality expectations, thus, keep it on the map
Knowing the tricks of quality can expose you to a great, vast expanse of the different industries of the world. You will never be lost.
You will be ahead of your competitors
Reviews
---
Lean management course
I really am starting to appreciate the Lean Six Sigma courses more and more with each course. What I like best is the review at the beginning of each course. Also I like that there is plenty of verbiage throughout the course. This allows me to pause and turn of the audio and read and take notes and really digest the material.
Linked
Shane McFarland
Reliable and Sophisticated
This lean management course is very informative for someone who has a background in quality, it helped to give me some insight into all the parameters involved in successfully implementing and maintaining lean six sigma standards. I liked the structure of the course and enjoyed the fact that there were problems which were explained and worked through. However there were some areas which could be improved upon, such as, the statistical information and formulas. These were a little overwhelming to try to remember, a physical documented version which could be saved by the attendee would make it easier to understand/remember and follow along with the information in the videos.
Linked
Alicia Nikita Gittens
Great Experience- Learnt A Lot!
Excellent lean management course!!! The instructor has explained all the important concepts and features of Lean Six Sigma in a systematic way. This course is very informative on Lean Six Sigma Process, Tools and Techniques. The orientation of graphic diagrams and examples is key to understand it in a correct way. I recommend this course to others who want to take Lean Six Sigma Green Belt
Linked
Jos Ignacio Maestre Morales
Great Course on Lean Management
Sigma Six is best course I found under educba.com. The contents of the course are extremely useful and practical to the day to day life. I would like to suggest to add some reference materials such as paper publish, books, libraries and other reading materials to enhance skills. I would like to thank to entire team have such good online learning tools. I am interested to complete sigma six next level of course in future. Thanks
Linked
Laxman Niroula
Lean Management – Waste Reduction Tools course
This lean management certification course may be a good start for a beginner. If you have already attended other lean management courses though this one turns out to be less useful since you should already know many of the topics proposed. The course has been nevertheless good a revision of the subject. Highly recommended for beginners.
Marco Tartaglia