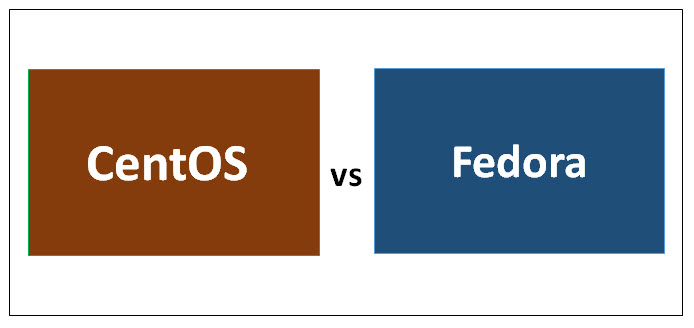 Difference Between CentOS and Fedora
CentOS is a kind of Linux distribution that is free and community supported enterprise-class community platform that is compatible in terms of functionality with its upstream source, Red Hat Linux. It supports Linux family operating systems. It supports package managers such as PackageKit (GUI) and Yum (Command Line). Fedora is a kind of Linux distribution that was developed by a community-supported Fedora Project and sponsored by Red Hat as well. It supports the package managers such as PackageKit (GUI), RPM (package format) and DNF (Command Line). Let us discussed both CentOS vs Fedora in detail in this post.
Head To Head Comparison Between CentOS and Fedora (Infographics)
Below is the top 8 difference between CentOS vs Fedora

Key differences between CentOS and Fedora
Both are popular choices in the market; let us discuss some of the major difference:
CentOS is based on RHEL and on the same code base and can be used or the benefit of stability that is derived from RHEL whereas Fedora is a base for implementing new functionalities mostly and is beneficial in this case.
The advantages of CentOS are more compared to Fedora as it has advanced features in terms of security features and frequent patch updates and longer-term support whereas Fedora lacks long-term support and frequent releases and updates.
CentOS is under CentOS trademark owned by Red Hat whereas Fedora is under Fedora trademark owned by Red Hat and also the domains of both the CentOS vs Fedora are owned by Red Hat.
CentOS package contains all the required things for the entire release whereas Fedora distributes its most of the packages over the network rather than in a single distribution.
CentOS is currently leading in all top sites being used in more than 5 lakhs websites whereas Fedora is clearly lagging behind in this case in most of the segments.
CentOS is leading in most of the countries of more than 225 whereas Fedora is having less user base in very fewer countries.
CentOS is preferable in case of where the newest releases are not required and stability is considered in older versions whereas Fedora is not preferable in this case.
CentOS officially supports x86 and x64 architectures of operating systems and supports the Physical Address Extension Feature whereas Fedora current versions support Servers, Work Stations, and Personal Computers.
CentOS overtook almost all the Linux distribution web servers of more than 30& of servers using it whereas Fedora focuses mainly on technology innovations and integrating new technologies with the Linux community of software.
CentOS was developed and its design was based on RHEL which is available as a paid subscription service whereas in Fedora users can upgrade the software without any reinstallations.
CentOS system does not compromise in terms of security and network usability whereas Fedora has the inbuilt feature of Security-enhanced Linux configuration by default.
CentOS has different versions such as 5, 6, 7 those which will be supported till the coming next 10 years as it was based on RHEL whereas Fedora support is of the shorter life cycle as it supports only for at least 13 months and so on.
CentOS has another feature called Special Interest Groups (SIGs) which are the organized portions of the CentOS community group whereas Fedora has different editions of OS packages such as Server, Atomic and Work Station kind of editions.
CentOS contain primary CentOS repositories which are called Channels those which contain Software packages whereas Fedora distributes its custom variants of Fedora called Fedora Labs.
CentOSwas initially released in the year 2004. It was licensed under GPL and other free licenses. It supports AMD 64 platform. It was developed by the CentOS project team which is affiliated with Red Hat.
Fedora was licensed under various Free and open-source licenses for its various packages and including some proprietary firmware packages. It was initially released in the year 2003. Its default user interface is GNOME shell.
CentOS vs Fedora Comparison Table
The primary Comparison are discussed below:
| | | |
| --- | --- | --- |
| The basis of comparison   | CentOS | Fedora |
| License | It was licensed under GPL and other freeware and various open sources | It was licensed under free open source and few proprietary licenses |
| Development | It was developed by CentOS project affiliated with Red Hat distribution | It was developed by Fedora project and sponsorship from Red Hat |
| Package Manager | It supports package managers such as PackageKit (GUI) and Yum (Command Line) | It supports package managers such as PackageKit (GUI), RPM (package format) and DNF (Command Line) |
| OS | It is a free version of Red Hat Enterprise Linux Operating System. | It supports Linux OS family. |
| Open Source | It is free and Open Source | It is free and has few features under a proprietary license |
| Features | It is a community version of Red Hat project and me binary compatible. | It is basically a main project and community based |
| Releases | It has less focus towards frequent releases | It focuses more on quick releases every six months |
| Community | It is based RHEL and community-driven | It is community driven and focuses and features and technological enhancements. |
Conclusion
CentOS is being used across most of the computing machines in the industry is it an open-source and freeware licensing version. It has many advanced features in it to provide great features for the users and hence it has been the choice of most users. Moreover, it is binary compatible and supports most of the RHEL features out of the box. Depending on the usage or application, the distribution can be chosen, for example, CentOS can be used as the server whereas Fedora as Desktop.
Fedora being an open-sourced and freeware it has some features which are proprietary, it is not being chosen by most of the users in their computing machines to reduce project costs in the commercial point of view whereas, in the case of CentOS, it has few advantages compared to the Fedora like technological advancement features and frequent releases which will be considered by the most users to choose it as the Linux distribution.CentOS is more preferable in terms of maintenance and security feature updates in the usage of Linux distribution. I hope now you must have got a fairer idea of both. Stay tuned to our blog for more articles like these.
Recommended Article
This has been a guide to the top differences between CentOS vs Fedora. Here we also discuss the key differences with infographics and comparison table. You may also have a look at the following articles to learn more –