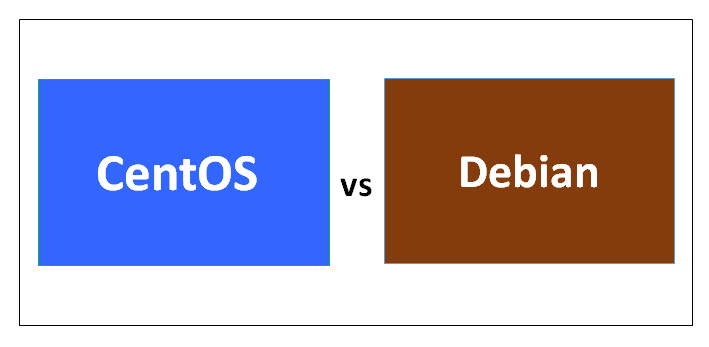 Difference Between CentOS and Debian
CentOS vs Debian are two flavors of Linux operating systems. CentOS, as said above, is a Linux distribution. It is free and open-source. It is enterprise-class – industries can use meaning for server building; it is supported by a large community and is functionally supported by its upstream source, Red Hat Enterprise Linux. Debian is a Unix like computer operating system that is made up of open source components. It is built and supported by a group of individuals who are under the Debian project. Debian uses Linux as its Kernel. Fedora, CentOS, Oracle Linux are all different distribution from Red Hat Linux and are variant of RedHat Linux. Ubuntu, Kali, etc., are variant of Debian. CentOS vs Debian both are used as internet servers or web servers like web, email, FTP, etc.
Head To Head Comparison Between CentOS and Debian (Infographics)
Below is the top 12 difference between CentOS vs Debian

Key differences between CentOS and Debian
Both servers are popular choices in the market; let us discuss some of the major difference:
One should pick Debian as it generally has more up to date packages and because it is easier to upgrade to a newer version. A lot of people have started their GNU/Linux journey with Red Hat Linux, and they have always used CentOS and Fedora on their Desktop.
If one is more used to CentOS and is more accustomed to working with it or have been using it for a long, then there is no real reason to migrate to Debian. CentOS vs Debian are both the best options one can have when choosing a GNU/Linux distribution to install on their web server or any other server.
There is one more thing that one should keep in mind when installing a Web Server. If this server is going to be used as a reseller tool, he/she may want to install a tool called cPanel, and in such a case going with CentOS is recommended, as it is officially supported.
CentOS vs Debian Comparison Table
The primary comparison is discussed below:
CentOS
Debian
CentOS is more stable and supported by a large community
Debian has relatively less market preference.
Mission-critical servers are hosted on CentOS.
Ubuntu is fast catching up. A lot of people are betting on it.
CentOS does not support many different architectures.
Debian has more packages.
Both support desktop applications, but CentOS has a slight edge over Debian.
Debian based distributors for more used for serves.
CentOS versions are maintained for 10 years meaning there is great support for enterprise applications.
A certain amount of good Linux knowledge is required to work with Debian, particularly to install new software and do customization.
CentOS new versions are released usually after a long gap, and hence these systems are very stable. However, a minor release does happen every now and then.
New versions of Debian are usually released with a 2 years gap, so there is enough time to test and fix bugs. Hence these systems are more stable.
After a major release, the CentOS code is frozen and is never changed except for security flaws or security bugs. This makes some issues while working with it as the next update usually happens after 5 years, and many application software changes in this duration. For example, CentOS 5 supports MySQL 5.1 only, whereas there are newer versions of MySQL available, which CentOS does not support.
Due to rapid development and short testing cycle, most major vendors still prefer CentOS over Debian. For example, Oracle or MySQL team prefer CentOS because these are more stable and thoroughly tested. Most of the developers who build application software on Linux uses Ubuntu as the desktop and still uses CentOS as servers.
Usually, it is very difficult to upgrade a version of CentOS locally. Official sources recommend installing a newer version then to upgrade an older one.
Upgrading Debian from one stable version to another is easy and not painful.
It does not have an easy GUI.
It has desktop friendly applications and GUI.
CentOS is released so late that sometimes it lags the Red Hat release.
Most people's opinion is that Debian systems are not as stable or trouble-free as RHEL/CentOS.
The core software of CentOS, such as the RHEL/CentOS components, also the kernel and all its utilities, come from the distribution, while the add-on software like Apache, PHP, Java, and MySQL come from newer sources such as Fedora or from vendors directly such as MySQL.
A real reason to use Debian is if they provide unique functionality that is necessary for a system; in such cases switching to Debian makes sense. Apt repositories in package managers have the latest source code for several open-source languages and frameworks like ruby, rails, PostgreSQL, Golang, selenium, angular2-dart etc.

Ubuntu is very suitable to work with when using Docker file/s docker containers.

Crashers are so rare in CentOS.
The same goes here.
Conclusion
This article covers almost all business-specific or choice-based reasons to differentiate between CentOS and Debian. Both are an excellent piece of software and is used by thousands of applications and many more developers. Both Debian vs CentOS of them are highly trusted by the industry and runs the core components of mission-critical applications. Hence it does not matter much which one is used in a given scenario. A developer can prefer which he is more comfortable with and about which he knows the most.   If a general guideline is to be provided, CentOS probably runs a number of servers currently than any other version of Linux.  For a beginner also, Learning and starting with CentOS makes more sense, and it provides better and more challenging career scope. Ubuntu is a major brownie point for Debian. From an administrator perspective also, CentOS wins in the majority of situations compared to Debian.
Recommended Article
This has been a guide to the top differences between CentOS vs Debian server. Here we also discuss the key differences with infographics and comparison table. You may also have a look at the following articles to learn more –