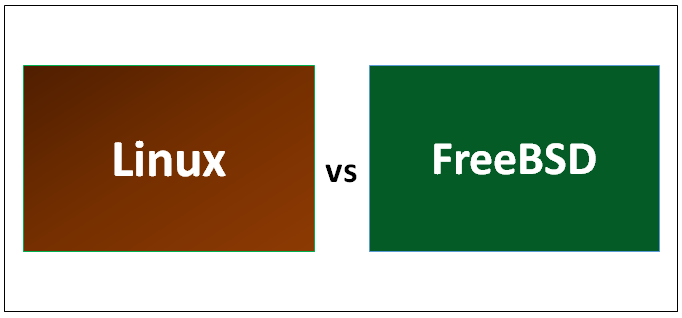 Difference Between Linux vs FreeBSD
Linux is a family of open source operating systems like CentOS, Debian, Fedora, openSUSE, Ubuntu etc. built around the Linux kernel. All these operating systems are also termed as "Linux distribution" for both desktop and server utilization. Defining component of Linux distribution is "Linux Kernel". Most Linux distributions are not just Linux kernel having in common but also share several utilities and libraries. Linux has the largest installed base of all general-purpose operating systems. It is the leading operating system on the servers. Linux also runs on embedded systems, video game consoles, smartwatches, smartphones, tablets etc.
FreeBSD is an open source Unix-like operating system which is freely available, descended from Research Unix via the BSD (Berkeley Software Foundation). FreeBSD is used in various situations, which include Servers, Desktop, Embedded systems etc. It runs on processors such as Pentium that is compatible with Intel's X86 architecture. FreeBSD is an alternative to Linux that can run the Linux applications. It contains both the pre-built packages as well as build system called ports, for compiling and installing from source to allow package customization. FreeBSD also has some compatibility modules which enable the operating system to run binary programs for other operating systems like Linux distributions, SCO Unix etc.
Linux is initially developed for personal computers but has been shifted toward many more platforms as compared to another operating system. Linux is the result of free and open-source collaboration, thus underlying code can be modified, utilized and distributed by anyone although under the terms of its respective licenses, like GNU (General Public License). Linux kernel is the core of the operating system which is equivalent to an engine. Linux operating system is based on this kernel which was crafted by Linus Torvalds.
FreeBSD has various features which are being utilized in multiple scenarios. FreeBSD TCP/IP stack is based on a 4.2BSD implementation of TCP/IP, which has enough support already for these networking protocols. It also supports wireless networking seamlessly. It also comes along with security-related features, including access control lists, mandatory access controls etc. Security enhancement was developed by the TrustedBSD project.
Linux usage is very high among servers, the majority of the web servers across the world run on Linux based operating system. Even though Windows and Mac-like operating system are more popular than Linux for personal computing, but still Linux is steadily gaining popularity among masses. Linux distributions include Fedora, Debian and so on. The most popular of all when it comes to desktop installation is Ubuntu. Linux gains some height during the 1990s because of developers who were basically a hobbyist. Although not user-friendly like windows and MAC, but it rarely crashes and reliable.
FreeBSD has a vast number of applications under its software repository, that are developed by third parties. Web browsers, email clients, office suites etc are some of the examples of applications. Many software that runs on Linux can run on FreeBSD using the compatibility layer. Linux system call interface is implemented in FreeBSD's kernel. Hence most Linux binaries can run on FreeBSD, including applications distributed in binary form.
Head To Head Comparison Between Linux vs FreeBSD (Infographics)
Below is the top 8 difference between Linux vs FreeBSD

Key differences between Linux vs FreeBSD
Both Linux vs FreeBSD are popular choices in the market; let us discuss some of the major Difference Between Linux vs FreeBSD:
Linux was built as an open source alternative to UNIX whereas FreeBSD is a derivative of UNIX system.
Linux is basically a kernel written in assembly and C language whereas FreeBSD is a complete operating system in itself having multiple components like package, binaries, user programs and so on.
Linux is comprised of various components from different source codes, whereas FreeBSD is released and maintained as a complete product – ensuring a more organized source code.
Linux is available under GNU i.e. General Public License whereas FreeBSD is available under BSD license.
Linux default shell is Bash whereas FreeBSD uses the "tcsh" as its default shell.
Linux kernel is mostly controlled by Linus Torvalds, creator of Linux whereas BSD is not controlled by any one user, it uses a core team to manage the product.
Linux project focus on the kernel alone where FreeBSD project maintains the entire operating system.
Base system for Linux does not really exist, as Linux is a bunch of smaller components that came together to make a whole whereas FreeBSD has a base system that encompasses numerous tools.
Linux support for hardware is far and wide for example- Graphics support for Linux is way ahead as compare to FreeBSD whereas FreeBSD support comes later after Linux show is over.
Applications for Linux are delivered in form of pre-compiled binary packages whereas, in FreeBSD, ports are used to install applications on the operating system, there are more than 25,000 ports available in FreeBSD Ports collection.
Linux vs FreeBSD Comparison Table
The primary Comparison between Linux vs FreeBSD are discussed below:
| | | |
| --- | --- | --- |
| The basis of comparison Between Linux vs FreeBSD | Linux | FreeBSD |
| Definition | Linux is basically a kernel written in C and assembly | FreeBSD is unified OS including kernel, libraries, the user program |
| Development | Methodically developed and hence more centralized | Distribution based development, hence incompatibilities between the distribution |
| Packages | Provide only pre-compiled binary packages | Provides pre-built as well as the build system for compile, install |
| License | GNU (General Public License) | BSD (Berkeley Software Foundation) |
| Shell | Default shell is "bash" | Default in FreeBSD is "tcsh" |
| UNIX | Built as an alternative to UNIX | Originally started as a UNIX distribution |
| Graphics | Graphic drivers are numerous and better on Linux | Graphic drivers are less as compare to Linux support |
| Vendor support | Vendor support is great for Linux distributions | Vendor support is moderate as compared to Linux for BSD based OS |
Conclusion – Linux vs FreeBSD
In this article of Linux vs FreeBSD, we have seen FreeBSD vs Linux have many qualities in common, if anyone is arriving from either one of the backgrounds, then it becomes crucial to recognize and understand the way in which they differ. Both FreeBSD vs Linux systems have their own set of advantages. The FreeBSD team maintains its own version of a large number of common tools. While many of the tools found on Linux systems are from the GNU suite, FreeBSD often rolls its own variants for its operating system.
BSD has a scarcity of applications. Its developers have tried to control the situation by creating Linux compatibility package to run Linux applications on BSD. Applications for Linux distributions, on the other hand, are aplenty. FreeBSD comes with a BSD license which even allows distribution of the binary-only source. On the other hand, Linux GPL license is a bit strict than that of FreeBSD. Linus Torvalds remains the controller of Linux kernel, whereas FreeBSD code is not controlled by a single user. However, it is controlled by many people. BSD systems boast of having a better reputation for reliability. BSD is capable of executing Linux binaries, whereas Linux cannot execute BSD binaries. Unlike Linux, FreeBSD has a central repository.
With so many pros and cons, one tends to get lost while making out a proper selection of these Linux vs FreeBSD. Recommendation to choose either one of them is applications which need to run on these platforms. Any supportive platform for customer-centric application is a big head-up while selecting the right platform.
Recommended Article
This has a been a guide to the top differences between Linux vs FreeBSD. Here we also discuss the Linux vs FreeBSD key differences with infographics, and comparison table. You may also have a look at the following articles to learn more –