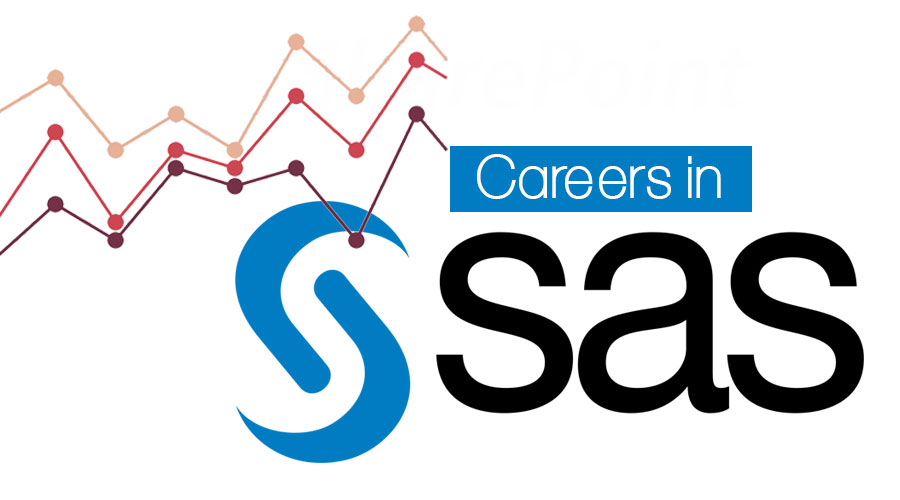 Introduction to Career in SAS
SAS stands for "Statistical Analysis System", developed in 1970's. It is used to analyze large volumes of data. It is a highly flexible and integrated software environment that is used to access, manipulate, manage, analyze and use to generate the report of data. It has multiple components like:
BASE SAS: Use to analyze the huge volume of data, mostly used to solve 70-80% of analytics solutions.
SAS graph: Use to generate the visualization of data
SAS Enterprise Miner: Use for data mining purpose
SAS BI: Used to generate the reports
Advance SAS: It helps in working with SQL's and Macros.
SAS Data Integration: Use for ETL process and store the data in the dataset or in tables.
Apart from the above-listed activities, it helps us in building the modeling of predictive modeling, decision tree etc.
Education of Career in SAS
As such, there is no proper qualification required to work on SAS but it would be very helpful if you are from Economics, Statistics or Engineering Background because whatever the algorithm and component it has in the core it will come under above mention three sections for example if you want to get specialized in base SAS you must have knowledge on basic programming language and structure queried language. There are multiple courses offered in the market in which you can opt to get specialize in any of the components of SAS.  For example, Data Science with SAS in one of the emerging areas in the IT sector through which we can become Data Scientist. A lot of Business schools like IIM, ISB are offering a 1-year degree program through where we can get specialized on SAS. Apart from Indian Business school foreign universities are also offering such courses through which we can get specialized in SAS.
Career Path in SAS
As we can have the different subsection of SAS, we can choose any of one and we can build our career into it. Basically, SAS starts from the Data level and end up with have reported to it means from start to end we can achieve anything trough SAS. SAS is not just a single tool or software, it has multiple components since it is available in the market for 40 years and over the period of time, it is upgrading its component. There is a huge scope of SAS in Banking, Insurance and other financial service company because.
They have been using SAS for the ages and have a system built around SAS.
SAS is after than other open-source tools like R, Python very important from data security point of view.
SAS can put your analytics into production in banking and financial systems, R doesn't have this.
Due to its robustness power, it can solve analytics issue as well.
There are a lot of jobs offered to SAS certified professional over an experienced resource even a company are willing to have certified professional (like Base SAS certified, Advance SAS certified) even though they are fresher's.
Recommended courses
Training on JSON
Online Training on Axure
OmniGraffle Pro Training Bundle
Course on Agility.JS
Job Position or Application Area
There are multiple jobs offered to SAS professional especially in analytics side, look at the below table and see what's the career in SAS you have.
| | | |
| --- | --- | --- |
| Component | Role | Area |
| Base SAS | SAS Developer, Data Analyst, Programmer Analyst | IT, Banking, Pharmacy, Insurance |
| SAS Graph | Designer and Architect | IT, Banking, Pharmacy, Insurance |
| SAS Enterprise Miner | Business Analyst, Data Miner | IT, Banking, Pharmacy, Insurance |
| SAS BI | Business Analyst, Software Engineer | IT, Banking, Pharmacy, Insurance |
| Advance SAS | Senior SAS Developer, Analyst | IT, Banking, Pharmacy, Insurance |
| SAS DI | Data Analyst, Architect | IT, Banking, Pharmacy, Insurance |
Right now in the market, there is a huge requirement of data scientists, if you are certified Data Science professional and Career in SAS, you will get a smart package as per your role wise. Apart from above, there are other areas as well where we can see the career in SAS to get the opportunity like marketing research, Aerospace solution, E-commerce, Sports and so on.
Salary
There are three factors that have the direct impact on your salary, first your work experience second your certification and third which component you have exposure. As compare to all 6 components of SAS, BASE SAS developer, Advance SAS developers and DI professionals get less paid as compared to others, below figure will give you more idea about packages.
| | | |
| --- | --- | --- |
| Component | Experience | Salary |
| Base SAS | 0-5 | 40,000-50000$ |
| SAS Graph | 0-5 | 60,000-70000$ |
| SAS Enterprise Miner | 0-5 | 70,000-90,000$ |
| SAS BI | 0-5 | 90,000-110,000$ |
| Advance SAS | 0-5 | 45,000-65,000$ |
| SAS DI | 0-5 | 50,000-60,000$ |
| Data Scientists | 0-5 | 110,000-150,000$ |
Anyway, these data are rough figure it may also vary from your level of knowledge and your past work experience.
Career Outlook
SAS has some sort of Pros as well as cons since it is a licensed version tool so it will provide you data security but definitely it will cost on your budget as well. There are a lot many tools comes in the market which can challenge SAS like Hadoop for Big data Analytics, R, and Python which can be used to analyze the data and will provide better visualization of data and easy to work on it. But SAS is present in the market over the long period it would be hard for an organization to replace the entire core system, so we can say that in next 8-10 years SAS will be there in the market and you will get a job easily in this field if you have required skills set. And one most important advantage of this tool is if you have an idea of this tool like how it is working it will be easy for you to understand other open source tools as well.
Recommended Articles
This has been a guide to Career in SAS. Here we have discussed the introduction, education, career path in SAS, along with salary and career outlook in SAS. You may also look at the following article to learn more –