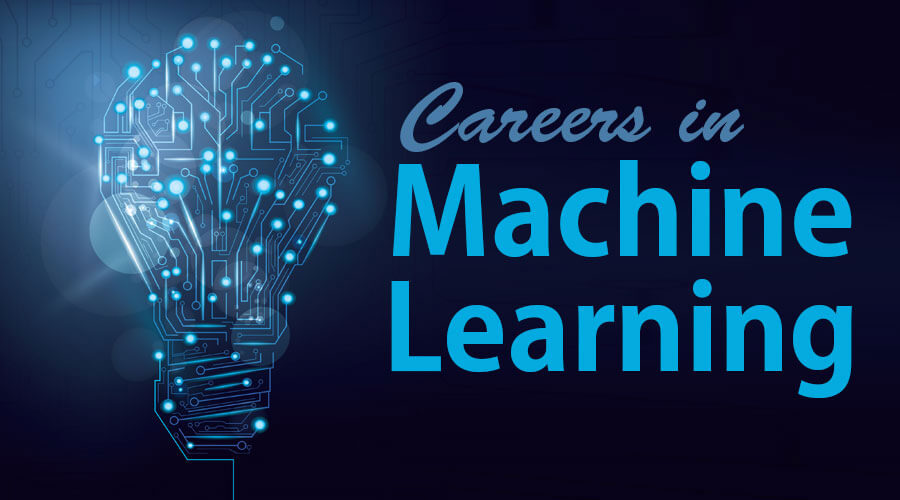 Careers in Machine Learning – Introduction
Machine Learning is a field of Computer Science that means the computer systems will have the ability to learn on its own with or without data being given to it. Machine Learning was the term first introduced by Arthur Samuel in 1959. Machine Learning also includes different types of learning such as supervised learning, unsupervised learning and reinforcement learning, etc. There are vast applications in computer science for Machine Learning. The examples of machine Learning are Automated Vehicle system, playing a game against the second player in gaming applications etc. The Machine Learning jobs are recently evolving a lot with many enterprise organizations having openings in Artificial Intelligence and Machine Learning areas. This is the right time if one wants to move into Machine Learning and excel in this area.
Education Required for Machine Learning
Machine Learning needs a lot of basic computers science concepts and one should be strong in computer science concepts such as Mathematical, Data Structures and Algorithms subjects like computations, statistics etc. A strong knowledge of basic mathematics is also recommended.Machine Learning is the core component of Artificial Intelligence where one needs to show much interest and enthusiasm in learning these concepts.
Machine Learning is evolving quite rapidly and gradually nowadays. A lot of technology professionals are required in the coming years in the area of Machine Learning.
Machine Learning includes technology, mathematics, statistics, business knowledge and many technical and logical skills to excel in this area. Data analysis is one of the main elements of the Machine Learning area where this area mainly depends on data in which the machine learns on its own.
This requires a lot of valuable data to be processed before a machine is learning itself. A Data Analyst can easily transform his/her careers in Machine Learning. Python is the most used programming language in the area of Machine Learning. This is also included in most of the academic programs as well in most of the universities.
Career Path
Machine Learning Professionals are highly required in the area of Information Technology Industry across the world especially in the USA. Machine Learning reduces a lot of human efforts easily by reducing the pain and errors. Most of the companies are starting automation and those also need the Machine learning technology to be implemented across their business units to increase their performance and efficiency while reducing the costs.
The career path initially starts as a Machine Learning Engineer, who will be developing applications that perform some common tasks done by human beings and this will be used for repeated things which will perform without any errors and produces effective results.
A Machine Learning Engineer role will be followed by the Architect level position in. The next level of a career path in Architect level will be of some role to design and develop the prototypes for the applications to be developed.
Even a software engineer with some years of experience can switch their careers in Machine Learning area. A Python Developer or a data scientist can also easily switch careers in Machine Learning.
Persons even without any experience in software engineering can also start their careers in Machine Learning if they have some string knowledge in computer science, mathematics, statistics etc.
Job Positions or Application Areas
In the area of Machine Learning, there are different roles available in the information technology industry to pursue the career are such as Machine Learning Engineer, Senior Machine Learning Engineer, Lead Machine Learning Engineer, Machine Learning Engineer Front Office and Back office, Principal Engineer – Machine Learning, Machine Learning Software Engineer, Data Scientist, Senior Data Scientist, Data Scientist IT, Senior Data Scientist IT etc. The Machine Learning Engineer possesses some strong core knowledge of Computer Science concepts, a solid Mathematics background with Statistics as well.
Salary
The average salary pay of the Machine Learning Engineer in the United States is $100,956 per year as per the top American website that provides salary and compensation information about different companies Payscale.com. Moreover, this position has candidates with no more than 10 years of experience in the industry.
The national average salary for a Machine Learning as mentioned in another top salary information website Glassdoor.com is $120,931 in the United States.
The most famous website Indeed.com also mentions that an average salary for careers in Machine Learning area is $135,246 per year.
The average median salaries for the different SharePoint career paths are as below:
Data Scientist (US$69000 – US$133000)
Senior Data Scientist (US$98000 – US$160000)
Machine Learning Engineer (US$77000 – US$155000)
Data Scientist in IT (US$69000 – US$129000)
Senior Data Scientist IT (US$92000 – US$164000)
A Machine Learning Engineer earns a median salary of around USD 112,622 in the United States.
Career Outlook
There are multiple and different career paths in the area of Machine Learning and also the average salaries are also big figures in the Machine Learning career path. This suggests that the future for one who wants to enter into the area of Machine Learning will be bright and exciting. There will be huge numbers of requirements for the persons with skills set in the area of Machine Learning in the coming future.
There are also multiple career paths to move after entering into the Machine Learning Engineer area like Artificial Intelligence, Data Science and Data Analytics etc.
An IT professional with some good communication skills and strong technical skill set with a solid mathematics or statistics background can reach some top heights in their careers like Senior Architects or Senior Subject Matter Experts in the career of Machine Learning or Artificial Intelligence.
The requirements for the job positions in the area of Machine Learning Engineer in the United States are increasing daily in large numbers. Because of the day to day routine activities or tasks in the large customer based companies, the job handling responsibilities need to be very accurate and error-free for successful business deliverers to the customers.
Machine Learning Software applications or products are a great need to the businesses to maintain the customers' content data secure, Machine Learning Engineer is the one among the best technological advancements available in the market to provide some high complexity business solutions.
Recommended Article
This has been a guide to careers in Machine Learning.Here we have discussed the Introduction, Education, Career Path in Sharepoint, Job Positions, Salary and Career Outlook in Machine Learning.you may also look at the following article to learn more –