Updated August 1, 2023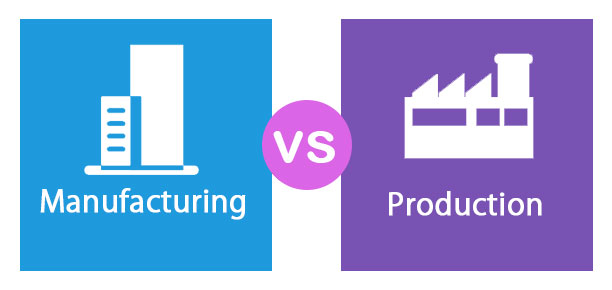 Difference Between Manufacturing vs Production
Both are often used interchangeably in the world of production. They are commonly known as one and the same thing, but when it comes to deep-dive analysis, the management segregates them into two buckets and draws their analysis. There is some critical difference between Manufacturing and production, which are unknown to the common man. In this Manufacturing vs Productions article, we will try and understand the key differences between both and their nature of working and characteristics.
Head To Head Comparison Between Manufacturing vs Production (Infographics)
Below is the top 6 difference between Manufacturing vs Production:

Key Differences Between Manufacturing vs Production
Both Manufacturings vs Production are popular choices in the market; let us discuss some of the major Difference Between Manufacturing vs Production.
Manufacturing involves converting raw materials into work in progress and the subsequent conversion of work in progress into the final product, which is ready for sale and tangible. This final product can be directly sold to customers in the open market. On the other hand, production encompasses the conversion of various inputs into tangible or intangible outputs. Production primarily focuses on creating utility and includes producing goods and services.
Using machinery to transform raw materials into finished goods is referred to as manufacturing, as it utilizes a medium to facilitate the conversion of raw materials into the final product. In contrast, production can be conducted without needing fixed assets or machinery. While various manufacturing activities are part of the production process, production doesn't need to be referred to as manufacturing.
In manufacturing, the output generated with the help of machinery is tangible in nature, that is, goods only. Still, in the case of manufacturing, it can be linked to intangible as well as tangible goods, i.e. goods and services.
In economics, goods and services are produced to satisfy human wants. They are four factors of production that are used in the creation of an activity: land, labor, capital, and entrepreneur. Participation in these productions and coordinating these factors can lead to successful production.
Man-machine setup should be there to manufacture goods, which is not in the case of production; only man is sufficient for producing output.
Production encompasses a broader perspective and yields larger outcomes, while manufacturing focuses on a narrower range of operations that are analyzed in detail. Manufacturing specifically pertains to creating tangible goods that possess economic benefits and value.
Production involves various stages of production and finished goods, creating wealth and economic value. On the other hand, manufacturing is just one of the various steps involved in production.
Manufacturing vs Production Comparison Table
Below is the topmost comparison between Manufacturing vs Production
| | |
| --- | --- |
| Manufacturing | Production |
| Manufacturing refers to the production of goods that are tangible in nature, like labor, machines, raw material, etc. | Production refers to making something used for consumption by a combination of various resources. |
| Manufacturing is one of the various steps of production. | Production is a larger term than manufacturing with a broader scope and operation. |
| Tangible in nature | Both tangible and intangible in nature |
| Manufacturing is the creation of goods that are suitable for use. | Production creates utility |
| No formula for manufacturing | Production formula:- Output/Input |
| Compulsory use of men and machinery is required for manufacturing. | The mayor may not use men or machinery in the process of production. |
Conclusion
Both Manufacturing vs Production has their own set of challenges, nature, and scope. Production is a multi-step process that is complex in nature, and every company has its own production processes and controls in place to ensure that the production results in quality and efficient output that can be sold in the market. Manufacturing is also an equally complex process in nature and character, which requires the right amount of machinery and men to keep an adequate inventory in the company, making it an equally important process. Manufacturing and Production go together, making them vital and integral to the company's revenue and cost management.
Recommended Articles
This has been a guide to the top difference between Manufacturing vs Production. Here we also discuss the Manufacturing vs Production key differences with infographics and a comparison table. You may also have a look at the following articles to learn more.