Updated May 8, 2023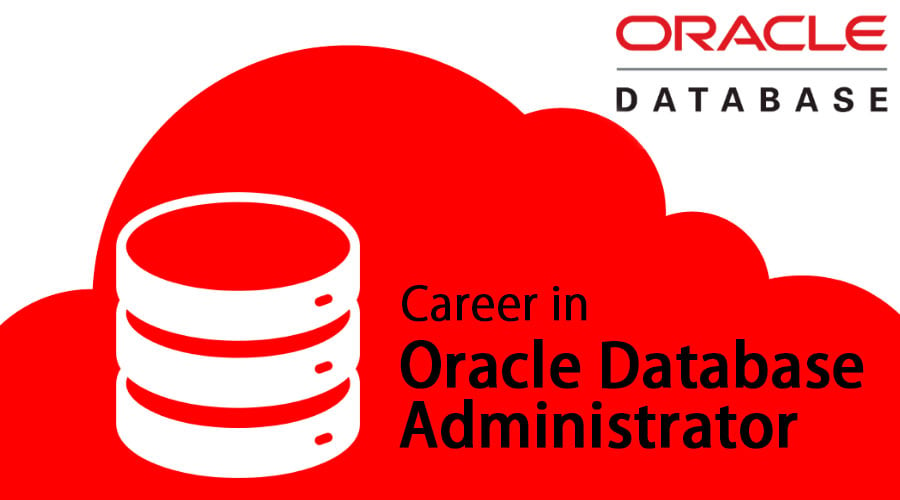 Introduction to Career in Oracle Database Administrator
Oracle Database Administrator is one of the key and attractive career for any engineer who is really interested in upgrading their career in the administrator role. Oracle has been very much excited for given one specific training and attractive certification with some critical exams for all the candidate who really wants to switch their career on this specific domain. They have to clear at least two exams for the same for making themselves comfortable Career In Oracle database administrator role.
Education required for Career In Oracle Database Administrator
Normally people who came from pure software development background are planning to move to this kind of administrative role. Very strong pre-learning is required for the same, as this kind of role is not at all very easy to crack, have to learn and full confidence with knowledge about SQL and PL/SQL, which is normal development coding available for Oracle database. Also, that candidate should need to know about how the table has been designed inside the database, what can be the tablespace define, how to reproduce and to resolve some very critical query tuning issue, know about proper indexing, to maintain require integrity for an entire database. Also, the candidate should need to upgrade themselves always with any new version of the database release by Oracle, as certification on database administrator normally given based on any version.
Career Path in Oracle Database Administrator
A career in Oracle database administrator normally involved in managing and require customization of the relational database system provided by Oracle, and also ensuring optimum performance of the database anytime for user experience. Normally the candidate, who has big experience in the Oracle database and have at least a bachelor degree in hand, are choosing this administrator role and going for the certification from the oracle. One database administrator has varieties of role need to be performed in their current responsibility. They have to involved and ensuring an updated version of the Oracle database system; they normally involved in installing or uninstalling the software, upgrading the same and ensuring no impact in the existing application, always come with some critical functionalities or facilities for ensuring the security of the Oracle database, understanding the load of the software or managing user accessibility in a proper manner, and doing one of the key tasks that are monitoring and optimizing software performance. Database Administrator also has some key responsibility on handling all the services issues raising by the customer, resolve the same urgently, also involving for designing one key data backup system for that client where transaction data is going to be huge, and also designing a proper system for recovery of data.
Oracle has provided training and certification with varieties of experience and designation; certificates are below:
Oracle Certified Junior Associate (OCJA): This is one of the certifications for a very junior level where the candidate can come from schools, college or any institute where they have started their study recently. It also entertains for the teacher or faculty staff who is just involving in given teaching in computer science or java oracle.
Oracle Certified Associate (OCA): This is one of the first steps for achieving professional certification from the oracle. It is given a basic understanding of Oracle fundamentals.
Oracle Certified Professional (OCP): This certification is for those professionals who are really advance in the Oracle database system.
Oracle Certified Master (OCM): This certification has given information on the highest level of knowledge.
Besides those, oracle also provided some other advance certificates like Oracle Certified Specialist (OCS) or Oracle Certified Expert (OCE).
Job Positions or Application Areas For Career In Oracle Database Administrator
Database administrator, specifically in Oracle database, always is a very high priority and key area on the job position. As per hype in the current market, the administrative job in the database, specifically in Oracle is already increased 11%, which is very higher than other available jobs. The expert candidate is never able to think about their career as it is very keen to say they can easily demand their market value to Varieties Company. Almost all the IT companies are given very high importance on those guys to maintaining their own system without any big impact. Now considering job opportunity, there has two option:
Job directly in Oracle: getting a job directly in Oracle, certification is one of the mandatory parts which candidate cannot be avoided. In Oracle, those people can involve resolving all kind of challenging service request and as well as some new implementation in the software.
Job in other IT companies: It is also very much attractive. Here mainly need to give support on available set-up on that specific organization, ensuring performance and deployment activity.
Salary
One Oracle database administrator can get any kind of salary without any specific degree in hand. Candidate with proper oracle certificate has no binding on getting high package salary. There are two kinds of packages normally in the current industry; one is given by Oracle directly, other is given by IT companies who really need this kind of administrative guy for supporting their own system. Salary normally varies in between $90000 and $180000, based on varieties certificate provided by the oracle.  Oracle certification for professional, master or specialist will be designed for different kind of salaries for their upcoming status. But still, a candidate should need to more concerned about varieties update and make them certified in advance training. Based on that salary will be very attractive.
Career Outlook in Oracle Database Administrator
In a current market situation, the Oracle database administrator job is really going very high availability day by day. A career on the same always is a very key role for any candidate who is really expert in Oracle database management system. Also, looking for some challenging role and job satisfaction them it will be a good career to choose.
Conclusion
Oracle database is one of the popular database management systems in the world. Of all the key databases which are using by a maximum organization in the market, Oracle is one of the best on that. So making yourself one of the administrators in that Oracle database is always a much-highlighted career for that candidate. There have no doubt and can provide a full guaranty that a candidate with oracle certification will never be jobless in a current market situation.
Recommended Articles
This has been a guide to Career In Oracle Database Administrator. Here we have discussed the education skills required along with job position, salary and career outlook in Oracle Database Administrator. You may also look at the following article to learn more –