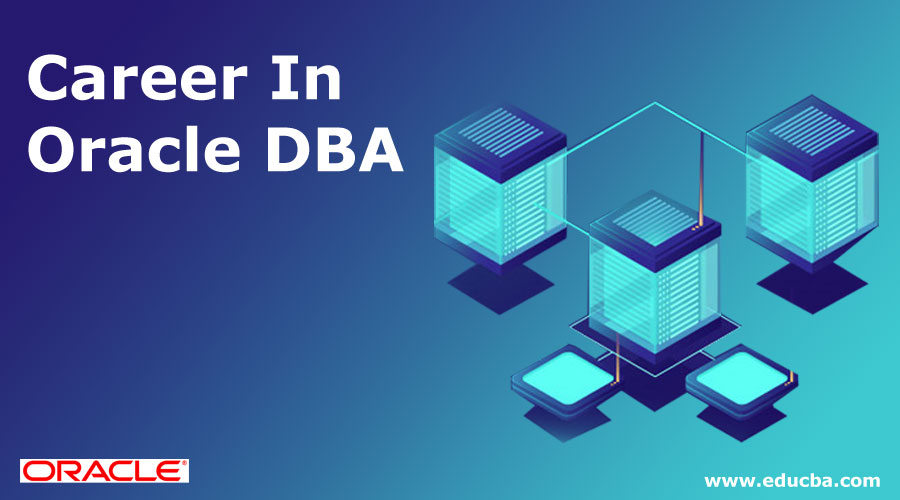 Introduction to Career In Oracle DBA
In this topic, we are going to learn about Career in Oracle DBA. If you are someone who has experience or someone who has just taken the responsibility of a DBA this blog is just for you. Being a DBA, its hard and crucial to know the exact skillsets, job prospect, salary standards in the industry.  Talking of job responsibilities, a DBA covers a vast and complex and often touches other areas or segments in IT.
Do not panic, as we in this blog will outline the essentials to start your DBA journey, we will try to cover all the aspects, sort things for easily understanding – as a reader you just need to hone yourself. Although learning is a continuous and never-ending task, there are ways that can create your market value and help in gaining more information and be helpful in your long-running career.
Our overall suggestion is rooted in the fact to have a 360-degree view of databases and related subsystems like OS, networks, firewalls, server, hardware, and storage to name a few.
With saying this, let's move and explore the ORACLE DBA in detail, but first, let's see some fun facts about it.
Fun Facts –
Developer – Oracle Corp.
Stable release – 18.1 (as on 16th Feb 2018)
Written in – Assembly Language, C, C++
Type – Multi-model database type
Let's see a general approach to explain what exactly ORACLE DBA is, it's a multi-model database management system which most of us know. Taking this explanation one step ahead for easy understanding and to make our readers aware of the things that will happen once they start to work as ORACLE DBA.
"DBA is an administration job where DBA personnel has to take care of database functioning so that others who are using it can use it swiftly without any hindrance."
Real life scenario:  Assume that you have a car and you became a database user. Now you want to have a service of your car for which you took it to a service center. Here the mechanic became the DBA personnel (remember who takes care of the database system). You contact the car manufacturers if you need any warranty issue, in this case, the ORACLE becomes the company (which provide assurance) if the issue is not resolved by the DBA.
Let's see some other relevant details.
Education required for Career In Oracle DBA
Again, a 4-year bachelor's degree in Computer Science (C. Sc) or Information Technology (IT) are most relevant for a DBA career. Apart from this, there is bachelor and master's in computer educations (BCA and MCA) is also useful and helpful. The basic underline statement for a student in term of education is to have at least a Bachelor's degree.
Let's see some educational resources for a DBA education –
Walden University
Liberty University
Colorado Technical University
In India, there are several educational programs offered online and there is no regular degree program offered.
Let's see some more helpful ways to be in a safer position to start your career in the field of DBA.
Installing and configurational understanding is first to have
Basic monitoring and tuning functionalities
Database recovery and backup creation activities
Basic understanding of database security
Database designing
Good understanding of DBMS
Good command over SQL and PL/SQL is must to have
Command line understanding of Wizard and GUI
When you will go for certification to boost your profile than these topics (mentioned above) are covered as per the level of experience. The certification details will be covered in the next section (i.e. Career). Let's move on to it.
Career Path in Oracle DBA
We will cover the certification path and the hierarchy along with it.
There is 6 section for the Oracle database career path, these are categorized as per the level of experience one has.
Junior Associate (OJA) – oracle certified junior associate
Associate (OCA) – Oracle certified associate
Professional (OCP) – Oracle Certified Professional
Master (OCM) – Oracle certified Master
Specialist (OCE) – Oracle certified expert
Expert (OCS) – Oracle certified specialist
These certifications are spread across 9 disciplines or technology areas which further broken down into a category of the product family and product grouping. These certifications validate candidate skills and expertise. Oracle certifications are sought to be one of the most respectful in the market for a long time.
Job Positions or Application Areas For Career In Oracle DBA
Application areas are nothing but where the skills of the knowledge areas can be applied. Hope you understand this statement, let's see a practical example of it. If you are an IoT expert than the application areas would be anything where this technology already plays or can play a crucial role if applied. In the same reference, there is wide applicability for the Oracle databases. Let's see them –
One can easily figure out that databases are something that stores the data (in any form). So, they are applicable to the number of things, let's see them.
Online television streaming
Gaming industry
Cloud Storage
Finance
Government organizations
eCommerce
Healthcare
Weather
Basically, the thing is if you need storage than directly or indirectly you need a database system and in return a DBA to allow it proper functioning. ORACLE being the market leader in this segment. Let's see some facts why Oracle is the market leader and why Career in Oracle DBA people are best paid in the industry.
Salary
One of the best-paid industry in the IT sector or any other sector. Data is crucial and people working for it gets a benefit of high packed salary. Let's see some stats –
The average salary for an Oracle DBA is around 493k/year in India.
Canada has different PayScale for DBA positions, the average salary is $100,000/year or $51.28 per hour. The entry level starts with $61,100 per year while the experienced folks get up to $170,000 per year.
Talking of US, salary for a DBA professional is at a national average of $94,536.
Career Outlook in Oracle DBA
Oracle DBA is always on demand in any company. Either it is a mid-cap or any MNC (large scale), they all need DBA to operate and manage their databases. Bigger companies have separate domains or sections to handle the database and related issue. Oracle being the pioneer in the database segment and trusted among many companies. A career in Oracle DBA will get this benefit all the time as the steam has huge demand.
Conclusion
As an ORACLE DBA, you are never out of the market. All the professionals and peoples who are planning to have a Career in Oracle DBA must look for enhancements throughout their career. These enhancements can be anything from a bigger and complex project to earning certifications at different levels. The bottom line is the ORALE DBA work was and will be in demand. Learning attitude must not stop for all the folks (either experienced or freshers).
Recommended Articles
This has been a guide to Career in Oracle DBA. .Here we have discussed the education skills required along with job position, salary and career outlook in Oracle DBA. You may also look at the following article to learn more –