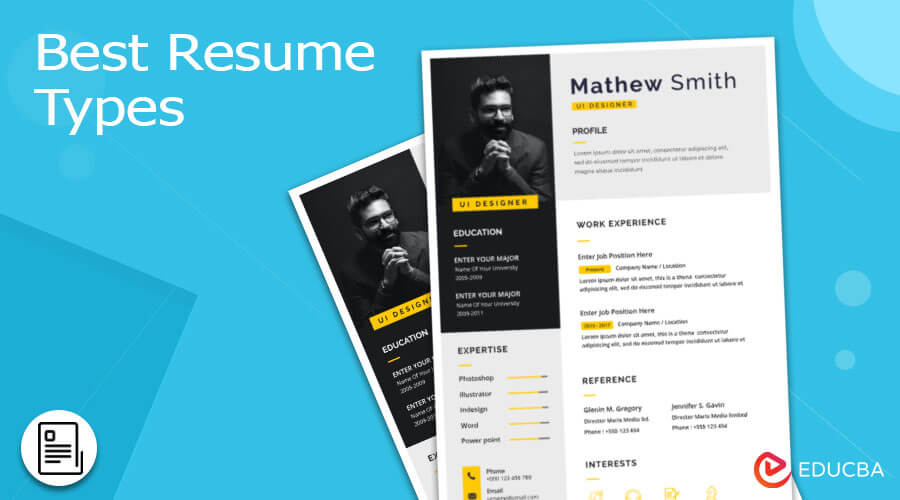 Definition of Best Resume Types
A resume is one of the most crucial and essential documents which contains all the details and relevant facts about the individual's background emphasizing his career prospects and objectives. It not only informs you about specific educational qualifications, work experience, and specialized interests but also throws inadequate light whether the candidate is suitable for a particular job. It defines the character and qualities of the person in a summarized manner. The other names for the resume are Curriculum Vitae or (C.V.) and Biodata.
The importance of a cover letter cannot be denied
The most significant part of any resume is the cover letter. This is because it highlights the most important aspects of your career and your key skills. If you have faced any interview, you would notice that a lot of interviewers tend to put up questions from your cover letter. Thus, writing an effective and engaging cover letter should be the prime objective while preparing a resume. Try to include the vital points but do not give any false information. When you apply for a particular job, it is your resume which competes with the resumes of other applicants as the employer literally chooses the best.
The Various Best Resume Types
It is important to prepare a resume according to the specific job and its requirements. As such, there are different kinds of resumes and so you can just have a quick look at them and then decide which one appropriate for you according to your needs is. When you search on the internet to get relevant help before preparing one, you would notice that they have different formats and so your job is to find the suitable layout. Some of the popular best resume types have been discussed below-
Functional Resume
The Functional Resume aims at highlighting more on the professional skills and caliber of the individual rather than giving prime importance to educational qualifications and academic background. While you are writing this type of resume, you have particular information about your special abilities and achievements. In fact, you need to dedicate an entirely separate section to discussing your qualities and talent and why you stand apart from the rest. Apart from that, you need to mention whether you have done any voluntary work or not earlier. It is crucial to also emphasize your previous experience of work related to the specific field. Also, write in a few lines regarding your hobbies.
Now let's focus on its pros and cons-
The Pros
The Functional Resume can prove to be quite effective if the person constantly keeps on changing his job or from one company to another.
It is also very helpful in case when you are applying for a job after a long span of time. Here you can just throw light on your skills to get the said post.
You also need to prepare a Functional resume when you want to change your department or field. Not everyone likes the department he is posted in and so there is always an opportunity to switch over.
This kind of resume will also work perfectly fine for people who have high experience and are older than the youngsters applying for jobs.
The Cons
Often it is said that the career growth of an individual becomes stagnant in the case of a functional resume.
It only underlines your skills and achievements but there are other important factors that equally needs to be considered
Many people do not have many skills to highlight in their resume and this is where they can lack behind others
Chronological Resume
The chronological resume is quite different from the functional resumes and is said to be one of the most popular and used resume formats in the present time. Most job aspirants prefer this pattern over others because it lays stress on all the important aspects of their career. Here you can just jot down your work experience in chronological order which indeed can impress any employer. Moreover, it also emphasizes educational qualifications which were absent in functional resumes. You need to specifically mention whether the course you completed was regular, part-time or through distance education.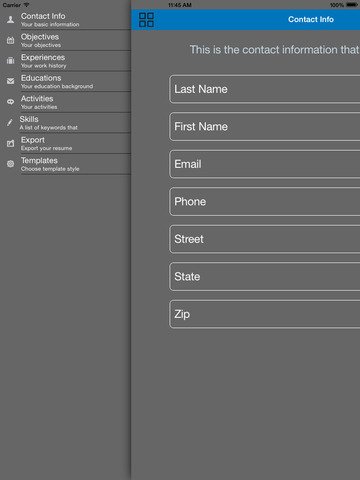 The Main Ingredients of this resume
First and foremost, it commences with a brief introduction about you that includes the name, residential address, and mobile number, and email id.
Next, you have to write about your educational qualification in a sequential manner. You can start with matriculation, intermediate, graduation, and then post-graduation but it is not necessary to include the first two facts if you are an experienced professional.
Then comes the turn for other qualifications such as a diploma or certificate course which you did and are specializing in some field.
After completing this part it's time to tell about your experience in the field. If you are a fresher then you can highlight certain achievements. Another vital aspect is to tell about your hobbies. This will create a positive impression in the minds of the employer.
Now the Benefits
As mentioned earlier, this is the most preferred resume format, and most job applicants use it. The employer can notice each and every detail about the job seeker and then decide whether to hire him or not.
This is best suited for both experienced as well as freshers.
Every information is given in a systematic manner
The Drawbacks
Although this format is preferred by most job seeker, that does not mean that it does not have drawbacks.
Firstly, if you want to change the field of your job, then it is better not to go with this format as it will not help your cause in any way.
Again, it will fail to impress an employer if you are applying for the job after a long gap. This means that proved to be advantageous in the functional resume has proved to be a disadvantage in this case.
The Combined Resume
As the name suggests, the combination resume is an amalgamation of the chronological as well as the functional resume. Since it is a combination you can expect it to be a little elongated and lengthy than the other two.
The Wow Factors
If you want to throw light on your strengths and weaknesses which is a basic question in every interview, then this present this resume format to your employer who will certainly get impressed
When you have this resume format, you can expect positive growth in your career and highlight all the important points which you want to display to the interviewer. Present all the facts methodically.
The Ouch Factors
Its lengthiness is its biggest disadvantage. The interviewer has got a very short time to scan and scrutinize the resume and this might at times irritate him
The resume is certainly not meant for the freshers as they have not had much skills and achievements to exhibit to the employer
The recruiter might not go through your resume and this will certainly prove to be a big drawback in getting good job opportunities
The Non-Traditional Resume
With the advancement of technology, even resume writing formats and styles have undergone a drastic change. One of the apt examples is the nontraditional resumes which have gained huge prominence worldwide. However, it has been sub-categorized into different best resume types based on particular needs. They include-
Resume for LinkedIn Profile
The LinkedIn becomes a very popular and useful social media platform where you can display all your information that includes your personal details, education, work experience, and key skills and achievements. It is not all difficult to create an account on LinkedIn and then you can search jobs accordingly and connect with more people from your field.
Creating Best Resume Types on Social Media Platforms
Another interesting way to exhibit your caliber and prove your skills is by posting a short resume on social media such as on your Facebook profile. You can join various groups related to your field and that way the employers will also notify you.
Creating Best Resume Types for Job Portals Websites
Nowadays, there are several online job portals where you will come across hundreds of jobs in different locations covering almost each and every field. But before you can actually find a suitable job for self, it is advisable to create the best resume types which you will have to submit in order to apply for it. The resume covers all the details.
This is a unique kind of resume which is created with the help of graphic visuals and images or charts. This is a visual presentation of your resume.
Now that sounds interesting! With the internet becoming a part and parcel of life you can even consider about uploading a resume through a video. The best channel to do is using YouTube where you can describe yourself in short, focusing on skills and experience and then upload it only to be viewed by employers. However, this has not come into a trend but is expected to become hit in the coming days.
This can be an ideal resume for someone who is willing to exhibit his special qualities, caliber, and achievements desired in the job criteria.
The Advantages
This is an ideal format for someone who is working as a freelancer and want to showcase his experience through sample work
Individuals willing to make a career in the creative field or social media can definitely try out this handy format
Even if you do not much work experience you can make use of the layout
Disadvantages
Not many people use graphics and images in their resume. At the best, they only add their passport size photograph.
Not all employers want the resume in the nontraditional format so you cannot use it in those cases where the need is for traditional one.
Some other formats or Best Resume Types
The keyword is suitable for particular conditions specifically if the employer wants to minutely scrutinize through your CV. Therefore, you can just underline and bold a few of your important skills while writing the resume to come to the forefront. The employer when posts the job criteria mentions the skills as the keywords and hence the name. However, it is not a very popular format and not a very impressive way of presenting a resume for applying for a job.
You will be surprised to note that there are best resume types even for nonjob seekers. Yes, you read it right! The inventory resume is for someone who does have any particular aim or he is not interested in applying for a specific job. The benefit of this resume is that you can send it to various recruiters at the same time. It includes your skills, experience, qualification, and accomplishments.
Often people have to prepare a particular resume file types for attaining a particular type of job. This is when the Targeted resume file types will prove to be a huge asset in your kitty. Since it is targeted for availing a specific job you will have to keep it simple and straightforward. This will make the task of the recruiter easier as he will only focus on those vital points. Therefore, the choice of words while preparing the resumes becomes extremely vital.
One can make out from the name itself that it is a shorter version of the resume file types where every detail is provided in brief and short. Here you can give all the details such as education, experience, and skills in bullet points. This is handy for people who have enough work experience and are applying for higher posts where they just need to show their work. However, if you want to give a lengthy description, then better choose some other format.
The Final Word
From the above discussion, it can be said that you need to be very careful while choosing a particular resume format when applying for the job. You should be aware of the dos and don'ts while creating a resume file types and see that there is no error in spelling or grammar.
Recommended Articles
This has been a guide to Some of the popular best resume types have been discussed here. These are the following external link related to best resume types.